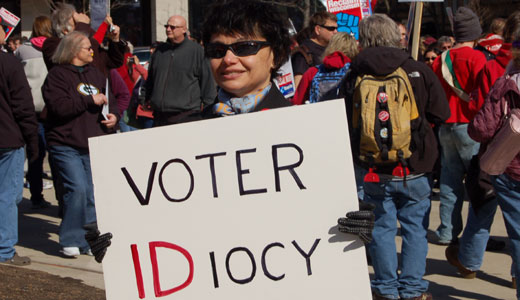 ORLANDO, Fla. – Arlene Holt Baker, executive vice president of the AFL-CIO, welcomed the Justice Department's recent decision to strike down voter ID laws in Texas and Wisconsin. Holt Baker, here with leaders of almost every union in the nation to map out plans for the 2012 elections, said she was pleased to hear news that federal judges threw out the measures.
In Texas, the Justice Department noted that the Republican-pushed ID requirement would disproportionately affect the state's Hispanic voters, 11 percent of who do not have such ID and would not be able to vote.
The Wisconsin law, which went into effect last May, was struck down because, Dane County Ninth Circuit Judge Richard Neiss wrote in his ruling, "it would impermissibly eliminate the right of suffrage altogether for certain constitutionally eligible electors."
Wisconsin's Republican Attorney General J.B. Van Hollen is expected to appeal the decision in an attempt to have it reinstated before the state's primary election Apr. 3.
Texas has already appealed the Obama administration's move against its law to the U.S. District Court in Washington.
"The DOJ has no valid reason for rejecting our law which requires nothing more than the type of photo ID necessary to board an airplane," Texas Gov. Rick Perry said in a statement.
"Hate makes people say some incredible things," said Holt Baker who was co-leader of a voting rights, workers rights, and immigrant rights march last week that involved thousands marching the same route taken by voting rights advocates led by the Rev. Dr. Martin Luther King Jr. 47 years ago.
"How many poor people regularly fly on planes?" she asked. "It's pretty clear that these people have no shame when it comes to their willingness to take away peoples' rights. In Texas picture IDs issued by the historically Black colleges are unacceptable but yet a hunting license is fine."
Holt Baker was pleased, however, that, in Texas unlike South Carolina, the DOJ used the argument that Voter ID laws require the poor to spend money they simply don't have. "The labor movement has been saying this for over a year," she said. "$25 or $30 for a birth certificate is out of reach for people who need the money for food."
The ruling against the Texas law results from the DOJ going to bat against it. Texas is one of the southern states covered by the original Voting Rights Act of 1964, which requires any changes in state election law be submitted to the Justice Department for approval.
This year, however, as in Wisconsin, attacks on voting rights are going on in many states across the country not covered by that act.
The labor movement has been involved in meetings with the Justice Dept. trying to find ways of moving against the laws in those sates too. The court ruling in Wisconsin results from a lawsuit filed not by the Justice Dept. but by the League of Women Voters.
Holt-Baker admits readily that it is unlikely that the restrictive voter ID laws can be overturned everywhere they are in effect.
"This does not mean we are going to do nothing," she declared. "We've been dealt a dirty hand but the solution is not just to accept that. We are putting in place a plan to reach, one way or the other, every single person potentially disenfranchised in all these states. That means on the job, online, in the neighborhoods, at their doorsteps, in the churches – everywhere."
She pulled a draft leaflet out of a folder lying on the table near her. Across the top in bold letters were the words "Know Your Rights Alabama!" Under that head it read: "While the voting rights movement made significant gains in Alabama in the 1960's, decades later, obstacles to voting still exist. Here's what you need to know to vote in Alabama in 2012."
Then follows detailed information on how to register and how to get required ID.
"These will go out to every union member, to every friend and alliy, to every potentially disenfranchised voter in every state where they have dealt the people this dirty hand," said Holt-Baker. "If they think it can't be done, they're wrong. Look at what we did this year in Wisconsin and Ohio."
In Wisconsin this year the labor movement and its allies ousted two GOP state senators who backed the governor's attack on collective bargaining rights, and now they have forced him into a recall election. In Ohio they put an initiative on the ballot that overturned SB 5, one of the most vicious anti-labor laws in the country.
Photo: A Wisconsin woman declares her view on the corrupt 'voter ID laws' that Republicans are trying to enforce. Blake Deppe/PW