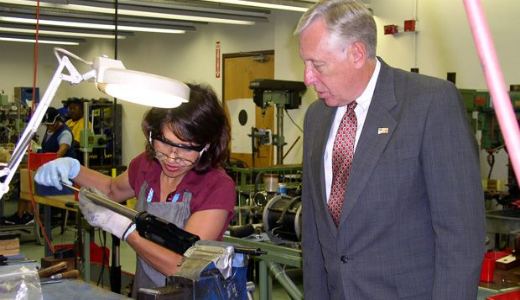 Union leaders say the jobs plan unveiled yesterday by congressional Democrats is a step in the right direction. On the other hand, they say, the jobs program released a day earlier by Senate Republicans will do absolutely nothing to ease unemployment.
Richard Trumka, president of the AFL-CIO, commended Democratic House Whip Steny Hoyer for "refocusing attention on job creation by introducing the 'Make it in America' agenda," which is a series of proposals that together, lawmakers say, would create a national manufacturing strategy.
Among the bills in the Democratic plan is the National Manufacturing Strategy Act, which directs the president to work with industry, labor leaders and others to develop a national strategy to increase manufacturing.
Another is the National Infrastructure Development Bank Act, which establishes a government-owned corporation to facilitate investments in and financing of infrastructure projects. Among the projects the government-owned corporation would spawn are things such as leading-edge broadband networks, energy delivery systems and projects to modernize the nation's ports.
The Make it in America plan also includes a Surface Transportation Authorization Bill to create modern transportation systems and a bill designed to stimulate clean energy manufacturing. Several alternative energy bills are included in the package, as well.
As he unveiled the Make it in America agenda, Hoyer said it "is about investing in this country's proud tradition of making things."
Dave Johnson at the liberal Campaign for America's Future said, "This is a set of specific, detailed targeted bills that clearly create jobs and restore our economic competitiveness. This is very different from the vague, sloganeering, lobbyist-written plan offered by Senate Republicans."
The Republicans issued a seven-point plan that reflects the long-cherished goals of the U.S. Chamber of Commerce.
The GOP "jobs" plan cuts taxes for the rich, cuts regulations that protect consumers, workers and the environment, slashes spending on education, gets rid of unions and calls for more trade agreements that would actually increase offshoring of jobs.
It also removes almost all restrictions on what oil companies can do, allowing, for example, more unregulated drilling in the Gulf of Mexico. It blocks public access to courts for redress when corporations harm people and forbids states from regulating insurance companies.
"This nation can no longer live on legacy," said Trumka, who rejected the GOP plan out of hand. "We need to invest trillions in the coming decades to build a 21st century infrastructure and we must ensure that we actually make the technology and materials for the things we are building and installing. The Make it in America agenda is a big step in the right direction to resolve our manufacturing crisis."
Trumka added that "the loss of our innovative, technical and industrial capacity not only undermines opportunities in America, it also threatens our national security."
Image: Rep. Steny Hoyer. Photo taken from his Congressional website.