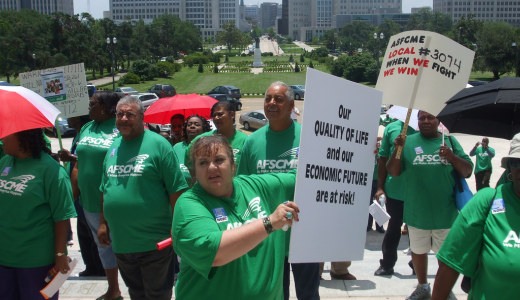 ORLANDO, Fla. – At a closed two-hour meeting of the AFL-CIO's executive council today, many of the nation's union leaders expressed anger and frustration with the Obama administration for what they say is its lack of bold action on job creation, health care and labor law reform, and for its support of the mass firings of teachers at a Rhode Island high school.
"I was sitting in the room when we discussed Biden's speech," said Gerald McEntee, president of the American Federation of State, County and Municpal Employees, referring to Vice President Joe Biden's address to the union leaders yesterday. "There were a lot of discouraged people. They believed it was a speech they had heard a number of times before." In the vice president's speech, his second to the AFL-CIO in 13 months, he urged patience with the administration on its economic program.
According to McEntee, union leaders were angered by Biden's statement that the administration would not support a second stimulus program. McEntee said that when he asked Biden about a second stimulus, he received "a flat out no for an answer."
Biden also drew the union leaders' ire when he hugged Randi Weingarten, president of the Teachers' union, after telling her the administration would not reverse its support of the mass firings of teachers in Rhode Island, McEntee said.
"Telling us that the stimulus saved 300,000 education jobs does not get around two days straight of Obama making a direct attack on hard working, dedicated teachers," the AFSCME leader said.
McEntee, who is also chair of the AFL-CIO's political action committee, said that things boiled over at the closed-door meeting "because many union leaders represent people who have real angst and anger over jobs, health care, the stimulus and the health care excise tax."
Another union leader reported that AFL-CIO President Richard Trumka told the executive council he would take their concerns to the White House as soon as he returned to Washington. Trumka reportedly said, "We have to speak with one voice, rather than 57, and the message will be 'unless they [the administration] get off their ass, we are going to sit on our hands'" at election time.
"The problem is that people will either sit on their hands or say we are being taken for granted," one state federation president said.
Vince Panvini, legislative director of the Sheet Metal Workers, said the focus of anger extends beyond the White House. "My union is so mad at the refusal of conservative Democrats to back the Employee Free Choice Act that we, already last year, suspended all contributions to political candidates and will focus on pushing our issues," he said.
Union leaders are feeling the heat from members angry about high unemployment and all the rest of the pressures resulting from the economic crisis. McEntee himself was one of several labor leaders who recently negotiated improvements in the health care reform bill passed by the Senate. Those improvements reduce and delay the excise tax on workers' health care benefits.
"Workers don't want to hear that," McEntee said. "They don't understand why they should have to pay any kind of tax on their health care benefits, and frankly I agree with them even though we did our best to negotiate improvements."
Some of the union leaders who attended the meeting today said their consciousness about the urgency of action was raised at a public forum on jobs held in Orlando last night. At that event they heard gripping testimony from workers who had lost jobs, like Barbara Medina, a recently unemployed single mother who is now the new receptionist at the Painters union hall where the forum was held.
It was difficult for many in attendance to hold back their tears when Medina, crying, testified how "the worst part after my layoff was having to look at my four beautiful children and tell them that I could no longer afford to take care of them and that they had to go to Puerto Rico to live with their grandparents."
"Barbara is one of our heroes," Trumka said. "She never gave up hope and kept fighting. This labor movement must and will do the same."
Photo: An AFSCME rally at the Louisiana state capitol, May 12, 2009. Busloads of AFSCME members from across Louisiana came to Baton Rouge to protest state budget cuts. They also signed letters to Sen. Mary Landrieu urging her support of the Employee Free Choice Act, and to Congressman Charlie Melancon (D-3) thanking him for his co-sponsorship of the Act. (Casie Yoder http://www.flickr.com/photos/labor2008/ / CC BY 2.0)