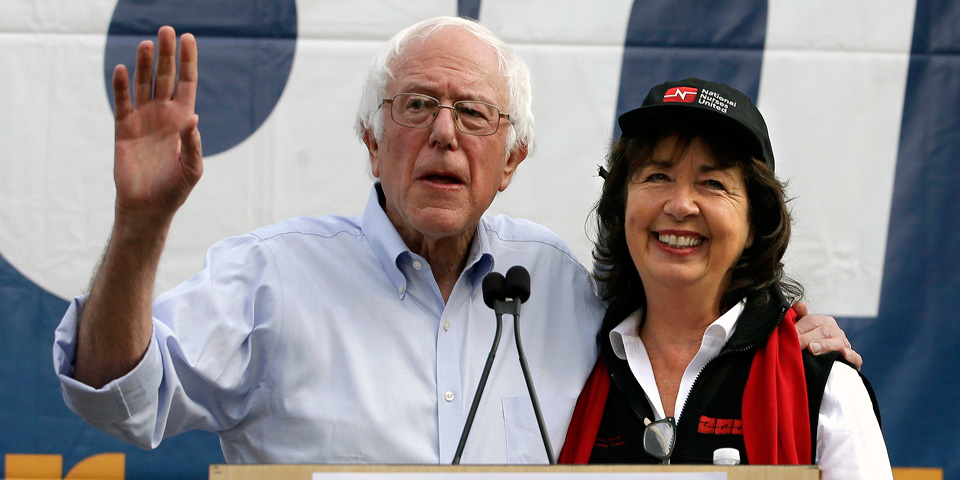 SAN ANTONIO, Texas – Fifty-odd days into the Trump administration, the nation's labor leaders grappled here last week with the hit they took on Election Day when, despite their best efforts, Donald Trump defeated Hillary Clinton.
While a few coming out of closed-door sessions here were willing to give their takes on the reasons for the defeat, they said they are still working on a plan for how to proceed.
"Trump won because some voters saw him as outside the parties — and that by voting for him they were carrying out an act of rebellion," said RoseAnn DeMoro, executive director of National Nurses United.
"Change was the big thing," she said during a break in the meeting of last week's AFL-CIO's Executive Council. "And it was a fatal mistake for the Democrats to not nominate Bernie Sanders who had the ability to bring together not just the left, but the center and even some on the right, around a program of change."
Cecil Roberts, president of the United Mineworkers of America, said that Trump was able to take advantage of conditions that exist not only in his home state of West Virginia but also in neighboring southern Ohio and southeastern Pennsylvania.
Roberts' union, the UMWA, was officially neutral in the election although Roberts, himself endorsed and campaigned for Hillary Clinton.
"The problem has been brewing in Appalachia in particular but in rural America for a while," Roberts said, noting that in his state in 2000 Al Gore lost by five points to George Bush, a non-incumbent Republican. "That was the first time that kind of thing had ever happened going way back to before the 1930's," he said.
"What started to cause this defection from the Dems was massive loss of jobs, coal jobs in West Virginia in particular but manufacturing jobs in other states, then more poverty, hopelessness – all of this came on top of people feeling they could no longer count on Democrats who often didn't come through for them – supporting bad trade deals and other things."
Roberts said he is hopeful though that there is a way forward in the fight against the Trump agenda. "The town halls based on issues are a good example," he said. "All the polling shows people don't want to hear about Russia or all the scandals. They are willing to press their local officials up against the wall though on health care, on education on Medicare and on Social Security. These are people who backed Trump and he is now hurting them. Confronting the Republican agenda that way, on the local level and in the town halls, that is the way to go."
As if to confirm the approach Roberts suggested, Trump voters packed a town hall meeting run by Sen. Sanders last week in McDowell County, West Virginia. They offered sustained applause and cheers to Sanders on each of the progressive planks he offered for consideration including Medicare for all, free college tuition at public universities, and no cuts in Medicaid and Social Security among other things.  They cheered the loudest when he said such programs could be paid for by ending tax breaks for billionaires.
Trump voters at the town hall there indicated that their support for the president was already starting to wane and would end quickly if he does not come through for them on jobs and health care for everyone.
A third long-time unionist present at the Executive Council (who requested to remain anonymous because of the sensitive nature of the talks) told Peoples World that unions, like many Trump voters, have also been let down at times by the Democrats. He noted that Democratic support for bad trade deals and sometimes less than full support for union organizing rights led some union members to re-think their long time reliance on the Democratic Party.
He said he felt that this situation called for "thinking about new ways of doing politics. We may not always be able to rely on our so-called friends," he said.
He said that one solution supported by some leaders at the Executive Council meeting is to encourage people in the labor movement to actually run for local, state and Congressional offices in the 2018 elections.
"It's something we really have to get ourselves together on," DeMoro agreed. "Otherwise we will have a disaster like in the last mid-term elections."