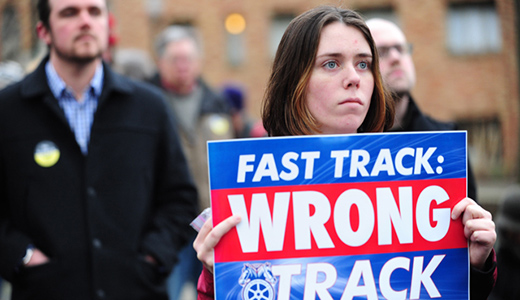 ATLANTA – They didn't put it in writing but union presidents have decided to condition labor's voluntary political contributions to lawmakers on their fast-track votes, at least for now.
In an ultra-closed session here on Feb. 25, the AFL-CIO Executive Council agreed to a proposal, first advanced by Fire Fighters President Harold Schaitberger the day before, that pulled all political giving until after the fast-track vote in Congress.
Fast-track would give President Obama and any president who comes after him, regardless of party, unlimited authority to secretly negotiate so-called "free trade" pacts with other nations. The authority would apply to secret negotiations now going on with 11 nations around the Pacific Ocean. A president would be able to ram trade deals through Congress with little or no debate or opportunity for amendment – just an up or down vote. This would be the case, of course, even with trade deals that make no provisions to protect the rights of labor in the countries involved.
Organized labor is leading a huge citizen campaign against fast-track, officially called Trade Promotion Authority. That campaign was rolled out in detail at a town hall meeting on trade here last night. Big business, President Obama and most congressional Republicans are for fast track. Labor, citing past trade pacts going back to NAFTA, say the pacts fast-track would allow, with Asia, Europe and covering services and government procurement, would cost tens of thousands of U.S. jobs.
Schaitberger challenged his colleagues to put their money where their rhetoric is, by pulling political giving until after the vote, and conditioning following donations on lawmakers' fast-track stands. His union's campaign finance committee did. Several leaders told PAI after the session that the rest of the union presidents agreed.
"Not one dime will go to anybody, period, from all of the internationals (unions) and their affiliates, until we see what happens with fast-track," one leader told PAI.
The unionists' decision is particularly important because organized labor's voluntary political contributions form a huge share of the funds available to progressive political candidates. "So many of those candidates take our funds, and then don't support us," another leader told PAI.
Photo: Alex Milan Tracy/NurPhoto/AP