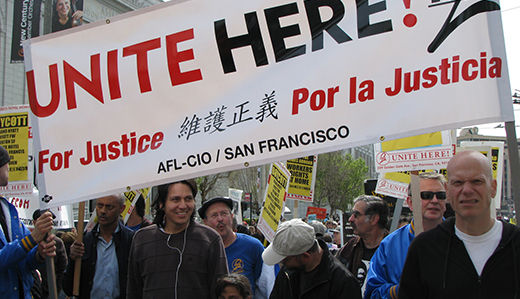 SAN FRANCISCO – Thousands of demonstrators marched from Civic Center Plaza through downtown San Francisco March 20, as part of protests throughout the country calling for an end to the war in Afghanistan and withdrawal of all U.S. forces from Iraq.
Many unions marched behind U.S. Labor against the War's banner, "Jobs, health care, housing, education: Fund human needs, not war and occupation!"
Before the march, union members and supporters gathered at the nearly Plumbers Union hall to hear area labor leaders and Daniel Ellsberg, anti war activist featured in the film, "The Most Dangerous Man in America," now playing in Bay Area theaters. Ellsberg is renowned for having revealed the Pentagon Papers during the Vietnam war.
"Nothing could be more important" than labor's growing participation in the fight-back against wars and military spending," Ellsberg said. "Unless we see conversion of our government budget, our military budget, our society, away from war production and war-making, we cannot solve any of the problems that face us, "he told the crowd. "On the other hand, with those resources, we can solve all the problems facing us, even global warming – of course not in one year but in a number of years."
Ellsberg warned that U.S. counterinsurgency efforts in Afghanistan are doomed to failure and expressed concern that more U.S. troops will continue to be deployed there despite the Obama administration's announced plans to start withdrawals within 24 months. He also warned against the possibility the U.S. might retain bases indefinitely in Iraq.
U.S. Labor against the War is gathering signatures on an open letter to all members of the California Congressional delegation, urging them to act to end the wars in Afghanistan and Iraq, to oppose additional funding for the wars and to support HR 3699, by U.S. Rep. Barbara Lee, D-Calif., to bar sending more troops to Afghanistan.
At Civic Center Plaza, before the march began, Unite Here! leader Tho Do, who was born in Vietnam, told the crowd, "I witnessed the devastation of war in my country, the death, separation and destruction. We are still trying to recover." Today's U.S. war spending is devastating not just overseas, but also to jobs, health care, education and other human needs at home, she said.
In San Francisco and other cities where they are negotiating new contracts, hotel workers are fighting a war against the greed of the giant hotel corporations, Tho Do said. Though the hotels have maintained a level of profitability despite the economic downturn, they are demanding givebacks and trying to increase workloads. "We will fight until we win good health care, reasonable workloads" and the right of workers to organize at unorganized hotels, she said.
Along the march route, demonstrators paused to support the hotel workers picketing at the San Francisco Union Square Hilton, one of seven downtown hotels whose workers, members of Unite Here! Local 2, have called for a consumer boycott.
Photo: Marilyn Bechtell