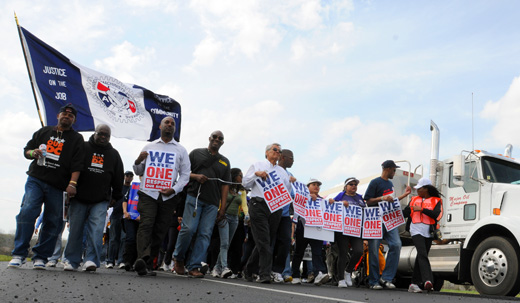 ORLANDO, Fla. – Voting rights were high on the agenda of the AFL-CIO's executive council meeting here today as the Supreme Court heard a challenge to Section 5 of the landmark 1965 Voting Rights Act.
While labor and its allies marched and demonstrated on the steps of the Supreme Court in the nation's capital, the leaders of almost every union in America voted here today to make preservation and extension of voting rights one of their top priorities.
"We vow to fight in every way possible for the preservation of the Voting Rights Act, one of the most important laws ever passed in the history of these United States," said AFL-CIO Executive Vice President Arlene Holt Baker today during a break.
"When it comes to voting rights we have decided we will support only candidates who act to protect and expand voting rights."
Right-wing groups and their lawyers from Shelby County, Ala., presented oral arguments before the court claiming discrimination by race no longer exists in their county, therefore it is unfair to have to clear electoral changes with the Justice Department.
The Obama administration's Justice Department lawyers argued that any lack of discrimination in that county and elsewhere today is due to the continued enforcement of the Voting Rights Act Section 5, which requires DOJ pre-clearance before any jurisdiction with a history of discrimination can change districts and voting rules.
Advocates of the law point to voting rights restrictions affecting minorities, including requirements that voters show state photo IDs, which have been enacted, particularly where Republicans are in control of state governments.
The Voting Rights Act, which came about as a result of the civil rights movement, is widely credited with severely curtailing racial discrimination in voting. Despite this, and the fact that Congress almost unanimously re-authorized it in 2006, most observers of the Supreme Court would not be surprised if Chief Justice Roberts voted to kill the law. They would not be surprised, also, if he were joined by Justices Scalia and Thomas.
In addition to the immediate mobilizations and protests in concert with voting rights activists the labor movement has some longer range plans.
"We are fighting over the longer haul for universal voter registration and same day registration," said Holt Baker.
"But on Shelby Alabama's case today we have filed an amicus brief. Had Section 5 not been in place, a number of states would have gotten away with their voter ID schemes and the 2012 election could very well have had entirely different results."
"This attack on democracy is terrible," said Leo Gerard, president of the United Steelworkers. "I travel around the world, I'm privileged to do this, I meet with unionists all over and they just shake their heads when they hear the many ways Republicans attack democracy, even the basic right to vote.
"The shudder when I tell them how our steel workers had to shuttle water and umbrellas to help seniors stand in seven hour lines on Election Day, not just in the deep South but in Pennsylvania."
Gerard said that no one, not even in Mexico or Colombia, ever told him that they had to stand in line to vote for three or more hours. "None could name a party or country anywhere where there is a major effort underway to make it harder to vote," he said.
Lynn Rhinehart, AFL-CIO general counsel, said the case before the Supreme Court today is funded by American Legislative Exchange Council and right-wing billionaires.
"They are trying to get the Voting Rights Act thrown out as a violation of the equal protection clause of the Constitution. They argue because it covers only some states, and not all states, it is unconstitutional."
Rhinehart said in addition to racial discrimination, there was also an anti-union motive behind what Shelby County is doing. "They tried to redraw lines so they could unseat a union machinist from the city council and were stopped under this law."
The Voting Rights Act does much more than just prevent discriminatory policies from being enacted by jurisdictions. It actually puts an end to a host of discriminatory policies used to make it more difficult to vote.
"I grew up in Texas where my mother had to pay a poll tax," said Holt Baker. "As a $5 a week domestic worker she had to set aside money each week for the poll tax, and she did it because the right to vote was so sacred to her. I badly needed a pair of shoes and she had to explain to me that I could not have those shoes because she had to pay the poll tax."
Photo: Labor union leaders and members march down Highway-80 East during the Selma to Montgomery Voting Rights March re-enactment, on March 7, 2012, near White Hall, Ala. Demonstrators marched to protest Alabama's voter ID and immigration laws. Julie Bennett/AP