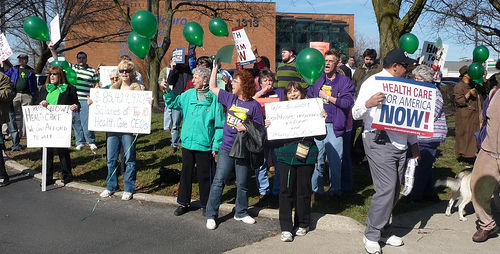 WASHINGTON (PAI)–The drive by Democratic President Barack Obama and congressional Democratic leaders to pass health care reform came down to the wire the weekend of March 19. The AFL-CIO Executive Council voted March 18 to support the Senate-passed health care bill, despite all its flaws.
Leaders of 3 million-member unions weighed in to drum up support for the legislation, while other unions were part of a joint effort for the cause.
The fed's decision could sway some votes in the House, where Speaker Nancy Pelosi, D-Calif., acting with President Obama, is trying to stitch together a 216-member majority — among the current 431 representatives — for the Senate-passed health care overhaul.
"After 60 years of fighting for health care reform, we are convinced that now is the time to say 'yes,'" Trumka said after the council meeting. "The health care bill is good for working families, now and in the future."
But, Trumka also said the plan still needs improvements, alluding to the problems with the Senate bill, which includes the lack of a "public option" and a tax on "high-value" insurance. Labor vociferously opposes such a tax.
Nevertheless, Trumka called it "landmark legislation" and promised labor would continue to battle the nation's insurers over future changes.
As part of her lobbying to get the Senate's bill through the House and to the president's desk, Speaker Pelosi promised upset pro-worker lawmakers that a measure fixing the Senate-passed health care plan — including postponing the 40% excise tax until 2018 — would be part of a second bill vote immediately afterwards.
It would pass by a special budget bill procedure, reconciliation, to ban a Senate GOP filibuster.
Money-saving is the key, because then the second bill full of such "fixes" could be voted on in the Senate under special "reconciliation" rules that require only 51 votes and avoid a GOP filibuster.
Pelosi's latest convert was Rep. Dennis Kucinich, D-Ohio, who voted "no" on the House version of the health care bill because it did not allow any path — even state by state — for government-run single-payer health care coverage, abolishing the insurance companies, their high premiums and co-pays, denial of care and 44,780 annual deaths.
Union leaders in northeast Minnesota told PAI they were assured another doubter, Rep. James Oberstar, D-Minn., would vote "yes," too. Yet another, Rep. John Boccieri, D-Ohio, was still getting pressure from all sides.
Millions of dollars in advertising, thousands of e-mails and phone calls, personal calls by the president and grassroots demonstrations all targeted the final undecided Democrats.
In a full-page ad, United Food and Commercial Workers President Joe Hansen thanked Obama "for showing us the way forward on health care reform." Then he declared: "The House must act swiftly on the framework you have provided. Delay is not an option for working people.
"The men and women who check groceries, stock shelves, cut meat, make soup, clean buildings, care for children, care for the sick and aged — including tens of millions of part-time workers — are counting on Congress to enact the foundation of a health care system that will serve all Americans," Hansen's union said in the ad.
Teamsters President James Hoffa and AFSCME President Gerald McEntee also spoke out, with McEntee urging members and allies to contact Congress by phone or e-mail. He concentrated on the House, which has turned into a battleground on the health plan.
"Insurance industry operatives and Republican talking heads you see on cable TV say we need to start over and spend another year — or another decade — before we pass reform. They twist the facts to say that the public opposes reform, but what the public really opposes are attempts to water down or kill reform to keep the insurance companies happy," McEntee's message said.
"The bill would end the ability of insurance companies to deny coverage to those who have pre-existing conditions — or deny coverage when you get sick. It would require insurance companies to pay for preventive care. It would allow parents to keep their unemployed children on their policies until they turn 26. And it would end taxpayer funded subsidies to Big Insurance…The opportunity to end insurance company abuses is a moment for which we worked long and hard. It is a vote that will affect our children, and their children. The time has come to pass health care reform," McEntee declared.
Hoffa also urged Teamsters to get their representatives to agree to the Senate's health care bill, however flawed, thus sending it to Obama.
The bill's 40% excise tax on the value of health care plans above a minimum of $27,500 per family draws the ire of union presidents and their members — ire Hoffa shares.
"We fought against this tax because it was the right thing to do," he said.
Nevertheless, "Now is the time to get this done," the Teamsters leader said of health care revision.
"Teamster members have solid health care coverage, but the outrageous cost of insurance is hurting our employers and dragging down the economy. Working families cannot afford a health care system that allows a for-profit insurance company to increase premiums by 39%, the way Anthem Blue Cross did in California recently. The burden on working people is too great. The plan…will provide insurance to millions of Americans who don't have it and control costs for millions more who do."
Arrayed against the bill were the GOP, the Chamber of Commerce, National Association of Manufacturers, right-wing lobbies, about a thousand "tea party" zealots who descended on Congress on March 16 and — of course — the insurance companies. Insurers spent $20+ million on TV ads.
Photo: Union members are part of many street heat demonstrations for health care across the country. Progress Ohio/http://www.flickr.com/photos/progressohio/ / CC BY 2.0