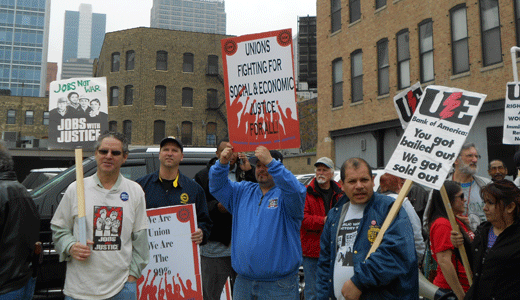 WASHINGTON – The labor movement, aiming to reverse decades of decline suffered under relentless attacks by the corporate-funded right wing, is headed for a major makeover. The nation's largest labor federation, the AFL-CIO, is planning to begin the task of building a movement in this country that includes not just the traditional labor unions but also a host of allies in non-traditional workers' organizations and among civil rights, women's, African American, Latino, Asian, Native American, youth, and LGBT groups.
"We're dead serious about this," said a source close to top officers in the federation, "and the proof will be what you see unfold at our upcoming convention."
At that convention in Los Angeles Sept. 8 -12, delegates will be asked to vote on a major revamp of the labor movement. The proposals are the product, in part, of extensive discussion among labor and allied organizations and deliberations that happened here at a July 24th meeting of the federation's executive council.
They are also the product of hundreds of forums and discussions unions have hosted for months, discussing reasons to revitalize the movement and how to restore worker power. In an unprecedented display of democracy and grass roots involvement at a national meeting of the labor movement, in small group sessions, convention delegates themselves will be figuring out the nuts and bolts of the revamp.
As part of this process some 4,700 people attended the revamp forums hosted by state federations, unions and central labor councils.
Some 75,000 participated online by going to the AFL-CIO 2013 Convention website, with online participation also including an incredible 3 million Facebook and Twitter posts, shares and retweets. AFL-CIO President Richard Trumka announced the figures at the executive council meeting. The participation has been continuing since then.
"It was 'Let a thousand flowers bloom,'" Peg Seminario, the federation's Occupational Safety and Health Director, told reporters at a press conference during the executive council meeting.
The revamp is needed, Trumka says, because the labor movement faces a huge crisis, as private-sector union density is at its lowest point since the 1920s. That lessens labor's influence and hurts workers, union and non-union, nationwide, by removing a counterweight to corporate greed.
Only seven percent of private sector workers are unionized, and public-sector unions, whose growth helped lessen the slide in overall U.S. union density – now around 12 percent — have also seen membership declines since the Great Recession hit.
One of the big problems, labor leaders say, is that the labor movement is organized right now for a workforce that has largely gone out of existence.
"The labor movement is organized around the workforce that was, not the workforce that is," said Seminario. "With the growth of the service sector, the self-employed and contingent workers, the labor movement needs to change."
The reality she outlined was a major factor, she said, leading unions to start a discussion about whether the AFL-CIO itself could transform itself into a voice for all workers, organized and unorganized. The eventual goal would be to have everyone organized with the AFL-CIO unions in a good position to bargain then for millions of new members.
The revamping does not simply mean a labor movement adjusting to a world of new and lower paid jobs. Almost everyone active in AFL-CIO unions sees the need to also mount a major fight for creation of good, decent-paying, quality jobs. The executive council confirmed this as a primary task of the labor movement now and as it reorganizes.
The overwhelming majority of participants in the revamp discussions, AFL-CIO leaders say, agree that collective bargaining is a key way to achieve such quality jobs but that bargaining collectively can be supplemented with other avenues to achieve the at goal,
Important in this area, they say, is reaching out to allies and pushing and winning support for an "agenda of shared prosperity and holding corporations accountable for their actions."
In some ways the campaign around fast food companies is a good example of the newer approach. Unions are working with non traditional worker rights groups, ad hoc groups of employees and a variety of community groups to stage one-day strikes. The pressure for action builds, with city councils and other bodies of lawmakers passing ordinances, as they did in Washington D.C., calling for higher wages.
The quality jobs goal ties in with another theme participants in both the live and online revamp discussions want: Pushing an "agenda of shared prosperity and of holding corporations accountable" for their actions. That includes reinstituting progressive tax rates, a financial transactions tax and a massive jobs program.
"This is about organizing and broadening the labor movement, increasing political power and involvement and also about how to deal with a global economy," Seminario said. "We need to look at new initiatives to enable more people to become part of the labor movement."
"Participants in the discussion were nearly universal in calling for more organizing, even as they suggested many different things that 'organizing' might mean," Seminario said. "Perhaps the most widely held opinion is that we need a more open conception of what it means to be part of the labor movement" including "organizations for workers that are outside the tortured paradigm of the National Labor Relations Act."
There is also an intention to reach out more to community allies, religious groups, women, people of color and the lesbian-gay-bisexual-transgender community.
That communication must be a two-way street, Seminario said. "We have to be more aggressive and affirmative" in both joining together with those groups and in agreeing on and campaigning for a joint agenda and each other's causes, she added.
Participants also reiterated – strongly – that labor should make it clear it is not tied to the Democratic Party, and vice versa. They said labor's political operations should emphasize issues, such as higher wages, a living wage, the rights of public workers and shared prosperity, and not politicians.
But there are disagreements when it comes to politics.
A minority involved in the discussions argued for stronger ties to the Democrats, while holding Dems accountable for votes on workers issues. The majority split over whether labor's political operation should concentrate on "competitive races we can affect" or undertake a 50-state strategy, with more emphasis on the heavily non-union, and growing, South.
Photo: Union members involved in the discussions on renewing the labor movement talked about ways to make the AFL-CIO represent all workers, organized and unorganized. Blake Deppe/PW