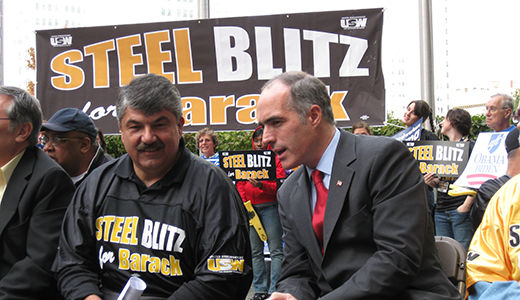 The labor movement showed this week that when it comes to fighting for what it sees as the vital concerns of workers it's willing to challenge important allies, up to and including the president of the United States.
Last week the Republicans filibustered and effectively killed President Obama's nomination of Craig Becker, a long-time pro-labor lawyer, to the National Labor Relations Board. They did this despite the support Becker had from the majority.
The GOP continued to stall on approving the appointment of Mark Pearce, another labor lawyer Obama nominated last July.
Labor sees the appointments as important because it's the job of the NLRB to protect workers' rights and for more than two years the board has had only two members instead of the required five. The vacancies have been used as an excuse by employers to get court orders, which have prevented the NLRB from functioning and enforcing labor law.
In a deal between the White House and the Senate Republican minority, the Senate last Friday confirmed 27 non-controversial Obama appointees. The NLRB nominees, Becker and Pearce, both of whom are widely seen as well-qualified and respected, were left out of the deal.
The deal was that President Obama would not use his executive power to put Becker and Pearce in place via Presidents Day recess appointments. The president can make such appointments temporarily when Congress is out of session.
In describing the deal AFL-CIO President Richard Trumka said it was a big win for the Republicans.
"A big win for corporations that want to file down the teeth of the NLRB. A big loss for working people," he said.
Trumka called upon labor's supporters to act quickly to voice their support for a fully functional NLRB.
"Progressives should take every opportunity to let their congressional representatives and the White House know that protection of workers' rights is one of the first and most important changes working people expected to see when they voted in 2008," he said.
"It's been 13 months since the inauguration – it's time."
Photo: http://www.flickr.com/photos/labor2008/ / CC BY 2.0