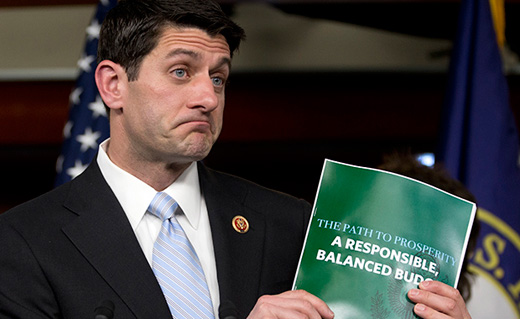 WASHINGTON (PAI) – A group of 172 progressive lawmakers is warning House leaders – particularly leaders of its GOP-run Appropriations Committee – not to use upcoming legislation to fund federal agencies to enact ideologically-motivated and mischievous "riders."
If the leaders try that trick, the group warns, they'll vote against any of the funding bills that come down the pike. And major unions back their stand.
The letter, initiated by Reps. Jan Schakowsky, D-Ill., and Ruben Gallego, D-Ariz., is important to workers because right-wing and Tea Party members of the House GOP often use such "riders" to promote anti-worker causes. Past "riders" have, for example, attempted to repeal the Davis-Bacon Act, which mandates prevailing wages for federally-funded construction projects.
Thus unions, including the Steelworkers, the Teamsters, AFSCME, the AFL-CIO, the Teachers, the Service Employees, the Auto Workers and the National Education Association, backed the progressives' warning. The unions are part of the 100-group Clean Budget Coalition lobbying for rider-less money bills.
"Riders from the Republican leadership are a way to manipulate the rules in favor of the wealthy few and big corporations. Working families want Congress to do its job and send President Obama clean spending bills," Peter Colavito, SEIU's legislative director, stated.
Lawmakers can also use riders to insert complex legislation into the money bills. The controversial law that lets financially-endangered multi-employer pension plans cut payments for current retirees and survivors, to keep the plans fiscally viable in the future, was inserted in the 2014 end-of-the-year money bill to keep the government going.
"Divisive partisan policy riders have no place in our appropriations bills," Schakowsky said. "Last year's two-year budget agreement should've settled the issue and allowed both parties to work together to craft the 2017 appropriations bills.
"However, with the budget process breaking down there is a danger that conservative" lawmakers "may try to break down the appropriations process by including radical policy riders to these bills. These provisions could block gun violence research, gut financial regulations in Dodd-Frank, limit reproductive choice, harm Social Security and Medicare, or prevent the United States from joining international climate agreements," she added.
Gallego said such "poison-pill" riders could lead to yet another government shutdown, similar to the two-week closure engineered in the recent past by the Tea Party and Sen. Ted Cruz, R-Texas, now a GOP presidential hopeful. "Democrats are united in calling on Speaker Ryan to end this pattern of reckless brinksmanship and pass clean appropriations bills to fully fund the federal government."
"Most riders are little more than sweetheart deals for big corporations and special favors for ideological extremists that could not become law on their own merits," the coalition said.
Photo: American Progress