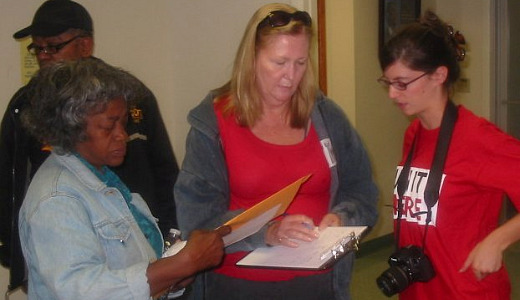 NEW HAVEN, Conn. – Union members hit the ground running to get their co-workers out to vote this November in Connecticut, one of 21 battleground states designated by the AFL-CIO. A U.S. Senate seat, three House seats and the governorship hang in the balance. It is estimated that if Connecticut sends back all five Democratic incumbents to the House of Representatives, the Democratic majority will be maintained.
Beleaguered by continued loss of industry and jobs in both the private and public sector, workers are looking for answers on employment and economic security.
In July about 66,000 workers here were in their first six months of unemployment benefits and about 90,000 were receiving extended benefits, which expire on November 30. The outcome of the elections is critical to the wellbeing of these families.
Addressing a group of union activists gathered at the New Haven Labor Council as they set out to knock on the doors of fellow union members, Rep. Rosa DeLauro, D-Conn., assailed Republican right-wing opposition to every pro-worker measure. This is a pivotal election about jobs, jobs, jobs," she said, indicating that with a Republican-controlled Congress, privatization of Social Security and repeal of both health care reform and Wall Street regulation will be on the agenda.
The Labor 2010 volunteers said they turned out because they are tired of the fear and division being promoted by the corporate-funded tea party Republicans. Asked what accomplishment meant the most to them in the last year and a half, their answers came quickly. "Health care. It isn't everything we want, but it is a start and more people will be covered," said one retiree. "Even getting the extensions to unemployment was a struggle" said a laid off union member.
"The stimulus saved jobs of teachers and first responders," said a machinist in the aerospace industry. Despite Republican "no" votes, the stimulus has provided $34 million in training and services to job-seekers in Connecticut including 4,000 summer jobs for youth. At least 7,500 public workers in the state are on the job because of American Recovery and Reinvestment Act stimulus funding. In addition thousands of jobs have been created in the private sector from infrastructure and other contracts.
As they knocked on the doors that morning, these workers listened to the frustrations, brought out the victories, and urged a vote for the labor-endorsed candidates.
"Just like in our union contract," explained one health care worker, "we didn't get everything we wanted the first time. But we continued to organize. This election is about continuing to move the country forward."
At another door, a union couple who both work at Yale University said they don't usually vote in mid-term elections. After discussing how important this election is, they both made the commitment to vote.
About 125 union members knocked on doors of union households in each of five Connecticut congressional districts on that Saturday kickoff. Workplace fliers, letters from local union presidents, and worker-to-worker phone calls are also part of the mobilization leading up to November 2.
At one door, a city worker who serves on her negotiating committee asked for extra fliers to bring to her union meeting, stressing the need for more aid to cities and states so workers don't have to get laid off.
Several other workers said they are already talking with their co- workers about the urgency of these elections and will continue to do so.
Every Connecticut union has endorsed Democrat Richard Blumenthal, currently the state's attorney general, for the U.S. Senate seat vacated by Chris Dodd. His opponent, Linda McMahon, former CEO of World Wrestling Enterprises, won the Republican primary with tea party support. A multi-billionaire, she is funding her own campaign and flooding the airwaves and mailboxes with daily messages against government spending, claiming the stimulus is responsible for job losses.
Unions are also unanimous in support of former Stamford Mayor Dan Malloy, a Democrat, for governor over Republican Tom Foley who wants to outsource government jobs and undermine public education with a voucher system.
Union members made the difference in defeating Republican incumbents in Connecticut's second, fourth and fifth congressional districts in the 2006 and 2008 elections.
"Union members make up a quarter of the vote on Election Day and they are well educated in the issues. It is through grass roots activism that we will help to keep Connecticut moving forward," said Connecticut AFL-CIO President John Olsen and Secretary-Treasurer Lori Pelletier in a thank you letter to volunteers. "Your participation builds a strong and powerful labor movement."
On October 2, labor walks will be held in solidarity with the One Nation Working Together rally at the National Mall in Washington D.C. A press conference on Friday at the NAACP office highlighted support by labor, civil rights and social justice groups in Connecticut who have chartered buses and a train car to take part in the rally and help mobilize to get out the vote on November 2.
Photo: Union members prepare to go doorknocking at the Labor 2010 kick-off in New Haven, Conn. (PW/Art Perlo)