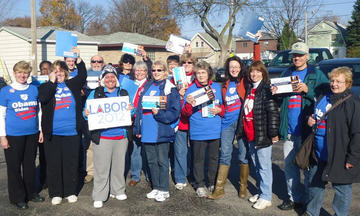 WASHINGTON — Organized labor's final election push, in the weekend before the Nov. 6 election, turned to get-out-the-vote and voter protection. Union leaders crisscrossed battleground states, tens of thousands of unionists rang doorbells, made phone calls and organized protection teams to beat back Right Wing challenges to voters.
The effort came as opinion polls split on whether Democratic President Barack Obama or GOP challenger Mitt Romney was leading in the popular vote and almost all were within the margin of error. Realclearpolitics.com, a compendium of state-by-state polls and tracking nationwide, gave Obama 201 electoral votes to Romney's 191, with 141 up for grabs. The winner needs 270.
But they also showed Obama with small but constant leads in key swing states, notably Ohio. Other swing states included Michigan, Virginia, Nevada, Florida and Wisconsin. AFL-CIO President Richard Trumka and Political Director Michael Podhorzer attributed the Obama leads to both unionists and to non-union voters whom labor, for the first time, could contact, too.
"We're facing dramatic choices – going forward versus Bain Capital," Trumka, referring to Romney's former job as Bain CEO, told a Nov. 1 telephone press conference. He then headed out on the campaign trail to Ohio – again – as did the two presidential contenders.
Trumka also claimed that labor's neighbor-to-neighbor, targeted and community-based operations helped working class voters in "cutting through the clutter" of millions of dollars in television ads posted by Romney and right wing special interests. He estimated AFL-CIO unions alone would marshal 128,000 volunteers in the final days.
The tactics appeared to be working, at least in the Buckeye State, according to an analysis Podhorzer distributed to reporters.
"Our internal polling shows Obama with 57 percent of the union vote, approaching the 59 percent of the vote he received from union voters in 2008, according to the exit polls," the analysis says. "Without the union vote, Obama would be trailing badly in Ohio.
"Our internal tracking shows that those non-union voters contacted by Working America or Workers' Voice, who hear the same economic message are favoring the President, doing much to explain why support for Obama among blue collar voters is much stronger in Ohio than in other parts of the nation.
"While we will not have precise estimates of the impact of these efforts until we can compare treatment and control groups after the election, we currently estimate – using fairly conservative assumptions – these contacts will generate substantial gains among those contacted and lift progressive candidates' overall vote by at least 2 points in our core target states."
But another reason for increasing Obama support among blue-collar workers, Trumka said, is a Romney TV ad that backfired. The GOPer claims Jeep, part of now-Fiat-owned Chrysler, plans to build new Jeeps in China, implying it would close U.S. production to do so. That's after Obama implemented the federal rescue in 2009 of bankrupt GM and Chrysler, saving millions of jobs. The two car companies, now profitable again, have repaid federal loans.
Romney's ad boomeranged when Chrysler's president immediately called it a lie. Chrysler, he said, is expanding greatly and hiring more workers in Ohio. Its new Chinese plant, he said, when built, will build Jeeps for China. GM called the ad "a fantasy."
"We're seeing that working class rejection of the Bush-Romney-Ryan economic agenda is the defining issue of this election," added Trumka, referring to the former GOP president and to Romney's running mate and author of the House GOP budget that would cut domestic programs and turn Medicare into a voucher scheme.
Trumka wasn't the only labor leader hitting the hustings from dawn until after dusk as Election Day approached. Others headed for swing states, hot congressional races, or both. Some efforts were:
SEIU Secretary-Treasurer Eliseo Medina spent the last four days before the election in Nevada. Not only does Obama have a narrow lead there – thanks to the huge and increasing share of Latinos in the population and the electorate – but also there's a close U.S. Senate race and a Unite Here member seeks a new, open congressional seat.
The Amalgamated Transit Union slammed Romney's past calls for abolition of federal disaster relief, in the wake of Hurricane Sandy, which made a mess of the Northeast. "Romney's plan to abolish FEMA (the Federal Emergency Management Agency) would not only leave hundreds of thousands of people without necessary aid and assistance, but would paralyze public transit for longer in cities hit by disasters. During a recent storm relief rally in Ohio, Romney avoided FEMA questions 14 times. Not only does this solidify that Romney is not a friend of transit workers and all working families who were most gravely impacted by the storm, but it demonstrates his greed in advocating for privatization of FEMA," ATU said.
AFT President Randi Weingarten stumped through Massachusetts and Connecticut, after spending the week before in bus tours of Ohio and Florida. She rallied teachers to the cause of pro-worker candidates in all four. Ohio and Florida are swing states in the Obama-Romney race, while the New England states are safe for him. All four have close Senate races, for two Democratic seats, one independent's open seat in Connecticut and for Elizabeth Warren (D), challenging 2-year extremely vulnerable Republican Scott Brown in Massachusetts. Democrats hold the Senate 51-47 with two pro-Democratic independents. "The 'Your Vote-Your Right-Their Futures' tour is building excitement around re-electing Obama and other pro-worker candidates and highlights the on-the-ground organizing, volunteer mobilization, member-to-member communication and get-out-the-vote efforts," AFT said.
AFGE President J. David Cox joined the weekend stumping for Warren, citing Brown's votes against federal workers. AFSCME President Lee Saunders joined Weingarten's bus tour in Hartford, Conn., campaigning for Rep. Christopher Murphy (D) seeking the open independent-held Senate seat against rich World Wrestling Federation executive Linda McMahon, who financed her campaign.
The Coalition of Labor Union Women jumped into the "My Vote, My Right" coalition to guarantee not just that women could vote, but that their votes would count. So-called "voter ID" laws and other voter suppression efforts were aimed at denying women, minorities, students, workers and the elderly the right to vote.
"Ensuring all eligible voters are able to cast their ballot and that every vote is counted is our top priority. Protection of voting rights at the polls on Election Day will be critical," CLUW said. My Vote, My Right targeted Florida, Michigan, Nevada, Ohio, Pennsylvania and Wisconsin. "We need union activists working outside the polls on Election Day to ensure that voters in line to cast their ballots receive correct information about voting procedures and their rights," CLUW said.
The Service Employees augmented their canvassing with $550,000 in radio and other media ad buys targeting minority-group voters in swing states Nevada, Colorado, Florida, Ohio and Wisconsin, along with ads in closely contested congressional races. "The choice in this election is clear, and these final two weeks we're going to continue to drive home that message," Political Director Brandon Davis said.
"With Romney and other anti-worker candidates, we will return to the failed Bush administration policies that wrecked our economy in the first place and eroded the nation's middle class. Obama believes in building the middle class. He not only says it, his policies prove it."
Photo: AFL-CIO NOW Blog