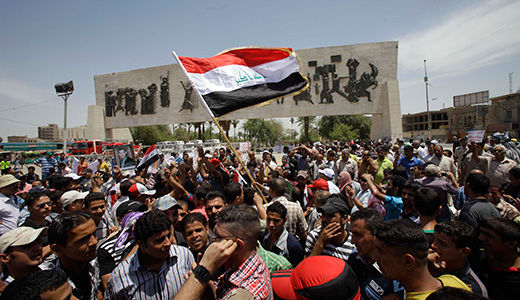 The Iraqi government appears to be taking a page from the book of the neighboring regimes of Syria and Iran, not to mention Saudi Arabia, in clamping down on popular protests. Amnesty International and the International Confederation of Chemical, Energy, Mine and General Workers Unions (ICEM) this week condemned the arrests of trade unionists, young people and other activists in Baghdad on Friday and Saturday.
ICEM head Manfred Warda, in a May 30 letter to Iraqi Prime Minister Nouri al-Maliki, said the 20-million-member global labor federation was "appalled" by the May 27 arrests near Tahrir Square in Baghdad of four youth, one of whom is active in the Mechanics and Printers Union of the ICEM-affiliated General Federation of Iraqi Workers (GFIW).
In addition to the 27-year-old trade unionist, the others are a 19-year-old high school student and journalist, and two university students aged 29 and 24, the GFIW reports.
"Their right of assembly and right of free speech, basic human rights in all free and democratic nations, has been breached," Warda wrote.
"We also protest the recent forced exile of another leader of the GFIW, Jamal Abdul-Jabbar, from his employment position in Kirkuk with the Northern Oil Company to a remote outpost," he added.
Warda said "these acts of repression" are "a direct and blatant affront to legitimate and universally recognised trade union rights."
"By restricting trade unions and the right of workers to freely engage in democratic assemblies that will benefit their work lives, and Iraqi society as a whole, your government appears to be stepping back in time," the labor federation leader wrote.
Urging Maliki to "change course," Warda said, "We demand that police immediately release the four detained youth, as well as instruct your Oil Ministry and the Northern Oil Company to return Jamal Abdul-Jabbar to his rightful job in Kirkuk."
Amnesty International, in a June 2 statement, called for urgent appeals to Iraqi authorities to free the four young people arrested Friday and 11 others seized on Saturday.
The activists "have been allowed no contact with the outside world since they were detained on 27 and 28 May in Baghdad," Amnesty said. "They are at risk of torture or other ill-treatment."
The four young men who were seized Friday morning, just before the start of a planned Tahrir Square demonstration, "had previously called for and participated in peaceful demonstrations in protest against deteriorating economic and other living conditions in Iraq," Amnesty noted.
They are being held in the al-Muthanna airbase prison in Baghdad, and the authorities have refused requests by their families and lawyers to be allowed to visit them, "heightening concern that they could be subject to torture or other ill-treatment," Amnesty said.
The four are said to be facing possible trial June 5 on charges of possessing false ID cards. However, Amnesty International said it "is concerned that their arrests and detention may be directly linked to their involvement in peaceful protests involving the legitimate exercise of their rights to freedom of expression and assembly."
See slideshow of the May 27 Baghdad protest here.
On Saturday, May 28, at least 11 other activists were arrested while they were meeting in Baghdad at the headquarters of Ayna Haqqi (Where is my right), a local nongovernmental organization. Four of those arrested were later released but the others continue to be detained and have also been denied access to their families and lawyers, Amnesty said. They too are believed to have been detained because of their involvement in organizing demonstrations in Tahrir Square.
Malcolm Smart, Amnesty International's director for the Middle East and North Africa, called the arrests "very worrying." The human rights group says it has "recently documented cases of other protesters who were tortured or otherwise ill-treated shortly after their arrest and while they were detained incommunicado by Iraq security forces."
Amnesty urges immediate messages to Prime Minister Nouri al-Maliki and other Baghdad officials, and to Iraq's diplomatic offices abroad, calling on them to:
* allow these detainees immediate access to their families and lawyers,
* release the activists immediately and unconditionally if they are being held solely for the peaceful exercise of their rights to freedom of expression and assembly,
* ensure that these activists and all other detainees are protected against torture or other ill-treatment, and that any officials responsible for torture are brought to justice,
* respect fully the rights to peaceful assembly and freedom of expression in Iraq.
Addresses:
Prime Minister and Acting Minister of Defence and Interior
His Excellency Nuri Kamil al-Maliki, Prime Minister
Convention Centre (Qasr al-Ma'aridh)
Baghdad, Iraq
Minister of Human Rights
His Excellency Mohammad Shayaa al-Sudani
Convention Centre (Qasr al-Ma'aridh)
Baghdad, Iraq
Email: info@humanrights.gov.iq
Minister of Justice
Hassan al-Shammari
Convention Centre (Qasr al-Ma'aridh)
Baghdad, Iraq
Embassy of the Republic of Iraq in the United States
3421 Massachusetts Ave., NW
Washington, DC 20007
Tel: (202) 742-1600 Ext. 136
Hours: Monday – Friday: 9:00 a.m. – 5:00 p.m.
Email: info@iraqiembassy.us
Photo: Demonstrators demanding basic services, jobs and democracy wave the Iraqi flag during a protest at Tahrir Square in Baghdad, Friday, May 27. (AP/Khalid Mohammed)