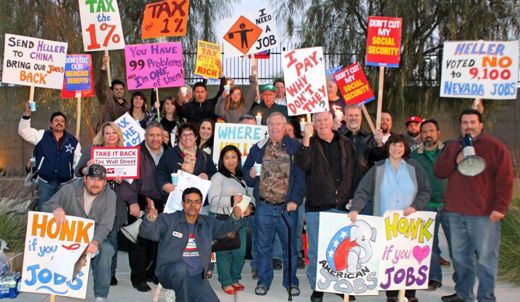 ORLANDO, Fla. – Just 48 hours before the $85 billion budget cut time bomb was set to explode, the leaders of the nation's unions are not only bracing for layoffs of a million or more workers but also hammering out details of a program they say will prevent those job losses and restore the economy for the working-class majority.
AFL-CIO political and policy leaders took time out here from their executive council session this morning to discuss the 12-million-member labor federation's approach to fixing the economy.
'"The Republican policy of cuts is destroying the recovery," said Damon Silvers, the federation's director of policy. "The discussion going on is upside down. We've already cut $1.9 trillion and we are approaching a sequester that will slash $85 billion more. We've only gotten $600 billion in income tax increases on the rich. Based on this, we say cancel the sequester altogether.
"On top of that we need to close loopholes in taxes that the rich take advantage of.
"Under no circumstances should there be any cuts to benefits such as Social Security or Medicaid.
"We will give no cover to anyone who supports these things."
The layoffs could begin happening when the scheduled sequester cuts go into effect this Friday.
"We are less than 48 hours away, every union will be affected, none as harshly as those in federal government," said Bill Samuel, director of the AFL-CIO's government affairs department. Over one million workers could be furloughed because of a crisis manufactured by a Republican Party that refuses to tax Wall Street and wants working families to pay for cuts. Democrats are not blameless. Too many speak approvingly of Simpson Bowles."
Silvers said that the Simpson-Bowles plan is not the "balanced approach" it is touted to be. "It would radically alter the nature of life in our country and it is unnecessary to do that to achieve long term debt stabilization
Mike Podhorzer, director of the AFL-CIO's political department said that "more than 100 members of Congress have written President Obama" regarding this issue.
As the union's policy directors spoke with the press, leaders of more than 50 unions were meeting in closed session to map plans to support labor's allies in Congress and to punish those who don't hold firm. "If our allies don't stand up it won't end well. We know that hostage takers like the Republicans only take more hostages when you let them get away with it," said Geri Prado, deputy director of the AFL-CIO's campaign department.
"Two days after the election we had hundreds of events around the county. The push will continue to look like that, calls letters, emails, staying strong on the issues."
Mike Podhorzer, director of the AFL-CIO's political department said that "GOP gerrymandering secured them their extra 15 or so seats in Congress but the public is blaming Congress by a 2-1 margin, blaming Republicans."
Photo: December 10, 2012 protest, one of 100 across the United States, calling on elected representatives to reject benefit cuts for Social Security, Medicare and Medicaid and to stop tax giveaways for the rich. AFL-CIO Facebook page.