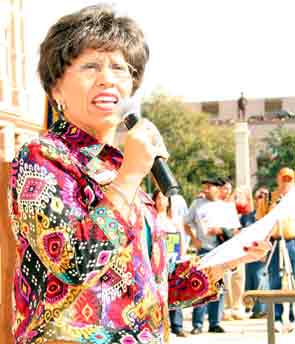 DALLAS — Working people in Texas are excited about the campaign of Linda Chavez-Thompson for lieutenant governor. Most of us know the story of how she came up from the cotton fields of Lubbock, Texas, to become the highest female officer in the American labor movement. The former executive vice president of the AFL-CIO had retired to her San Antonio home before the Texas AFL-CIO and leaders of the Democratic Party dragged her back out into the fight for the rights of ordinary people.
After taking high office in the historic 1995 AFL-CIO elections, Chavez-Thompson championed the rights of the most oppressed workers in America, including women and immigrants. She helped bring the AFL-CIO out of its isolated existence and to the forefront of the progressive movement, where it continues to shine today.
If Chavez-Thompson gets past the Democratic primary race on March 2 and is elected in November, she will be one of the most powerful political figures in state government. Texas is the second largest state in size and population. In many ways, the lieutenant governor of Texas has much more power than the governor. It is next to impossible to get legislation passed in Texas without the cooperation of the speaker of the House and the lieutenant governor.
After Chavez agreed to enter the Democratic Primary, the very popular former district attorney of Austin, Ronnie Earle, also threw his hat into the ring. Earle is known worldwide as the legal expert who ended the infamous political career of former Republican Rep. Tom DeLay of Sugarland. Earle is despised by the state's Republicans and cherished by Democrats, but his own hometown newspaper, the Austin American-Statesman, gave their endorsement to Chavez-Thompson as the stronger candidate.
Union experts believe that Chavez-Thompson can win this race. Additionally, having a Latina at the top of the ticket will help turn out the state's large Latino vote. It is particularly important in the Rio Grande Valley area, where thousands of Latinos vote in Democratic primaries, but largely ignore the general election. In the valley, Democratic primaries settle most local elections. With Chavez-Thompson campaigning, the full power of Latino voters may be felt at last.
Photo: Linda Chavez Thompson emcees an Austin rally for health care. Jim Lane/PW