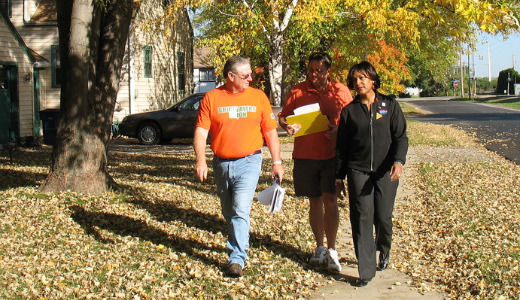 WASHINGTON – The training was as intense as the rousing speeches here at a Battleground States Conference of AFL-CIO leaders Tuesday.
Participants agreed to implement a "four pillar" election program in 25 states that involves mailing, phone-banking and walks through areas where voters gather.
It's the fourth "pillar," however, that the unions say will really make the difference: The aim there is to reach thousands of union members in person, either on their jobs or in their homes. The unions believe that by mounting a massive drive to talk with their voters they can out-do what they describe as a well-funded corporate attempt to take back control of Congress.
Karen Ackerman, the federation's political action director, said 80 percent of the union members reached directly that way in 2008 voted for the union-endorsed candidates.
Included in the training received Tuesday by local union presidents, central labor council leaders, state federation presidents and others here were seven tips for talking to union voters about the 2010 election. All of the tips were "message do's."
The first "do": Open with economic issues, not candidates or parties, and use questions to open conversations. An example given was, "What's your biggest concern about the economy?"
The second "do": Make this election a choice between two outcomes, not a referendum on a candidate, a party or an official. "Be clear and simple in the choices offered and remind people of what's at stake," is labor's advice. An example given was, "We need to keep moving our economy forward, not backwards. We have a better chance of negotiating good legislation with Sen. Harry Reid than with his tea party opponent."
The third "do": Make Corporate America the villain, not candidates or parties. The example given was, "We can't give Corporate America more control in Congress or in our state. We'd be crazy to put this economy back in the hands of those who ruined it."
The fourth "do": Highlight candidate records and personal background because, in this economy, union members strongly want to feel like their elected officials can relate to their struggles and have done something about them. Examples given were: "Barney Frank fought alongside our union to create a consumer protection watchdog and voted to bring stimulus funds to our state. Eric Cantor voted against unemployment benefits and voted against reigning in Wall Street." Another example was, "Candidate A grew up in a working class household and knows what it's like to balance a budget and make sacrifices. She will be a better ally for working people like us."
The fifth "do": Emphasize that fixing our economy is a process. The union advice is to tell voters, "We've made progress, but we won't make any with pro-Wall-Street politicians and corporate America taking control of Congress or our state." Other suggestions here: "We need to keep moving forward, not backward" and "We need to work for progress and vote for progress."
The sixth "do": Use union language and analogies to clarify choices and the process for fixing the economy. Examples given: "Like our contract negotiations, we don't get everything, but we make gains and fight for more. Don't be fooled by management promises; we know what they'll do if they take control. If (the Republican) wins he will demand concessions and take-backs from us. We have a better chance of negotiating good legislation with Nancy Pelosi than with John Boehner."
The seventh, and very important "do," the union trainers said: Cite specific backward steps that will occur if Democrats lose control of Congress. Be specific here, they said, about what is at stake for the union voter with whom the discussion is taking place (retiree, building trades worker, etc.). Example: "House Republicans have proposed raising the retirement age to 70, cutting Social Security payouts, and privatizing Social Security. We can't afford to go backwards" or "Corporate lobbyists will have the votes to further privatize our jobs."
The people who received the tips and training here came from 25 states. Although the AFL-CIO does not have an official list of "battleground states," a survey of those in attendance Tuesday shows that the states labor is targeting, to a greater or lesser degree, are California, Colorado, Connecticut, Florida, Iowa, Illinois, Indiana, Kentucky, Maryland, Michigan, Minnesota, Missouri, North Carolina, New Hampshire, Nevada, New York, Ohio, Oregon, Pennsylvania, Washington, Wisconsin, Delaware, Georgia, Texas and West Virginia.
After the long day of training here, Arlene Holt Baker, the AFL-CIO's executive vice president, brought the leaders of labor's 2010 election army to their feet. "A-Team, you are ready to hit the battlefield," she said. "You will reach every worker and you will prove the pundits are wrong. We're going to stand together, fight together and vote together in November so that America moves forward."
"It's up to you A-Team," Holt Baker declared. "Let's go out and kick butt for the next 91 days." The labor activists rose to their feet and applauded for several minutes.
Photo: AFL-CIO Executive Vice President Arlene Holt Baker joins Owen Jones of Bricklayers and Carpenters Local 9, left, and American Postal Workers Union of Wisconsin State President Steve Lord knocking on doors in a Neenah/Menasha, Wis., Labor Walk, October 2008. (AFL-CIO/Casie Yoder)