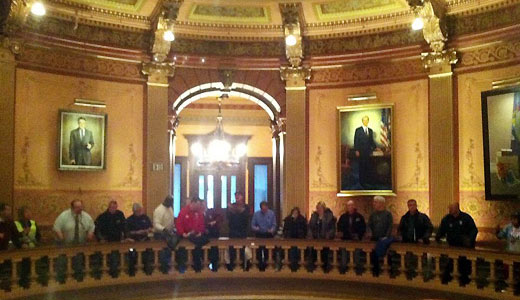 Editor's note: The Peoples World subscribes to and brings you the news all year from PAI, the union news service directed by Mark Gruenberg, which sent us the following compilation of all the headline news it reported this year. A review of these headlines does more than just take one down memory lane. It shows that 2012 was a historic year for labor and its allies, with working people in active struggle each and every day of the year. More than 80 percent of these stories were never covered by the major media. But you read them here.

 Happy New Year to PAI. Happy New Year and congratulations to the working people of America who made all this news in 2012 and are on track to make even more in 2013.
JANUARY: Union win vs. airlines in federal court shows importance of judges to workers…High Court to hear union campaign finance case…ALSO: Unemployment rate ends 2011 at 8.5 percent after third straight 0.2% monthly drop …Indiana mobilizes against right-to-work…Right-wing Wisconsin Gov. Walker to run against unions in recall drive…Labor faces new bipartisan push for Trans-Pacific 'free trade' pact…Obama names three to National Labor Relations Board…Mich. labor gets ready to rumble over GOP's anticipated right-to-work plans…High Court hears attempt to curb unions' political activism… Steel Workers: Oil shortage in the Northeast?…Bakery Workers, Teamsters scramble to protect members in Hostess bankruptcy…Gerard, others focus on job incentives at White House summit…Flight Attendants reach tentative pact with United…Bargaining opens for 30,000 D.C.-Baltimore UFCW grocery members… Callahan succeeds Giblin at Operating Engineers…Calif. car washers win $1M in back pay…Unions' message to govt., business leaders: Create jobs to revive world economy, or face possible 'social collapse'…Samuel: Labor to push several top measures; Outlook uncertain…Unions split on Obama Keystone pipeline turndown… Labor cheers successful recall petition vs. Wisconsin Gov. Walker… American Crystal rejects workers' plan to end firm's lockout…Union leaders on presidential panel criticize its business tax cut plans…Jewish Labor Committee's Appelbaum: Path to Middle East peace is through good-faith Israeli-Palestinian negotiations…BLS: Union membership up by 49K in 2011; Union share slips 0.1%…Obama calls for fairness, sides with the 99% in State of the Union address…Union leaders praise Obama's economic themes …Unions slam flood of corporate campaign cash…Indiana House passes right-to-work bill…Minnesota unions educate members, legislators to stop 'right-to-work'…NATCA praises apparent end to struggle over FAA, union voting rules…Labor, progressives blast rumored deal to let banks off hook for mortgage mess, recession…State fiscal officials: Public worker pensions not the cause of budget ills…Oregon state Public Interest Research Group fundraiser fires pro-union workers…For the record: Human Rights Watch on labor rights in the U.S. in 2011…First Student workers in Kansas join Teamsters…Washington Window: Class war – they started it.
FEBRUARY: Biden: GOP doesn't understand middle class…Harkin to unveil plan to rebuild middle class…Arizona next battleground in workers' rights war…Unemployment drops to 8.3 percent in January… Transportation troubles: Senate Dems cave on union votes in FAA bill; ATU says House bill anti-public transit; Teamsters oppose too-large trucks… Communications Workers endorse Obama…Colombian lawmaker, labor leader: New government violating labor rights pledges…Trumka, Ayers: Obama mortgage refinancing plan can help revive economy…Six months to the day since lock-out began, workers stage 'back to work' action at American Crystal Sugar…Indiana becomes right-to-work state; Union leaders blast move, predict it'll boomerang politically…AFA: Family leave law extends to flight crews…CWA members get positive feedback on Hill – with one exception…Washington Window: Want to raise your pay? Join the union… Steelworkers, allies raise pressure on unfair China trade issues…SEIU's Henry sounds the alarm on threat to jobless benefits…Unions split as lawmakers OK final version of aviation bill…Labor goes one-for-four on key causes within highway-mass transit bill…AFT endorses Obama for re-election…PBGC chief: Change premiums charged to firms to prevent future shortfall… Wash. governor brokers end to Longshore Union-port dispute…Unions to campaign vs. Alabama anti-immigrant law…Natl. Education Assn., others oppose GOP schools proposal…Teaching assistants tell Labor Board: Restore our rights…Trumka: Big banks' payment on mortgage settlement good first step; States get leeway to prosecute…Blood safety forces Teamsters to strike Red Cross in Cleveland…Federal judge orders Alaska Sheraton hotel to bargain with Unite Here…Charter school fires 8-1/2-months pregnant union activist, producing outrage…AFL-CIO figures: Party cleavage stark in key House votes last year…Senate 2011 voting study: Five deviations all year…Pa. USW refinery workers bring warnings of lost jobs, high prices…Obama budget proposal draws mixed union, worker reactions…Labor groups defend different pieces of national health care law…Coalition of Labor Union Women, SEIU help lead large campaign to protect reproductive rights…Independent truckers' grass-roots campaign in Seattle forces port to talk, lawmakers to act…Last-minute rush: Lawmakers may OK jobless benefits, highway bill hung up, future federal pensions slammed…St. Louis unions put up $1.6 million incentive fund to stimulate home building, call it possible model for U.S… Federal workers link pension cuts, GOP…Analysis: President Obama's budget-What's in it for labor, and what's not…Postal unions like senators' plan to help solve USPS' financial woes…Work-sharing plan, with aid, inserted into payroll tax law…SEIU: Collective bargaining helps battle pregnancy discrimination… Trumka, in California, lauds low-wage workers' progress in self-organizing…Study shows negative impact of private equity ownership on jobs…NLRB settlement forces private equity firm to repay laid-off factory workers…Unionists' 'Journey For Justice,' day of action highlight corporate greed behind lockouts… Romney comes to Michigan, bashing unions…Natl. Union Of Healthcare Workers, Machinists take first steps to merge…Labor, allies: Obama corporate tax proposal too weak.
MARCH: Obama strongly defends auto firm rescue; UAW endorses him…Citing his anti-union stands, right wing contractors group backs Romney…Cooper Tire workers ratify five-year pact; Lockout ended March 1…Federal report confirms Steelworkers' warnings: Closures would cut Northeast refinery capacity 50 percent…Union leader: Lawmakers sympathetic, but say they lack money, to end federal corrections officer shortage…Unionists forced into repeat Chicago sit-in win again-maybe…OSHA fines firms that sent exploited foreign students to Hershey plant…Construction unions: Project labor agreement remains on scaled-down Keystone pipeline…AFL-CIO revamps website to feature workers…Federal judge bounces Michigan law that bans local project labor agreements…Voting rights advocate: Justice Dept. reluctant to take on voter suppression…Steelworkers formally endorse Obama, unanimously…Businesses claim to add 233,000 jobs in February; Jobless rate unchanged…Highway-mass transit bill hits rocky road as intl. group warns of need for infrastructure investment…Congress passes China trade crackdown bill… International Women's Day: From 'Bread And Roses' in 1912 to Hyatt hotels in 2012…Mine Workers: Federal mine safety agency's deficiencies helped lead to fatal disaster…RWDSU launches campaign for NYC car wash workers after devastating report…UFCW Local 400: D.C.-Baltimore chains 'going nuclear' vs. workers…Wisconsin judge halts state photo ID law for April 3 election… IBEW Local 1 training members to install electric vehicle charging stations…FROM THE AFL-CIO EXECUTIVE COUNCIL MEETING IN ORLANDO: AFL-CIO formally endorses Obama for re-election…Labor redoes political program to counter flood of corporate cash…News analysis: Anti-worker legislation has second common theme: Disproportionate impact on women, minorities…Working America survey: 'Swing' voters seen swinging to Obama…AFL-CIO pushes jobs agenda that poses sharp contrast for voters…In wake of controversy, fed defends women's equal access to contraception…New organizing tactic: Involving communities, state feds, central labor councils…Labor to start early on protecting right to vote…AFL-CIO reports average membership of 8.5M…Also: Minnesota pols turn to constitutional amendments in war on workers…Big banks' quest for profits takes them into payday lending business…Anti-Walker protest draws more than 60,000 in Wisconsin…SEIU backs drive to reveal big corp. campaign donors, get them out of politics…Steelworkers hail new Obama trade filing against China… House GOP budget draws union scorn; Obama economist says it lacks jobs…Labor keeps pushing highway-mass transit bill as House GOP creates wreck…Mich. unions launch drive to write collective bargaining rights into constitution… Teamsters highlight government contradictions in Mexican trucks case…Pa. AFL-CIO blasts new state 'voter ID' law…Cleveland Teamsters bring struggle vs. Red Cross to D.C….Fed upset by government stall of key job safety rule…Machinists' election wins add 30,000 at United Airlines…The story in the states: Labor fighting on multiple fronts…Top Dem predicts narrow control of House after election – but not which party…From firehouse to Statehouse: IAFF Wisconsin leader seeks Lieut. Gov's chair…Steelworkers' counsel on fighting manufacturing decline: 'Where's everyone been all these years?'…Lawmakers avert highway-mass transit bill crash with 90-day fix; Unions blast game-playing…Harkin unveils 'Rebuild America Act,' draws labor praise…Union leaders call for GOP NLRB member Flynn to quit after ethics violations…Labor constituency group, LCLAA, documents conditions facing Latinas, demands reforms… UFCW, D.C.-Baltimore area grocers reach tentative deal.
APRIL: Federal judge tosses parts of Wisconsin GOP Gov. Walker's anti-union law… Labor's campaign vs. Alabama anti-immigrant law goes international…Letter Carriers, other unions campaign to save Postal Service…Jobless rate declines 0.1% in March… Pa. local union leader: Closing refineries, killing jobs threatens natl. security…Unionists, consumer groups: New poultry inspection rules dangerous…ATU, Occupy link Dr. King, poor, access to jobs with transit in April 4 events…Wage theft, literally: In Ground-breaking case, Minnesota contractor charged with stealing wages from worker… Authors: Add union organizers to civil rights law coverage…SAG, AFTRA members OK merger…AFL-CIO, Honduran unions tell DOL: Honduras breaks CAFTA…Unions urge High Court to toss Arizona's anti-immigrant law…Illinois subcontractor pleads guilty in wage theft scheme…Workers Memorial Day: Job safety gains endangered …Unions take top roles in mass movement for the 99%…Labor History: Kennedy forces steel firms to roll back price hikes after engineering non-inflationary pact with Steelworkers…Fed names its SuperPac, outlines activities it will fund…Wisconsin's Walker signs state Equal Pay Law repeal…NLRB official throws the book – the hotel's handbook – at Hyatt…Building Trades Dept. President Mark Ayers dies at 63 …Teamsters' Hoffa backs 'Buffett Rule'…Washington Window: Walker reveals the Radical Right's agenda …Fed's revamped paywatch site features high CEO pay, action calls…Unionists, allies stage tax day demonstrations nationwide…Study: Pay gap stays huge for working women…Postal unions push case for reform that saves, not dismantles, Postal Service…Cohen: U.S. could learn from Brazil how to rebuild unions…Teamsters unveil Hostess bankruptcy restructuring proposal…Steelworkers, AFL-CIO blast Obama ruling that lets Colombian FTA start…Union groups join civil rights organizations in renewed push to ban racial profiling…Florida tomato pickers take campaign to big Giant Food chain…Fed warns of GOP sneak move to repeal union election rules…Justices skeptical about Arizona anti-immigrant law's worker penalties…Unionists, allies stand up for immigrants' rights at High Court…Senate OKs postal 'reform' bill; Union leaders call it improvement over original, but not good enough…Senate defeats GOP anti-union scheme…Deaths on the job: Delta case shows flaws in occupational safety law…UFCW's Hansen: Bribery scandal shows to Wal-Mart execs should go…Panel holds hearing on Philly refinery closures, as USW's Stephano discusses 'things they could have talked about'… Revenge in Wisconsin: Three worker groups disciplined for anti-Walker stands…Study, lawsuit expose exploitation faced by retail cleaning workers.
MAY: Obama to Building Trades: GOP is blocking construction jobs…Trumka, Solis join political parade at Building Trades conference…SEIU uses NAFTA to go after Alabama …Occupy movement, unions mark May Day with mobilization …Fed: Data show job safety law too weak…Unemployment declines 0.1% in April…Construction unions welcome new Keystone XL pipeline bid…USW: Delta airlines subsidiary buys Philly-area refinery, saves jobs…Lockheed Martin pushes Machinists into strike at Fort Worth plant…ULLICO's Ed Smith: Firm's job is to protect union members, enhance union investments and provide union jobs…Missouri court OKs union win in home-care workers' vote…CWA takes 'Veri-Greedy' Verizon campaign to shareholders meeting …Unionists in politics: Two seeking high office in Wisconsin… Woody Guthrie commemoration showcases sharp social critique…Study: Top anti-union contractor group represents small share of firms…Presidential politics heats up: Teamsters endorse Obama; Teamsters, USW blast Romney as Steelworkers second Obama jobs call…Unions, coalition back stronger law vs. pregnancy discrimination…Trumka: Progressive coalition to unveil joint economic platform, demand candidate support… CWA's Cohen advocates united campaign for restoring worker rights, U.S. democracy…Hispanic-American civil rights group joins drive vs. sped-up poultry plant lines… University of Oregon backs off its challenge to new faculty union…Workers schedule strike vote, question banks' involvement with Twin Cities hospitals…Workers' online petitions target Wal-Mart after govt. orders firm to repay $4.8M…Hoffa, AFL-CIO blast judge's ruling tossing new NLRB union election rules…Inside-outside contrast: Elite discusses cutting programs, Social Security, in high-level confab; Citizens, activists protest outdoors…War on workers in Minnesota: Attacks in 2012 session were unprecedented…Right Wing pushes anti-worker political scheme onto November Calif. ballot…House defense bill provisions concern Steelworkers, Machinists…Cities hacking at Fire Fighters' ranks to save cash; Scandal over slowing responses in L.A…Union victims of 9/11 honored at Labor's Hall of Fame induction…Activist starts online petition to force Dems to make worker rights civil rights… Minimum wage hike, infrastructure investment, paid sick leave, trade pact rules in Dem jobs bill…Bankruptcy judge upholds Teamster pacts with Hostess…AFGE reaches tentative 4-year pact with Social Security Administration…Bank scandal prompts Trumka to demand tougher law…Berger-Marks develops mentoring manual for unionists… Wisconsin Walker recall: Near dead heat in bitter battle…Cohen: 'We won't fix the economy mess unless we fix the democracy mess'…CLUW, other groups ask members to lobby senators for Paycheck Fairness Act…Top German union leader, businessman say U.S. business must join unions, govt. to revive economy, middle class…Obama to Congress: Don't take away safety protections from nuclear workers… Building Trades lobby for House reversal on PLA ban…Led by nurses union, thousands converge on Chicago to protest during summit…NLRB official orders rerun recognition vote at Long Island Target store…NYC workers battle Bloomberg over contracting, wage cuts…NLRB official: Verizon illegally fired 58 CWA members after strike ended…Intl. report calls world recovery 'fragile,' says wrong policies could reverse it…Fed to lawmakers: Use Trans-Pacific trade pact to redo policy, favor workers…Labor Board to tackle college professors case.
JUNE: Construction unions win twice in GOP-run House: Lawmakers reverse course, OK project labor agreements, then reject dumping Davis-Bacon…NLRB member Flynn, under ethical cloud, resigns…With race down to the wire, Barrett argues for labor aid to 'fix Wisconsin'…May jobless rate at 8.2%…OPEIU asks other unions to cross out Red Cross…AFGE tells govt.: Reject new poultry inspection rules… Steelworkers, Teamsters challenge Romney: Back equal pay for equal work …SEIU elects Henry to full term; She urges union to get out into the streets…Unions, progressives launch grass-roots coalition to end Bush tax cuts…Farm Workers co-founder Huerta receives Presidential Medal of Freedom… Teamsters ratify new pact with Sotheby's, ending 10-month lockout …THE WISCONSIN RECALL ELECTION: In enormous turnout, Wisconsin GOP Gov. Scott Walker wins recall election…Union leaders emphasize mobilization, activism impact to get around fact of loss to Walker…Commentary: In Wisconsin, sadly, it seemed like 2010 all over again…Washington Window: Obama in trouble, and so is labor…Also: Republican filibuster threat kills anti-pay discrimination bill again…GOP allies help Dems stop anti-union agenda in Missouri legislature…ATU hails feds for ordering unsafe bus firms off the road, but faults failure to tackle driver fatigue…Natl. Consumers League to Crystal Sugar: End lockout, bargain with workers… Mediation Board OKs union recognition vote among American Airlines agents…NLRB orders casino owned by GOP heavy hitter Adelson to bargain with guards' union…Mine Workers stay neutral in presidential race…Fed to train unionists, mobilize labor lawyers to protect voting rights…Fire Fighters formally endorse Obama, Biden…SEIU and pro-Obama SuperPAC jointly buy $4M in TV ads…AFGE lays out detailed case for backing Obama…Workers win biggest union election in Alabama in 10 years, to join RWDSU…Texas federal judge halts union recognition vote at American Airlines…Amalgamated Transit Union, Good Jobs First start national transit riders group…Out-of-state power giant locks out Utility Workers at Pilgrim nuclear plant…N.Y. Fire Fighters hail govt. decision to include 50 cancers on list of diseases eligible for 9-11 aid…Piggly-Wiggly: We'll close rather than obey court order vs. anti-union stand…Top intl. union leader: World leaders 'more focused' on jobs crisis than before…Senators derail anti-labor moves…High Court tells public worker unions: Get objectors' OK before billing them for special political assessments…Minnesota Democrat Walz tries to haul highway-mass transit bill out of ditch… Court's Wal-Mart ruling pushes civil rights groups, lawmakers to draft alternative to class action pay discrimination suits…AFSCME elects Saunders as President, Reyes as Secretary-Treasurer…SEIU leaders stress street activism, coalition-building to raise unions' impact…CWA 'Day Of Action' marks year-long deadlock with Verizon…Letter Carriers food drive exceeds 70M pounds…Planned Postal Service cuts prompt 4-day hunger strike…ACTION IN MICHIGAN: Michigan 'Protect Our Jobs' petition for pro-worker constitutional amendment passes signature threshold …Planned $1B U.S.-Canada bridge to use domestic steel, materials, create jobs…Also: Union leaders cheer High Court's health care ruling… Construction unions hail 2-year highway-mass transit bill, ATU pans it…Leaders have mixed view of justices' decision on Ariz. Immigration law…CWA vows to continue drive against corporate political money after justices toss Montana ban…Hunger strikers launch bottom-up crusade to shame Congress into saving Postal Service…Hoffa, Ohio Sen. Brown try to put brakes on U.S. eagerness for new trade pact…News analysis: Wisconsin loss shows unionists need to grow up in confronting opposition.
JULY: Biden blasts GOP as anti-public education…Jobless rate stays at 8.2 percent in June …Top OSHA official Barab walks fine line on firms' voluntary safety and health protection efforts…Utility Workers: Con Ed forces 'long, hot summer' on customers by lockout…BCTGM members reject Crystal Sugar's demands for concessions for a third time…CWA, lawmakers, fair trade group protest labor's exclusion, corporate inclusion, in trade talks…NEA sidetracks anti-Iran war resolution…National Consumers League warns of summer food hazards…Union-busting in the Twin Cities? Catholic Church dumps newspaper, contract… AFL-CIO drops out of big role at Dem convention…Labor to promote 'Economic Bill Of Rights' in intensive drive this fall…Obama challenges Chinese import duties on U.S. cars…Anheuser-Busch policies force Southern California Teamsters to strike…Scranton mayor cuts workers to minimum wage; Fire Fighters, IAM, police sue…Houston office cleaning contractor firms force janitors to strike over health care…OSHA reaches final settlement with BP on fatal 2005 Texas City blast: $13M fine, fix the last 30 violations… Nursing home's intransigence pushes Conn. governor to picket with workers…Interview: Ullico CEO Ed Smith on union-owned insurer's dual aims…Unionists target T-Mobile before anti-offshoring vote…GOP filibuster threat shoots down another jobs bill…SEIU, Jobs With Justice join last-minute campaign to raise minimum wage…Utility Workers protection law awaits Mo. governor's signature…Weingarten: AFT to campaign vs. high-stakes testing…Gerard: Corporate campaign cash could destroy collective bargaining rights…Mass march adds to pressure on Con Ed to end lockout of Utility Workers…Safety issues top agenda at USW Paperworkers' bargaining conference…Dayton Newspaper Guild reaches tentative pact with Cox-after 26 years…Houston janitors' forced strike spreads to eight cities…Machinists: Proposed Beechcraft sale to Chinese-owned firm endangers national security, U.S. jobs…EPI calculation: Public sector job cuts result in overall 2.3M job loss…Consumers League warns against fire charity fraud… Maritime unions, industry join forces to protect jobs…Senate OKs middle-class tax cut bill; Unions strongly support measure…Unions announce boycott of Hyatt…Appeals court to take CWA case vs. American Airlines…Colombian unionists: One year later, FTA produces little change in worker rights…Rallies nationwide push increase in minimum wage…NALC's Rolando challenges delegates to crusade to save Postal Service…Top federal mediator steps in on unions' struggle vs. Verizon…Fire Fighters convention formally endorses Obama… Panel OK for Russia entering WTO draws Steelworker ire…Utility Workers reach tentative pact with Con Ed…Trumka pledges added labor support for Crystal Sugar workers… Political heavyweights join drive vs. Minnesota 'Voter ID' law.
AUGUST: Defense contractors to send out plant-closing notices before the election…House rejects middle-class-only tax cut extension; Coalition vows to take campaign for it to the fall…AFL-CIO Council: GOP holding workers, economy hostage for tax cuts for rich…Citing U.S. Senate race, AFL-CIO adds Mass. to list of key battleground states…Top Dems release studies of impact of planned GOP cuts on worker programs…Jobless rate virtually unchanged in July…Women's groups: 'All women' with insurance to benefit from health care law's expanded coverage 'over time' …AFGE's Gage to retire at convention after big win: 1st pact for airport screeners…NYC union workers, politicians blast city scheme to sell off parking meters…Biden to AFT: Teachers 'part of the solution' for U.S. schools…AFL-CIO to ethnics: Romney-Walesa meeting doesn't reflect Polish views…Fed: Strengthening labor law part of comprehensive 'shared prosperity' plan…Drafters: Dem platform to take pro-worker stands…Scranton mayor backtracks on cutting city workers to minimum wage … Thousands rally in Philadelphia to start 'Second Bill Of Rights' drive…Steelworkers to Dems: Put factory jobs plan with strong 'Buy America' section in party platform…Recognition vote loss in Chicago, firing in upstate N.Y. symptoms of anti-labor trend in Catholic institutions…Study: Share of U.S. good jobs drops in last 33 years…D.C. judge turns down NLRB request to reverse ruling on union election rule…Massive rally starts labor's economic campaign…Business, Right Wing target takeover of state courts … Unionists undaunted as struggle vs. Verizon passes 1-year mark…Major union win: 500 Portland security officers join SEIU…AFGE elects Cox as president, protests at Ryan fundraiser…Pennsylvania court rules for GOP 'voter ID' law there, disgusting Trumka…Citing overwhelming support for U.S. jobs, CWA launches ad campaign on foreign call center issue…Laborers, LCLAA in big voter registration, protection drive…Management at bankrupt Hostess hits unions with 'last, best, final' ultimatum…Catholic bishops denounce worker exploitation in economy, back unions…AFL-CIO SuperPAC launches leafleting drive vs. GOP budget plan…Analysis: Trans-Pacific trade pact would hand keys to the corporations…Samuel: AFL-CIO 'strongly against' extending tax cuts for top earners…Romney: 'I will oppose' expanding collective bargaining for public workers… Democratic platform strongly backs workers' rights…AFGE: GOP wants govt. to turn its back on its citizens'; Party platform, Romney economic plan sharply oppose labor priorities…Occupy members, unionists take workers' cause to GOP in Tampa…GOP unionists try to change party from inside…Study: No card check, no mandatory arbitration to get first contracts big causes of decline in U.S. union density… Unionists, allies picket Postmaster General's speech in Portland…Michigan court rules for collective bargaining vote…USW: Salt mine firm illegally fires war vet…Higgins takes over at Elevator Constructors.
LABOR DAY: Obama vs. Romney: Jobs, jobs, jobs the main issue…Harkin: U.S. Constitution under attack by the Right…Senate control key for workers in 2012 congressional elections…Immigrants, NLRB rules, collective bargaining cases show wide range of impact of courts on workers…From collective bargaining to Voter ID, fights on multiple fronts in the states…Welcome to 1929 – an economic analysis…Labor History: 10 dead, 100 injured in bloodstained Chicago field 75 years ago…Washington Window: The perilous state of workers in America…Op-Ed: Sam Pizzigati – The Tea Party's 1776 shtick: History mangled,..Op-Ed: Tom Palley – From financial crisis to stagnation: Destruction of shared prosperity and the role of economics.
SEPTEMBER: Trumka pushes workers' rights in Democratic convention speech…Dem platform details: Strong on worker rights, mixed on trade…UAW's King praises Obama's 'moral courage' in auto firm rescue…Joblessness declines to 8.1percent in August…Union delegates lobby colleagues for workers rights; Trumka slams Romney in labor caucus… Consumers League: Plight of restaurant workers makes dining out unappetizing…USW and big steel firms: Pact with U.S. Steel, talks continue with Arcelor-Mittal…Biden thanks unionists at Detroit Labor Day event…AFSCME's Saunders: Union to double number of members on campaign trail…Washington Window: Convention messages…Communications Workers, IBEW ink pact with Verizon…Steelworkers hail latest U.S. trade case filing vs. China…Unions laud Pa. Supreme Court voter ID ruling, but case isn't over yet…Chicago Teachers Union delegates ratify 3-year pact, ending forced strike…Wisconsin judge tosses Walker's anti-worker law…Letter Carrier goes from saving individuals to saving community…Unions side with universities in pending case on race and college admissions…Prop 32 to be major fight this fall in California…Pressure forces NFL owners to end lockout of refs…Duquesne University adjuncts vote for USW; Institution still claims U.S. Constitution overrides worker rights …Mexican Congress poised to weaken worker rights…14,000 New England janitors prepare for strike…Romney, at infamous Fla. fundraiser, slams federal worker unions… Fatal occupational injuries down slightly in 2011.
OCTOBER: Unemployment drops 0.3 percent in September, to 7.8 percent…Survey: Voters hate big secret money in politics, willing to punish do-nothing candidates…Dueling mailers: Romney letter to big givers slams unions; AFL-CIO hits GOP nominee's '47 percent' comment …Union leaders cheer postponement of Pennsylvania 'voter ID' law…Four groups of fed-up Wal-Mart workers, in stores and warehouses, strike… Missouri Gov. signs law protecting utility workers as death in K.C. emphasizes need…Outsourced Sensata workers in standoff with Bain-hired trucks…Appeals court restores union recognition vote at American…National Nurses United endorses Obama, but mostly with blast at GOP…UMW's Roberts: Unionists must demand politicos' action, threaten defeat… Locked-out Minn. Musicians regret concert cancellations, seek more talks…Mass firing of unionists sparks protest at D.C. public TV station…Obama dedicates national monument honoring Cesar Chavez…A PAI SPECIAL REPORT: THE ELECTION OUTLOOK 2012: Overview: Obama, Romney tied, and Senate even; Dem gains in House, but no takeover…Congress: Senate up for grabs…Author: GOP makes 'cops, fire fighters, teachers, nurses' into 'new welfare queens'…Voting records on labor issues reflect sharp partisan split…Workers rights, pensions, political participation on state referendum ballots…Washington Window: Two visions for America…ALSO: Wal-Mart warehouse workers in Illinois win strike, full back pay; Store workers in Maryland walk out…NLRB rules La. salt mine firm illegally declared impasse, forced Steelworkers to strike…National Nurses United ratifies first-ever master contract with VA…Florida magnate threatens firings if Obama wins…As Obama lead shrinks, unionists mobilize… Symbol of union goal, Unite Here member Horsford seeks congressional seat…Indiana 'right-to-work' law heads for court showdown… AFSCME: Romney wrong about how he hired working women…Sensata workers, job losses to star in new film…Nurses union racks up another organizing win in Texas…Washington Window: The missiles of October – then and now…Op-Ed: Why labor is sticking with Obama…Panel: Hispanic voter numbers to rise 25 percent, to 12.6M, hold key in more states…Union leaders back Obama debate points, hit Romney as race tightens…Wal-Mart workers sue for unpaid wages…With campaign cresting, unions turn to members, allies for votes…NLRB to probe overly broad employee handbooks' "at will" clauses… Machinists sound out Boeing workers in S.C…NLRB official to American Water: Restore health benefits, disability plan…Teamsters sanitation workers picket private trash firm in 19 cities…Author describes plutocrats' entitlement attitude…Washington Window: Which Mitt Romney is the real Mitt Romney?
NOVEMBER: Jobless rate, 7.9 percent, becomes political football…Milwaukee DA's office probing exec pressuring workers' votes…Labor's last-days drive turned to get out the vote, voter protection…Trumka blasts secret talks on budget-cutting deal…Cintas CEO joins parade of execs threatening workers if Obama wins…Locked out by management, Musicians seek to preserve world-class Minnesota Orchestra…Lawsuit challenges use of 'ghost' employees to avoid overtime pay…Teamsters win re-run vote among Illinois school bus drivers…ELECTION 2012: Obama win, other victories elate union leaders… Mood at AFL-CIO headquarters: Anticipation, then exhilaration, then glee…Union leaders start planning future priorities…Labor racks up referendum wins, mostly…Panel says new Senate must tackle comprehensive filibuster reform…AFSCME: Prior Ohio, Wisconsin battles sharply increased turnout… News analysis: Voters give Obama four more years to move nation forward…Poll: Workers voted Obama 2-to-1; Romney sided with the rich…Washington Window: We won. Now what?…Op-Ed: Older white guys learned their days of ballot control are over… ALSO: Union leaders to Obama: Raise taxes on the rich, aid the middle class…Coalition starts drive to save Social Security, Medicare from budget cutters… Bakery Workers blast Hostess lies as bankrupt firm's CEO threatens closure…Report: Income inequality rose by varying degrees in states…Census Bureau detailed report adds 3M more to the number of poor…NY Times workers win new contract…ATU: Conviction of intercity bus driver for manslaughter ignores real problem, driver fatigue…USW pressure brings settlement for illegally fired Iraq War vet…New book details prior win over plutocrats, rise of middle class…Mediation apparently fails in Hostess-BCTGM bargaining,,, AFSCME, NEA, SEIU air radio, TV, online ads on 'fiscal cliff' issue…USPS hiring freeze hurts veterans, postal employees say…Las Vegas Teamsters beat Coke decertification attempt…Court to hear arguments on who is a supervisor in job discrimination fights…Author: History can teach us how to reclaim middle class nation…Unionists fly in to lobby for Social Security, Medicare, against budget cuts…Walmart protests spread coast to coast… Michigan labor legislation: After Proposal 2 defeat, unions will get whacked. But who – and how hard?… Over union objections, bankruptcy judge awards $1.75M to Hostess execs…Trumka: Mexico on path to 'low-wage development,' weaker labor law, suppressing independent unions…Unite Here board elects Taylor to succeed Wilhelm… AFGE to senators: Don't take 'meat-axe' approach to Defense Dept. job cuts…Air Traffic Controllers push Senate to OK new FAA chief…Week-long company lockout ends with Steelworkers win in K.C.
DECEMBER: Union leaders blast GOP cut plans in 'fiscal cliff' talks, urge activism…Confrontation in Illinois: Gov. stops extending AFSCME's pact as bargaining continues; Anti-bargaining bill revived? …Amid uproar, protests, Michigan House passes right-to-work law…Fast-food workers walkout in New York, march in Chicago: Precursors to a new union?…Unemployment at 7.7% in November… Steelworkers, allies push oil industry to clean up, increase safety at refineries…Missouri Supreme Court: State, local governments must "bargain in good faith"…Labor Dept. inspector general still finds holes in OSHA, MSHA…AFT proposes setting higher standards for teacher training, entry into profession… Sanders: Demands by rich for Social Security, Medicare cuts 'obscene'…Locked-out Crystal Sugar workers reject pact for fourth time…New Egyptian president's labor takeover plan upsets unions…ILWU wins new pact after 8-day strike.
PAI can be reached by email. Photo: In Lansing, Mich., alleged overcapacity still keeping citizens out of their Capitol. Chant erupts in the rotunda: "inside, outside, we're all together". Michigan AFL-CIO Facebook.