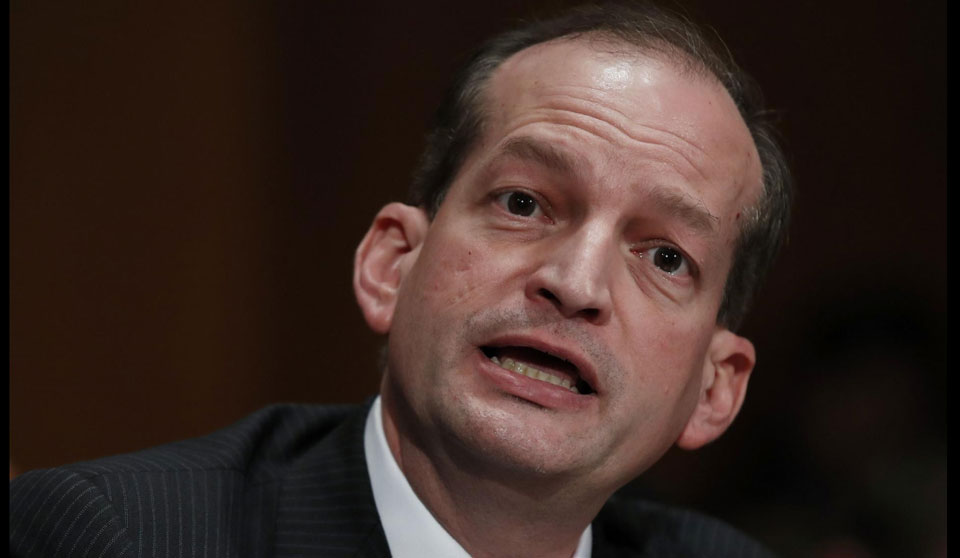 MIAMI—A federal judge's ruling in Florida has added GOP President Donald Trump's Labor Secretary, Alexander Acosta, to the ever-lengthening parade of ethically suspect Trump Cabinet choices.
And, in an eerie resemblance to how Acosta got the DOL job in the first place, Acosta got caught for the same reasons – exploitation of women in the #MeToo era – that forced Trump's prior DOL nominee, business executive Andrew Puzder, to drop out.
Acosta was cited for, as U.S. attorney for Miami, going easy on serial sexual offender Jeffrey Epstein. The multimillionaire hedge fund manager lured 30 underage girls to his Palm Beach mansion for sexual exploitation.
Acosta had his prosecutors give Epstein a 13-month sentence in a county jail, which let Epstein go to his office six days a week. Acosta sealed the plea bargain and kept it secret. The girls never got a chance to object, as federal law requires.
Acosta thus joins a parade of Trump Cabinet officers either under fire or forced to quit for ethical violations, law-breaking, or both. And that's not including similar problems plaguing his White House staff and family members, including constitutional conflicts of interest regarding Trump's hotel chain.
Cabinet miscreants include current Commerce Secretary Wilbur Ross, who faces questions about if he lied to Congress about a racist census form question. Former Veterans Affairs Secretary David Shulkin and former Health and Human Services Secretary Tom Price both charged personal expenses to the government's dime.
In Price's case, it was $1 million in air travel. Shulkin invented an excuse to have VA pay for him and his wife to attend the Wimbledon tennis championship in the U.K., then tried to cover it up.  Price had to quit. Shulkin, caught in verbal shelling from Trump-named pro-privatizing ideologues, was canned.
Other Trump malefactors include former Interior Secretary Ryan Zinke and former EPA Administrator Scott Pruitt. His own agency is still investigating Zinke for multiple conflicts of interest involving a land deal in his home state of Montana.
Pruitt, a climate change denier infamous for his $43,000 "secure" telephone booth and his cut-rate D.C. apartment rented from a lobbyist with business before his agency, still faces 15 federal probes. True to form, Trump nominated long-time coal industry lobbyist Andrew Wheeler to succeed Pruitt.
Untouched, so far: Treasury Secretary Steven Mnuchin, a financial wheeler-dealer whose firm became infamous for seizing and repossessing people's homes in the wake of the Great Recession, even when they had satisfied the requirements for refinancing.
DOL nominee Puzder had to drop out after revelations of exploitation of women in ads for his CKE Restaurant chain, as well as on the job – and his opposition to workers. His withdrawal led Trump to nominate Acosta.
But after an extensive Miami Herald expose of the Acosta-Epstein deal just after the November election, U.S. District Judge Kenneth Marra ruled on Feb. 21 that Acosta, when U.S. attorney for the Southern District of Florida, and his office broke federal law by concealing the plea deal from Epstein's victims.
The judge conceded Acosta and his prosecutorial team could solve the Epstein case any way they wanted. But he said the women, now in their 20s and 30s, were illegally shut out. The victims' attorneys noted they filed their suit in 2008, but the Justice Department kept delaying resolution of the case.
"Particularly problematic was the government's decision to conceal the existence of the non-prosecution agreement and mislead the victims to believe that federal prosecution was still a possibility," Marra wrote. "When the government gives information to victims, it cannot be misleading. While the government spent untold hours negotiating the terms and implications of the agreement with Epstein's attorneys, scant information was shared with victims."
Marra didn't dump the plea bargain but ordered Acosta, the victims, and their attorneys to negotiate for 15 days to see if they could agree on next moves. The Herald is running video interviews with some of Epstein's victims on its website.
Meanwhile, 36 lawmakers from both parties forced the Justice Department to investigate Acosta's plea deal with Epstein. "The fact that it's taken this long to get this far is heartbreaking and infuriating," said Sen. Ben Sasse, R-Neb., chair of the Senate Judiciary Committee's Oversight subcommittee.
"The department should use this opportunity to reopen its non-prosecution agreement so Epstein and anyone else who abused these children are held accountable."
When the Herald broke the story, the National Organization for Women demanded on Dec. 7 that Acosta quit. On Feb. 22, UltraViolet co-founder Shaunna Thomas demanded Congress impeach and remove him. She called Acosta's plea deal with Epstein "a slap on the wrist."
"Jeffrey Epstein is a serial child molester who used his wealth, power and influence to escape serious penalties for his crimes," said NOW President Toni Van Pelt. "The charges brought against him could have resulted in Epstein spending the rest of his life in prison. Instead, he played 'Let's Make A Deal" to subvert justice and escape punishment. Labor Secretary Alexander Acosta, who as U.S. Attorney in Miami cut the deal with Epstein, must resign."
Acosta's plea deal with Epstein, Van Pelt added, "was made possible by a culture of powerful men enabling each other while dismissing, excusing or demeaning the women and children they brutalize with physical and sexual violence."
"Too often, money and power buy outsized influence in Washington at the expense of regular people.
That certainly seems to be what happened in Florida, with tragic consequences, and we fear it is what may be happening again in the Department of Labor," added Christine Owens, executive director of the National Employment Law Project.
"For that reason, Congress should not simply investigate the Epstein case. It should also take up the question of who is driving the current Department of Labor's agenda. Time after time, the Trump administration has sided with corporate lobbyists over working people."