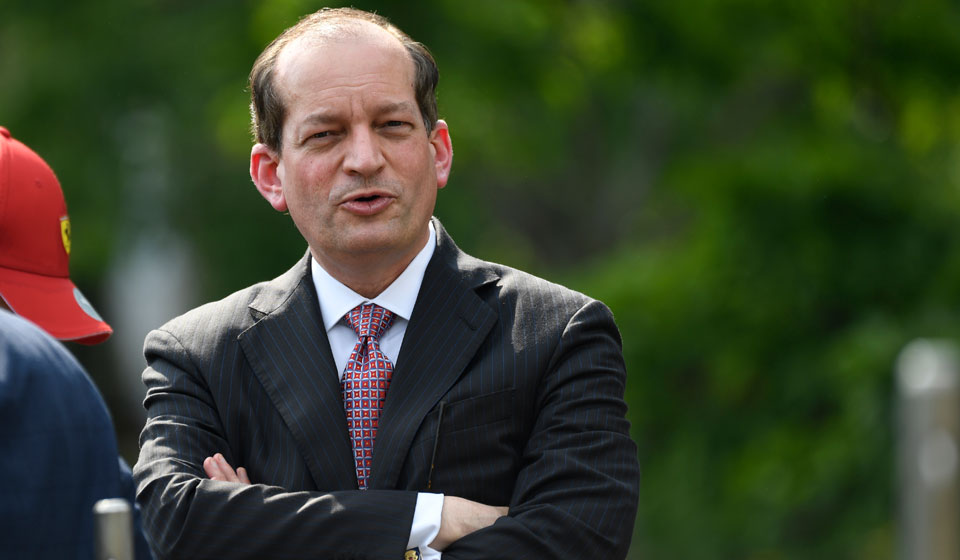 WASHINGTON—Using the tested technique of bob, duck, weave, and filibuster, Trump Administration Labor Secretary Alexander Acosta avoided many tough questions from congressional Democrats at the first hearing on his department's proposed budget for the year starting Oct. 1. That budget cuts DOL programs overall by 10%, and selected programs by a lot more.
One of the few he answered, in his prepared statement: "We do not support an increase in the federal minimum wage at this time." The federal minimum, $7.25 an hour, hasn't risen in a decade.
But even as Acosta didn't answer majority Democrats' questions at the May 1 House Education and Labor Committee hearing, the real action on his spending plan took place the day before. Then, ruling Democrats on the House Appropriations panel that actually helps dole out DOL money soundly rejected the right-wing Republican president's, and Acosta's, priorities.
Instead, that panel restored all of Trump's cuts, added millions of dollars to the spending plan and gave a 20% money boost—the first in years—to the National Labor Relations Board.
Democrats quizzed Acosta over his plans to cut 40% of federal Job Corps money, his proposal to raise the maximum a worker can earn to qualify for overtime pay from $22,300 in 2005 to $35,600—not the $47,476 the Democratic Obama administration proposed—and his plans, for solving the looming financial crisis of dozens of financially ailing multi-employer pension plans. He had none.
They also challenged Acosta on enforcing maternal and child health requirements on companies' health care plans, his emphasis on "compliance assistance"—not enforcement—against job safety and health violators, on letting 16- and 17-year-olds operate dangerous equipment without adult supervision, and even whether Acosta's living up to DOL's mission statement to help U.S. workers and retirees. He ducked all those queries and more.
Acosta also ducked questions from Rep. Andy Levin, D-Mich., the former deputy AFL-CIO Organizing Director, on Acosta's decision to dump an OSHA rule requiring companies to both keep job injury data for longer than six months and to submit aggregate injury data to the agency. OSHA would then post the aggregates on the web and use it to find job safety violation patterns for inspectors to concentrate on. Levin has introduced legislation to overturn Acosta's ruling.
One lawmaker, Rep. Frederica Wilson, D-Fla., made lack of trust in Acosta personal. Like Acosta, she's from Miami. As U.S. attorney there a decade ago, Acosta approved a lenient plea-bargain for a multi-millionaire serial sexual molester of teenaged girls, Jeffrey Epstein.
Late last year, a federal judge in Miami threw out the plea bargain—which Acosta had, in violation of federal law, kept secret from the victims—and ordered new talks between the U.S. attorney's office and their attorneys. Acosta's action then, and the judge's verdict, "makes it difficult for me to believe you would put workers first," Wilson said.
Even immigration arose, when Rep. Gregorio Sablan, the Democratic territorial delegate for the Northern Mariana Islands, pointed out Acosta's DOL lets firms illegally fire U.S. citizen workers in favor of H1-B foreign visa holders without cracking down. Acosta replied he lacked enforcement figures before an aide hurriedly passed him a note about an H1-B prosecution in Phoenix.
Acosta also kept pumping Trump's theme that the economy is going great guns, citing GDP growth and a low jobless rate. He said a combination of more job openings than job seekers and overall growth now forces firms to raise workers' pay. He did not, as one Democrat noted, mention the role of collective bargaining in that process.
And with encouragement from panel Republicans, Acosta kept returning to establishing business-run apprentice-like training programs in fields outside construction, such as health care, nursing, and computer programming. He said little about construction apprentice programs. He wants to cut funding for the construction apprenticeships, too, but the topic didn't come up.
"We provide Pell Grants if you" as a student "want to go to community college, but if you want to go into a welding (training) program, we don't," Acosta told Rep. Glenn Thompson, R-Pa. "It's very important we provide young Americans with all their options and let them choose for themselves."
Once, Acosta adeptly ducked a GOP right-winger's question, too. Most of the Republicans asked softball questions, but Rep. Ben Cline, R-Va., fulminated against unions and for so-called right-to-work laws. Those state laws let workers take union services and benefits without paying one red cent for them and they're a favorite cause of big business and the radical right.
"They're being threatened by unions and by some presidential candidates on the other (Democratic) side," Cline alleged. "What's the administration's position on that?" "It's a state-by-state issue, and one of the strengths of our nation is to allow states to decide many issues for themselves – including right-to-work," Acosta replied.
But the day before Acosta defended his, and Trump's, budget priorities, the House Labor-HHS-Education Appropriations subcommittee ripped them up. Subcommittee chair Rep. Rosa DeLauro, D-Conn., led approval of $189.8 billion for the fiscal year starting Oct. 1 for "discretionary" programs such as Head Start, federal aid to education, worker safety and health and wage enforcement and the NLRB. That doesn't count mandated spending for Social Security and Medicare.
That's $11.7 billion more than in the current fiscal year, and $47.8 billion more than Trump wanted. The increases include a total of $342 million to the NLRB to enforce U.S. labor law, $67 million more than during the current fiscal year and $100 million more than Trump asked for.
"Many of the bill's programs have been shortchanged in recent years, and, if enacted, the president's budget request would do irreparable damage," the panel said in a statement. "We fight to make sure every child gets a good education by increasing funding for early childhood education, child care, public schools, and higher education programs like Pell Grants and the federal work-study program," DeLauro said.  "We also protect our nation's workers and help ensure access to good jobs through increased funding for workforce training, apprenticeship programs, and worker protection programs at the Wage and Hour Division and Occupational Safety and Health Administration."