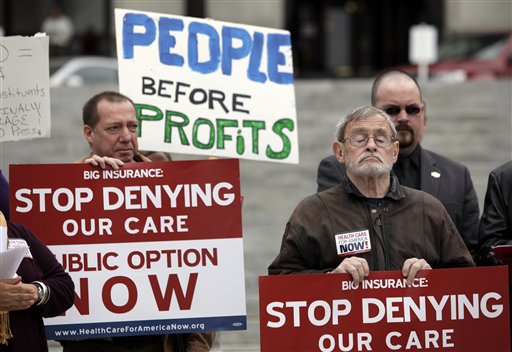 The labor movement, in full-page ads in daily newspapers around the country, is warning lawmakers it will oppose any health reform bill that does not correct the "deeply flawed" version approved by the Senate Finance Committee.
The ads spell out what unions insist on as bottom lines for a final health care reform measure, including a public health plan option, lower costs for workers, employers paying their fair share and no tax on benefits any workers now receive at their jobs.
Labor launched its "real reform or bust campaign" a day after the nation's health insurance industry launched an anti-reform advertising campaign and threatened massive premium hikes if measures making their way through Congress become law.
The union-backed ads argue forcefully for a public option, featured in four of the five proposals before Congress. The ads declare that a public plan is "essential to break the stranglehold of a handful of big insurance companies."
The union leaders blast the insurance industry for its attempt to pressure lawmakers into imposing heavy fines on people who fail to purchase insurance while letting employers who don't provide insurance off the hook.
"Health care premiums have climbed by 300 percent and insurance company profits have soared by 1,000 percent over the past decade," the unions' ads say. "The Finance bill requires individuals to obtain coverage, while employers face few incentives to provide coverage.
"The only fair way to cover the cost for all is to include an employer responsibility provision that requires all employers to provide health coverage or contribute a truly meaningful sum to help pay for subsidies."
Finally, the unions castigate the Finance Committee for coming out with a plan that puts a 40 percent excise tax "on what could be as many as 40 percent of all health care plans. That tax would most likely hit plans with people who are older and sicker or those who work for small employers."
The advertisements appeared as the AFL-CIO issued statements blasting the insurance industry for putting out a report that deliberately excluded data showing how health reform would lower, rather than increase, costs. The report's authors admitted they had left out this information.
Labor leaders across the nation condemned what some of them described as the insurance industry's "price-gouging" threat.
"Our legislators should respond to this bullying and stop coddling a useless industry whose sole function is to make enormous profits from the pain and suffering of patients while providing little in return," declared Rose Ann DeMoro, executive director of the 86,000-member California Nurses Association/National Nurses Organizing Committee.
Indications on Capitol Hill are that the insurance industry bullying may have actually helped the case for a public option, the feature of health care reform proposals it has opposed the most.
Reportedly at least three new proposals on the public option were being put forward by so-called moderate Democrats who have been afraid to come out, thus far, for the public plan.
One reportedly involved allowing the states to decide, on their own, whether to offer public coverage. Another involved federal backing of a plan to extend existing state employee plans to the public, and a third involved setting up a public plan immediately in any state where one insurer has a lock on the market. Another proposal suggested by Sen. Chuck Schumer, D-N.Y., involved a public option nationally that individual states could opt out of.
Republicans are clearly worried, with many saying some type of public plan is almost inevitable. One Republican leader said Democrats will take "Baucus' middle-of-the-road plan and turn it hard to the left."
"We know that the bill written behind closed doors here in the Capitol will be another 1,000 page, trillion-dollar Washington takeover," complained Senate Republican leader Mitch McConnell of Kentucky.
The debates in Congress reflect the intense anger spurred by the threats from the nation's insurers. Schumer waved a copy of the insurance industry report when he declared, "The report says costs are going up – the best way to get costs down is the public option."
Senate Majority Leader Harry Reid joined Schumer yesterday in calling for repeal of the anti-trust law exemption that now exists for insurance companies. They made a recommendation to that effect to the Senate Judiciary Committee.
Public opinion polls continue to show large majorities favoring a government-run health plan option.
Photo: An Oct. 14 rally on the front steps of the Pennsylvania State Capitol in Harrisburg. (AP/Carolyn Kaster)