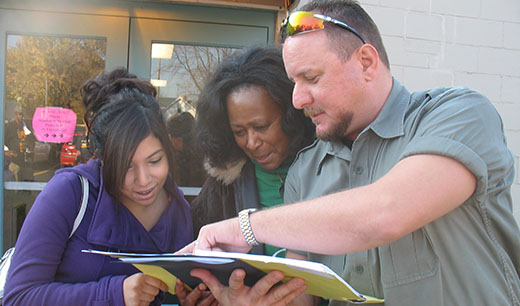 Union officials with the nation's largest labor group, the AFL-CIO, which represents about 11 million workers, say they plan to step up the pressure as the midterm 2010 election cycle approaches. AFL-CIO leaders say they have begun a grassroots push for Democrats in battleground states that see the need for a major jobs program and support policies that help working families.
"I think it is an absolute political reality [that Democrats could lose the House]," said AFL-CIO Political Director Karen Ackerman to the Huffington Post. "There are over 60 races that are in play, incumbents whose elections are endangered. Are we demoralized? No. Are we prepared to take a look at who are the best fighters on behalf of working people's issues and put the most support behind those folks and engage where we have the greatest union density? Yes. And we can make a major difference in those races," she said.
Calling it a "firewall" election strategy for the 2010, AFL-CIO leaders say they plan to prioritize congressional races that – sealed off from a broader wave of Republican wins – would prevent the House from being run by Speaker John Boehner, R-Ohio, in the next cycle.
"The House is a serious issue," Ackerman notes. "Speaker Boehner would probably not work for us."
AFL-CIO organizers hit the ground last week in 25 states as part of a widespread campaign to inform voters about the labor records of congressional and gubernatorial candidates.
AFL-CIO President Richard Trumka in a recent statement said, "If politicians are fighting for working families, then we will work our hearts out for them. If they aren't delivering and think they can take our support for granted, then they may be awfully lonely come November."
Trumka added, "People aren't interested in campaign slogans or promises; they want results."
Labor plans to be fully engaged and began distributing more than 300,000 political fliers to members at 164 worksites in the 25 states. They also initiated a two-week program to spark one-on-one conversations among members about labor-backed candidates. The nationwide effort is operating in states like Iowa and Indiana in the Midwest; New York and Pennsylvania out east; and California and Washington on the West Coast.
It's no surprise that the vast majority of candidates receiving support this year will be Democrats. Union leaders and members note the GOP has consistently blocked or voted against major issues such as last year's economic stimulus package and the health care reform bill.
Trumka said the AFL-CIO would not back members of Congress who voted against such measures.
"If politicians want the support of working families in November, they need to create good jobs here in America now," he said.
Although some GOP candidates may be endorsed, AFL-CIO officials say they have to make the case with its members that even though expectations may not have been met with the Obama administration or with the majorities in Congress, the alternative will be much worse. Most Republican candidates want to privatize or eliminate public-sector jobs as well as change pension plans, they charge. And the union vote has to be consolidated, they note.
Ackerman says resources will determine how certain important races can be swayed or saved throughout the country.
"It involves resources, in terms of doing more mail, more phones, more worksite leafleting, more door-to-door knocks," she said.
The push is also based on all of the 56 national and international AFL-CIO affiliates participating as well, she said.
Photo: Casie Yoder http://www.flickr.com/photos/labor2008/3002321345
From left: Melissa Aponte and Pat Reed, AFSCME Local 432 president, from Chicago with their driver Dave Parkinson of IUOE Local 139 in Milwaukee, before hitting the streets to Get Out The Vote for Barack Obama and other Wisconsin State AFL-CIO-endorsed candidates.