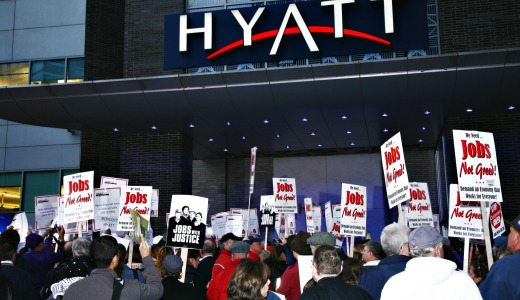 "If you have come to help me, you are wasting your time. But if you have come because your liberation is bound with mine, then let us work together"

– Aboriginal activist group, Queensland, Australia
SAN ANTONIO, Texas – Towards the end of the Cesar Chavez march last year it was brought to my attention that workers at the downtown Grand Hyatt had signed up by a margin of 62 percent to be represented by Unite Here. Unite Here is a progressive union representing hotel, laundry and restaurant workers across the nation.
Knowing what I know about the hospitality industry in San Antonio I was elated and very proud of these workers. This show of support for the union is a good thing and has the potential to make a very positive impact on area service workers.
Then last June I received a phone call from Jay Mehta, one of the Unite Here staffpersons. Basically Jay just wanted to know if I could help out with the campaign at the Grand Hyatt from a community support perspective. I of course responded with a YES! He informed me that Grand Hyatt management had reneged on their promise to remain "neutral" in the organizing campaign, had engaged a labor relations consultant and had terminated several members of the union organizing committee. To make a long story short, I became a community volunteer to assist the union as the situation at the Grand Hyatt had become quite ugly.
Workers at the Grand Hyatt earn no less than $10.21 per hour. While no one will become wealthy on this wage it is significantly higher than what other hotel workers earn in San Antonio. The reason for this higher wage scale is due to an agreement signed between the Hyatt hotel chain and the City of San Antonio. In exchange for this higher wage Hyatt was awarded $200 million from the city to get the project off the ground and running. But the agreement does nothing to protect the rights of workers from injuries, unfair labor practices and other serious problems. In fact construction workers who helped build the hotel have yet to be paid wages owed them by Faulkner USA, a building contractor out of Austin, Texas with a notorious track record of not paying owed wages, according to a source close to this issue. At present that issue is in litigation.
A primary issue that helped motivate workers to sign up with Unite Here is the grossly inhumane work load imposed on the housekeeping staff. Workers under union contract have a workload of 12 to 15 rooms per shift. By contrast, Grand Hyatt housekeepers (primarily women of color) are expected to clean between 30 and 34 rooms in a seven-and-a-half-hour shift! Do the math. This is more than four rooms per hour, requiring not only cleaning but also changing the bed linens and making the beds. Many of these rooms are left very dirty and in disarray, forcing housekeepers to spend far more than 15 minutes per room if the job is to be done properly! Workers who don't make the quota are disciplined, including up to being suspended and or fired.
It doesn't take a genius to figure out that by imposing impossible work loads and forcing workers to work rapidly, accidents are bound to occur. Housekeepers at the Grand Hyatt report injuries to their hands, wrists, arms, shoulders and backs from the heavy lifting and repetitive motion. It is not uncommon for housekeeping supervisors to demand that the injured worker continue working, thus causing further injury. A study conducted by four universities including the University of Illinois Chicago School of Public Health and published in the American Journal of Industrial Medicine shows that Latina housekeepers employed by the Hyatt hotel chain are at higher risk for occupational injuries than housekeepers employed by any other major hotel chain.
When asked to comment on this fact, Hyatt bosses chose not to respond.
Favoritism is also an issue. Preferred work hours, assignments, scheduled time off and holidays are given by supervisors on the basis of preferential treatment. Under a collective bargaining agreement such issues are resolved solely on the basis of seniority. Bosses resent this because it takes away their power to reward their flunkies. According to a couple of Hyatt housekeepers that I spoke with, workers who are not active in the union organizing or those openly opposed to the union get smaller work loads per shift.
While this practice is probably illegal, the National Labor Relations Board, the federal agency set up to enforce workers' rights has a very long history of dragging its feet and in some cases actually siding with employers rather than protecting the rights of the workers. This is one major reason why organized labor is so adamant about passage of the Employee Free Choice Act.
This also why the union voted to cancel the NLRB-supervised election back in July after Hyatt management had fired workers sympathetic to the union and had begun a campaign of intimidation through the use of a notorious labor relations consultant, Hector Flores. Had the union agreed to the election with the morale of the workers down, it would have in all probability lost the election. Once a union loses an election it not permitted to conduct another election for a at least one year.
The plight of the Grand Hyatt workers is not just in San Antonio. Across the nation Hyatt has engaged in similar anti-worker activities. In Boston, Hyatt laid off around 100 housekeepers and replaced them with workers from a contractor. These workers earn only $8 per hour while the laid off housekeepers were earning $14 to $15 per hour! In Boston as in most cities across the nation, housekeepers are Latinas, African American and/or women from the Caribbean islands.
In Indianapolis, Chicago, Los Angeles, Long Beach and San Francisco, Hyatt is either fighting organizing campaigns or forcing the union into strike mode with demands that the workers pay more for health care benefits! This in face of the Hyatt Corporation posting $1.3 billion in cash or its equivalent as of last September, according to E*Trade.
In San Antonio, area hotel bosses are fighting hard and counting on the NLRB to assist them in defeating Unite Here in its attempt to bring justice not only to Hyatt workers, but to workers at other hotel chains as well.
This struggle goes far beyond just being a labor dispute. It is about justice for African American, Chicano and white working class folks, many of whom are women. These courageous men and women need and deserve our solidarity in order to overcome the injustices that are currently imposed on them. People can help in the following ways:
* Get in touch with Unite Here and volunteer your time. E-mail Danna Schneider at dschneider@unitehere.org or call her at 313-510-3004, or contact Daniel Ovalle at ovalle.daniel@yahoo.com
* Contact San Antonio Mayor Julian Castro and tell him to intervene. Point out that $200 million of our city funds are invested at the Grand Hyatt! Castro can be reached at 210-207-7060, 207-4168 (fax) or by e-mail at mayorjuliancastro@sanantonio.gov
* Get the word out on what's happening not only at the Grand Hyatt, but Hyatt hotels across the country! Have your church, community organization and/or union become aware and pass resolutions in support of the workers.
* Do not use Hyatt hotels. Corporate bosses understand one thing and one thing only … MONEY! If people withhold the cash flow, then the boss's hearts and minds will follow.
We have waited far too long in San Antonio for workers at the bottom of the economic ladder to organize and fight for what is due them! If they fail, we all fail. When they are victorious, we will all share in the victory!
Photo: PW/Jose Cruz