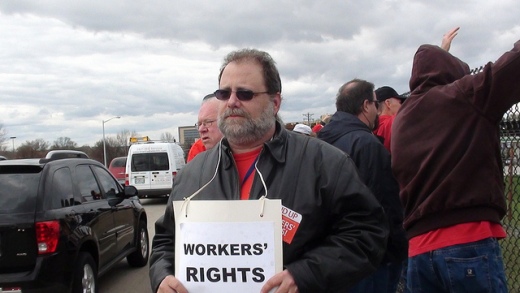 University of Missouri-St Louis instructor Don Giljum was vindicated after university administrators said May 9 that videos of the labor studies instructor were "highly distorted" and classroom discussions were "taken out of context."

UMSL's chancellor and provost said they regretted the distress to Giljum and he is eligible to teach at UMSL.
Giljum said the university pressured him to resign after Andrew Breitbart posted the right-wing hit-job videos on his blog. Videos were spliced together in such a way as to make it look like Giljum (and his co-instructor) was advocating violence.
Giljum told colleagues he was satisfied with the university's statement and appreciated all the support he received from friends, colleagues and concerned individuals around the country.

Giljum's co-instructor, Judy Ancel of University of Missouri-Kansas City, had also been targeted by the video attack. However, UMKC immediately issued a statement exposing the videos as fraudulant and reaffirmed support for the labor studies program and Ancel.
Ancel said the UMSL's statement was a victory for Giljum and academic freedom.
"Many are hoping that this victory can be converted into an opportunity to open a dialogue with the university, faculty, and St. Louis unions about the future of labor education at UMSL aimed at strengthening it and making faculty and students more secure," she said.
Ancel said the UMSL faculty played a key role in speaking out for Giljum and upholding the principles of academic freedom for all teachers and students. Students and state lawmakers also rallied in support.
"It was good to see the UMSL administration upholding academic freedom," said American Association of University Professors senior program officer Robert Kreiser. "It would have been better if the administration didn't respond like it did initially."
Kreiser characterized UMSL administrators' initial response as an "over-reaction."
"Giljum and Ancel did nothing inappropriate," he said. "This is a vindication."
Kreiser said the group welcomes UMSL's statement upholding the principle of academic freedom and Giljum's eligibility to teach there.
But Kreiser also said this attack, coupled with others, are a "worrisome development."

In March, amidst the battle for worker rights in Wisconsin, the Republican Party demanded University of Wisconsin turn over all emails from U-W professor William Cronon that contained the words "Walker," "Republicans," "rally," etc., after the professor had spoken out against union-busting and Gov. Scott Walker in a New York Times opinion piece.

Soon after that, an anti-union think tank in Michigan sent similar requests to the labor-studies centers at Michigan State University, the University of Michigan at Ann Arbor and Wayne State University.

Now, Kreiser said, you have Florida State University "agreeing to accept money from the Koch brothers," and to give them the right to approve who gets faculty appointments to their economic department.

The Koch brothers are billionaire, anti-union oil tycoons, and heavily involved in funding union-busting, and other reactionary state and national legislation. They fund the Republican Party and associated groups whose sole mission is to attack President Obama and promote extreme right-wing causes like global warming denial and vote suppression. They funded groups instrumental in attacking health care reform.

Wisconsin Gov. Scott Walker was caught on tape talking to a journalist pretending to be David Koch. Among the topics Walker and "Koch" discussed were using provocateurs to make trouble at the massive pro-union protests, and to bring in Andrew Breitbart for more video hit jobs.
In Missouri, the lt. governor and Republican lawmakers also are currently waging a legislative campaign against unions and working families.
Photo: Fighting back against the Republican war on workers, Missouri's union workers rally on the anniversary of Martin Luther King's assassination. (CC)
CORRECTION: In a previous version of this article, it was erroneously stated the Missouri governor was part of the war on workers. That was incorrect. We regret the error.