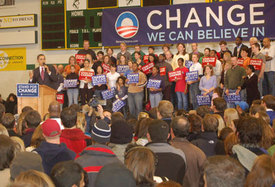 Barack Obama won the backing on Jan. 9 of the 60,000 strong Culinary Workers Union in Nevada, boosting his campaign for the presidency. Nevada voters will caucus on Jan. 19 to select their delegates to the Democratic National Convention. The endorsement followed announcements by the 450,000 member parent union, Unite HERE and the international plumbers' union that they were backing the Illinois Senator.
The decision by leaders of the Culinary Workers Union, Local 226 came just one day after Obama was narrowly edged out by Hillary Clinton in the New Hampshire primary and one week after his impressive win in the Iowa caucuses. The union, representing hotel, restaurant and laundry workers in Nevada's casino industry, is the largest and best organized labor group in the state. The union, 45 percent of whose members are Latinos, is expected to steer thousands of voters to the Jan. 19 caucus.
The union has worked hard this year to register Latinos who make up 25 percent of Nevada's population but are under represented on the state's voter rolls.
Culinary secretary-treasurer D. Taylor, at a Las Vegas press conference, hailed the senator's support for hotel workers in Chicago and said Obama would appeal across the union's diverse ranks, which also include white, Asian and African American workers. Union members attending broke out into cheers and chanted "Si se puede," which translates "Yes we can." Obama had chanted the English language version in his New Hampshire speech following the primary vote a day earlier.
The press conference followed an Obama endorsement by the parent union, Unite HERE, which has 450,000 active members. Observers note that the endorsement of Obama by a major national union right on the heels of the first two electoral contests of the season signifies that some in the labor movement see support for his campaign as key to building labor's leverage in the elections.
"Our organization and our members will do everything in our power to see that he reaches the White House this fall, because we know that he will bring working Americans with him," Unite HERE president Bruce Raynor said.
In addition to the support from two major national unions and from the state's most powerful local union, Obama picked up the backing of the Nevada chapter of the Service Employees International Union. The growing support for Obama by labor is seen as particularly important in Nevada, the most heavily unionized state in the country. Two thirds of Democratic voters there are union members.
"What we have to make real is the ideal that in this country, we value the labor of every American," said Obama as he accepted the endorsements at a speech in Las Vegas. "We must respect that labor and reward it with a few basic guarantees – wages that can raise a family, health care if we get sick, a retirement that's dignified, working conditions that are safe."
Raynor noted in his announcement of support from the national union that Obama had begun his career in Chicago "fighting for families who had been devastated by steel plant closings over two decades ago" and that "he marched with striking workers at Chicago's Congress Plaza Hotel picket line as a state senator and U.S. Senator."
The possibility that the labor endorsements could swing support to Obama has caused Clinton, who has been leading in the Nevada polls, to push harder for support from the Democratic Party establishment there. Democratic Rep. Shelley Berkley, who represents Las Vegas, had said she would remain neutral. She called reporters after news of the labor endorsements broke, however, to tell them she is backing Clinton. Sen. Harry Reid, who is the Senate majority leader, is thus far remaining neutral.
The plumbers' union which has joined the list of labor organizations backing Obama, is one of the most influential building trades unions in the U.S. and is the first AFL-CIO international union to back Obama. It is a multi-craft union whose members fabricate, install and service piping systems and have 340,000 workers in 300 individual locals across the country.
The union's president, William P. Hite, said, "Senator Obama will help us keep existing jobs and work to develop new, higher paying jobs here in America, reform our health care system, fix our ailing schools and make sure that the pensions of our retirees are safe."
Although Clinton, Edwards and Obama each now have support from numerous unions labor is expected to unite behind the eventual Democratic nominee in a get out the vote effort that surpasses anything they have done in the past.
Labor's ability to influence elections has grown markedly over the last few years.
Labor is seen as having been critical in ending GOP control over both houses of Congress in 2006. In 2007, at an August presidential forum at Chicago's Soldier Field, a retired steelworker, Steve Skvara, moved millions of TV viewers when he asked the candidates, "What's wrong with America, and what will you do to change it?" His call for change has become a rallying cry.
Later in 2007 unions mobilized voters who made many pro-labor changes in Virginia, Kentucky, New Jersey, Pennsylvania and Ohio.
Commenting on the current round of caucuses and primaries, AFL-CIO president John Sweeney said, "Working families are fed up with the direction the Bush administration has taken this country…They've been taking this passion to the polls…The energy we're seeing represents an emphatic, exhilarating rejection of the Bush agenda."
jwojcik @pww.org