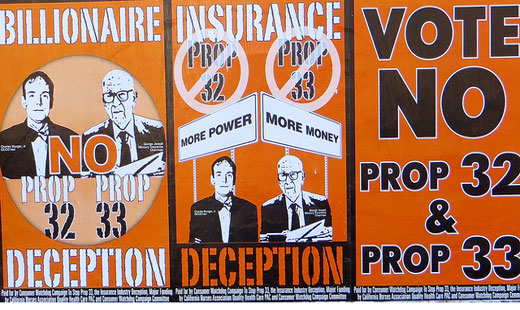 They usually go unnoticed nationwide, but referendums in various states can be useful measures of public attitudes on important issues. And on Nov. 6, with several exceptions – all, it seemed, in Michigan – labor did quite well on most of its priorities. The catch is that one of the biggest, writing the right to collective bargaining into the Michigan state constitution, was one of those that lost.
Labor's other big deal succeeded in California. Labor defeated a right-wing initiative to ban workers' political contributions. Unions overcame a multi-million-dollar corporate campaign for the political dollar ban, including — last week — $11 million funneled secretly from the venally anti-worker Koch brothers.
"I think people believed collective bargaining was existing in Michigan and there was no threat to it," AFSCME President Lee Saunders told Press Associates Union News Service. AFSCME Council 31 and the Teamsters shared the lead in the campaign against Prop 32 there. Michigan unionists told PAI that despite an excellent union ground game, it also lost to the Chamber of Commerce's multi-million-dollar ad blitz.
On the other hand, Saunders pointed out, Michigan voters listened and turned down another anti-worker brainstorm from the GOP and the Radical Right: Expansion of previously passed laws to let the state declare a local government – city, county, school board, whatever – financially "failing" and name a czar to take it over. Unions call that a "financial dictator." The GOP-run state government used present czar law to take over unionized, majority-minority city governments in Flint and the Detroit schools.
Michigan's "financial dictator" can unilaterally kill collective bargaining, dump contracts, cut pay, privatize services and sell assets, he noted. Voters said no. Besides the two Michigan referendums and another loss there – an SEIU initiative to help home health care workers – other notable results were:
California Democratic Gov. Jerry Brown's initiative to increase taxes to fund public schools, backed by both AFT and NEA, won. "In California and Ohio, voters took a stand to say that investing in public schools is a critical priority, and California voters also rejected a measure to silence the voices of working people," AFT President Randi Weingarten said.
An Illinois constitutional amendment barring virtually all increases in state or local workers' pensions lost. AFSCME battled it. It got 56 percent of the vote, but needed 60 percent to pass.
Minnesota voters bounced two GOP constitutional amendment schemes. Unions campaigned against both. One would have banned gay marriage. The other would have inserted a tough voter ID law. Maryland and Maine unions also campaigned for gay marriage initiatives in those states. Both won, as did expansion of casino gambling in Maryland, which unions backed.
Photo: Flickr