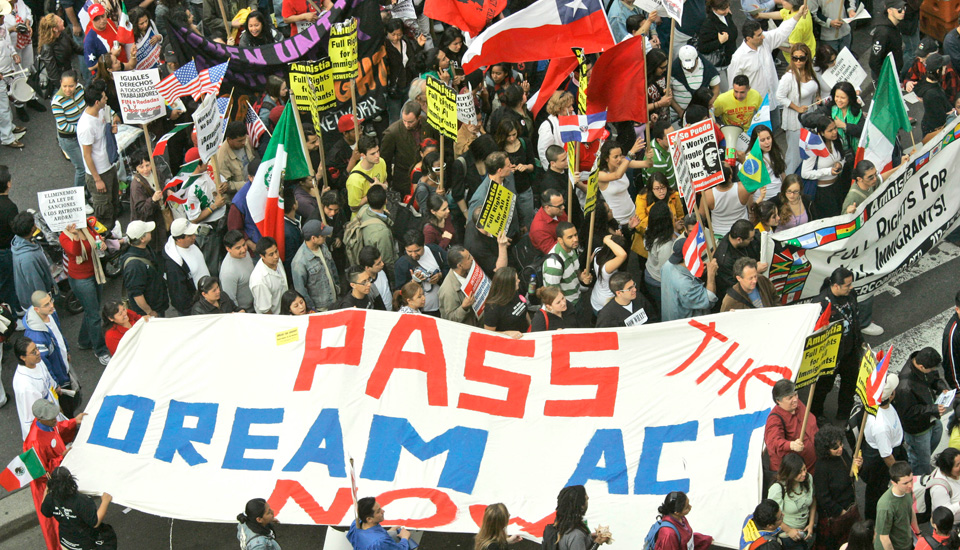 WASHINGTON—Amid rampant confusion over what GOP President Donald Trump and congressional Democratic leaders Charles Schumer and Nancy Pelosi agreed to do about the nation's 800,000 Dreamers, two labor groups—the Asian-Pacific American Labor Alliance (APALA) and the Laborers Union—are urging a simple solution.
Pass a law, the Dream Act, to eventually legalize the Dreamers and in the meantime to extend the Obama-era Deferred Action for Childhood Arrivals (DACA) program, they said—with no strings attached and no Trump Wall on the Mexican border, either.
The most-extensive statement came from APALA Executive Director Monica Thammarath as Trump, his staff, Schumer, and various other politicians exchanged statements and tweets over what the two sides agreed to—or didn't—over dinner last week.
That confab froze out congressional Republican leaders, whose rank-and-file hates DACA, much more than polls show their constituents do. And Senate Judiciary Committee Chairman Charles Grassley, R-Iowa, whose panel would handle the Dream Act, used a tweet to plead with Trump to send his staff to Congress to explain what's going on.
The uproar and the bargaining began after Trump dumped DACA on Sept. 5 and gave Congress six months before he'd start throwing all the Dreamers—undocumented people brought to the U.S. as children who now work, go to college, or are in the military—out of the country by terminating the 5-1/2-year-old program.
But then it seemed he reversed course—with strings.
Trump's first tweet on the issue, as he was on a plane to Florida, said: "No deal was made last night on DACA. Massive border security would have to be agreed to in exchange for consent. Would be subject to vote." That means votes in Congress.
But then he tweeted: "Does anyone really want to throw out good, educated and accomplished young people, who have jobs, some serving the military? Really…" And "Many Republicans agree with what I'm doing," he later tweeted.
Neither tweet mentioned his wall along the border. The GOP-run House approved a bill including a $1.6 billion down payment for the wall, but it's not popular on Capitol Hill. But Trump spokeswoman Sarah Huckabee Sanders tweeted that "excluding the wall was certainly not agreed to."
But Trump also told reporters on the plane: "We are not looking at citizenship" for the Dreamers. "We are not looking at amnesty. We are looking at allowing people to stay here. We are working with everybody. If we don't have the wall, we are doing nothing."
New York Democratic Sen. Schumer, the minority leader, differed. The wall, he stated publicly, was not part of the agreement.
Pelosi, the House Minority Leader from San Francisco, also tweeted the Dream Act should stand alone. "I have no doubt that if the #DREAMAct were to be given the vote it deserves, it would pass," she said.
That's what APALA, whose members include Asian-Pacific Dreamers, wants. So does Laborers President Terry O'Sullivan, in a prior statement. Pass the Dream Act, they said, with no wall and nothing else besides.
"When Donald Trump rescinded the Deferred Action for Childhood Arrivals program, he put the lives of young immigrants and their families in danger and at risk for detention or deportation by advancing a dangerous white supremacist agenda," Thammarath said in a Sept. 14 statement.
"Instead of using undocumented immigrant youth as bargaining chips for the sake of bipartisanship, elected officials should be focused on finding a lasting, legislative solution that protects the over 1.1 million DACA-eligible immigrant youth without placing other immigrant communities at risk—including those living in border communities.
APALA called on Congress to reject all bills that include additional funding for increased border enforcement, expanded detention beds and deportations, the building of a wall, changes to the family immigration system, and changes to immigrants' access to public benefits.
O'Sullivan's statement about the Dream Act, part of his longer comments about Trump's Sept. 5 axing of DACA, agreed with Thammerath.
"Although our country has a long road ahead in achieving comprehensive immigration reform, the Dream Act is a promising bipartisan step in the right direction. In light of the administration's decision, the Laborers strongly urge Congress to immediately redouble efforts to come together and quickly pass this legislation," he said.
The AFL-CIO, other unions, and leading Latino groups did not issue immediate statements about the DACA talks between Trump and the two Democratic leaders.