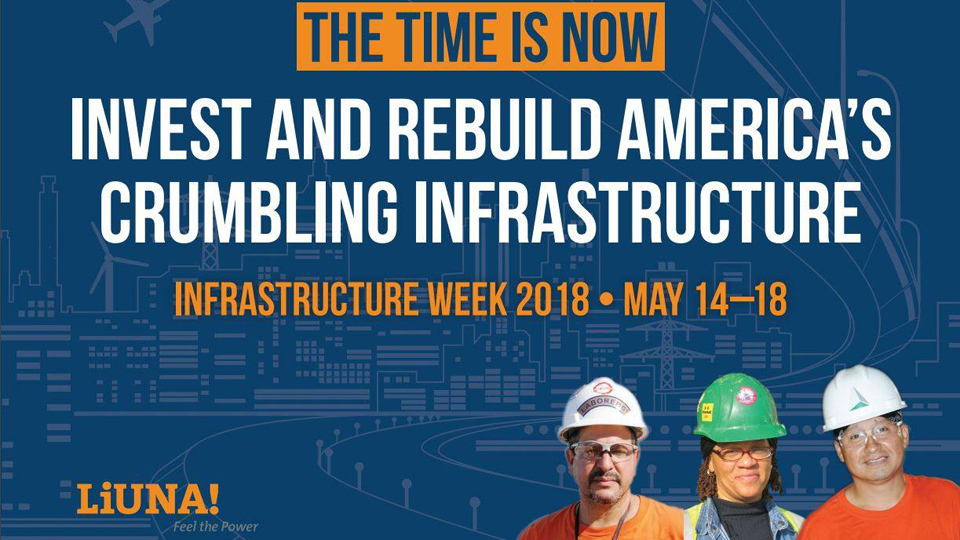 WASHINGTON—Saying "there's no single answer" to funding U.S. infrastructure needs, Laborers President Terry O'Sullivan endorsed a variety of approaches – some pushed by GOP President Donald Trump and Congress' ruling Republicans and others long-time union and Democratic favorites – to raising funds to rebuild the nation's crumbling roads, bridges, subways, airports and bus systems.
O'Sullivan endorsed the "all-of-the-above" approach at a May 14 D.C. kickoff of "Infrastructure Week," which features a coalition of unions, business, think tanks and others all coming together to lobby states and D.C. for at least $1 trillion in new infrastructure spending.
"All of us are united in concern about America's crumbling infrastructure," he told a crowd of business, civic and other interested leaders packed into a meeting room at Washington's Union Station. It was one of several hundred events coast to coast during the coming week designed to put the pressure on lawmakers, governors and Trump to fund infrastructure.
"We support any and all sources of funding that will create good-paying, family-supporting, middle class jobs building and repairing America's infrastructure," O'Sullivan declared.
The Laborers support all the different funding plans "as long as the projects" they pay for include "worker protections" on wages and in project labor agreements, O'Sullivan said. The other panelists who spoke were notably silent on that point.
That is because, at least in part, the Trump plans for infrastructure repair rely heavily on extending tax breaks and other handouts to contractors and companies that were already planning various projects around the country. The Trump proposals would be far less stimulative of the economy than the big stimulus plan enacted under President Obama at the peak of the Great Recession. That plan involved massive infusion of federal dollars into projects across the country and resulted in ending the Great Recession and creating many jobs. In addition most economists say a serious approach to the crumbling ifrastructure in the U.S. would require many times more funding than the amounts Trump is proposing. Then too few actually believe that the anti-labor Trump administration has any real concern for accomplishing things with well-paid union labor.
The "all-of-the-above" approach O'Sullivan endorsed includes state and local municipal "bonds, user fees, public-private partnerships and more," he said. It also must include federal investment, he added, but without being specific. Unions, including the Laborers, have campaigned for large federal shares in infrastructure spending.
Notably missing from O'Sullivan's remarks: Raising the federal gas tax, which, at 18 cents a gallon, hasn't gone up since the Reagan administration.  Combined with higher fuel efficiency and use of a small portion of gas tax revenues for subways, buses and bike lanes, the nation's highways have faced a massive shortfall in cash for repairs, replacement and new construction.
Finding new revenue for such a massive construction effort means jobs not just for his 500,000-member union, but for other building trades unions, O'Sullivan said. And it benefits the country, he added.
But the union has been campaigning for years to rebuild America, including such devices as carting a smashed school bus around the country to show what would happen when the bus runs off a badly maintained road. It also sent a sound truck about crumbling infrastructure to key "swing states" in the industrial Midwest during prior election years. A big section of the union website is devoted to the issue.
"It's about building better lives for ourselves and our families, and it's about leaving behind structures and systems that will be there for future generations, just as those who came before us left behind the highways, bridges, tunnels, waterways, power grids and other infrastructure we rely on today," O'Sullivan said.
And it has to be done now, he declared. Without such investment, the U.S. within 20 or 30 years could find itself with Third World infrastructure, costing workers jobs and companies revenue and money.
"It's time to stop talking and start doing. It's time for this nation to put its money where its mouth is. It's time to build," O'Sullivan stated.
The union leader reminded the group its past lobbying made a difference, pushing Congress to previously enact a 5-year $305 billion transportation bill. That law, however, only authorizes money. It doesn't parcel it out.
And due to opposition from anti-everything congressional Republicans, the bill didn't raise the gas tax. As a result, O'Sullivan admitted, actual infrastructure spending "might have to come in bits and pieces."
Trump has proposed a $1 billion infrastructure program, but 80 percent of the money would come from state and local governments. And many of those governments are upset the Trump-GOP tax law would reduce their revenues, for transportation or anything else, by its $10,000 limit on the individual income tax deduction for state and local taxes.
That hasn't stopped states and cities from raising their own gas taxes and funding infrastructure, having grown tired of waiting for the feds while watching their roads crumble and their bridges fall down.
A succeeding panelist, Austin, Texas, Mayor Steve Adler, said lawmakers in D.C. "shouldn't be afraid" of raising the gas tax. His city's experience – voters raised their taxes for a $250 million transportation bond issue in 2016 – shows people are willing to pay more to get good roads, safe bridges, faster commutes and other benefits.
"There's overwhelming popular support to build infrastructure" among members of all political parties, Adler added. People want their politicians "to make the hard choicer and they're willing to increase their taxes" for it. "Politicians have to have more faith in what their voters want."
But there's one more big problem, besides cash, that plagues efforts to repair and replace the nation's deteriorating infrastructure, O'Sullivan warned: workers, or, rather, lack of them. Many states have construction job shortages, he explained, as "baby boomers" retire.
Meanwhile, Trump plans deportations of thousands of adults who fled wars and violence and have been here under temporary protected status, often for decades. That would rob construction of up to one-quarter of its workforce, O'Sullivan predicted. And Trump's plan to evict the 800,000 "dreamers" – teens and young adults brought to the U.S. as undocumented young children – would deprive unions and the industry of needed apprentices.
Neil Bradley of the U.S. Chamber of Commerce, who joined the panel O'Sullivan sat on, agreed. "First, do no harm," he warned. "There's no reason to send colleagues, friends and neighbors away" by eliminating TPS and DACA and deporting their beneficiaries. "There are a lot of people who talk about training" construction workers. "The Laborers actually do it – and they need helpers."