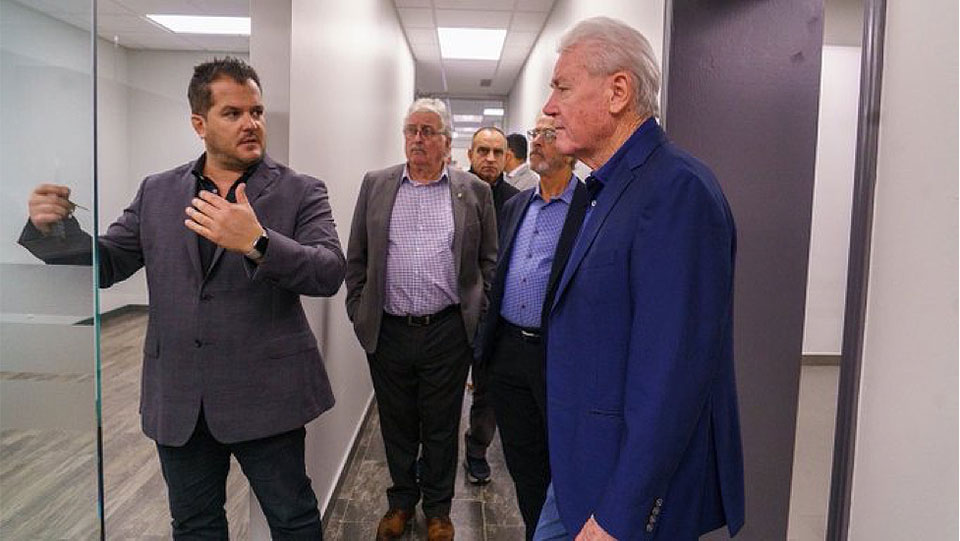 WASHINGTON —The 2022 midterm election is more important than workers suspect, Laborers President Terry O'Sullivan says. Not only will it determine the fate of pro-worker measures enacted since 2020, but it'll be a predictor of 2024, too.
The veteran president of one of the nation's largest construction unions used that justification to urge his members, and all workers, "to organize, mobilize and activate like never before for the November 8th mid-term elections." And, especially, vote.
O'Sullivan filmed the three-minute YouTube video on October 20.
The video is important politically not just because of the size of the Laborers, but also because of who they are. The Laborers, like other construction unions, are overwhelmingly male. It includes a high proportion of workers of color but also has a substantial group of white men, who have trended Republican for years.
O'Sullivan's statement also comes as the pundit class has swung back to the view that Republicans, who are almost uniformly anti-worker—and whose leaders say they want to put unions in their crosshairs—will take the House and have a good shot at gaining Senate control, too. The House is narrowly Democratic and the Senate is evenly split
O'Sullivan never mentioned either party by name, but the achievements he lauded all came since the 2020 election, which saw strong union support for Democratic presidential nominee Joe Biden and pro-worker lawmakers, virtually all Democrats.
"Since 2020, with this president (Biden) and this Congress, we have enacted the largest infrastructure investment in the nation's history, creating hundreds of thousands of union jobs, LIUNA jobs," he reminds viewers, using the abbreviation of the union's full name.
"We passed the American Rescue Plan, which aided millions of families, union families, and their communities going through a global economic crisis. And we won pension protections for millions of current and future retirees and beneficiaries.
"And through the Labor Department, with the cooperation of Secretary Marty Walsh, a card-carrying Laborer, we'll have strengthened Davis-Bacon prevailing wage rules for federal construction work. And now we have an executive order that mandates project labor agreements" on those federally funded projects, O'Sullivan added.
"That's what we accomplished in 2020 by turning out and voting for pro-union elected officials. And that's what we need to do again on Nov. 8th. Brothers and sisters, we have to keep up the momentum. Nothing is ever permanent and progress is never guaranteed. This upcoming midterm election will be a dress rehearsal for the 2024 elections when everything will be on the line.
"All that we stand for, all that we fight for, will be on the line. Make no mistake: The next Congress could build on what we've accomplished—or destroy it all."
"We need each and every LIUNA member to vote like your job depends upon it—because it does. Your job and the livelihoods of your LIUNA brothers and sisters depend on who sits in the halls of Congress, the state legislature, and the state capitol."
O'Sullivan said workers should make their decisions on candidates based on voting records, which "don't lie."
"Don't be distracted by the sham artists and the charlatans," he warned. "Vote for elected officials who saved your pensions, who voted for infrastructure, who voted for union jobs, and who voted to protect your wages and benefits."
All those measures were in either the recovery act, the infrastructure legislation, or in the latest sweeping measure, the deficit reduction act. No Republicans voted for the recovery act or the deficit reduction act, though some House Republicans backed the infrastructure bill.
"Go to the polls on Nov. 8th because your jobs, your livelihoods, your way of life depends upon it. May you feel the power. May you be the power. And may you use the power," O'Sullivan concluded.