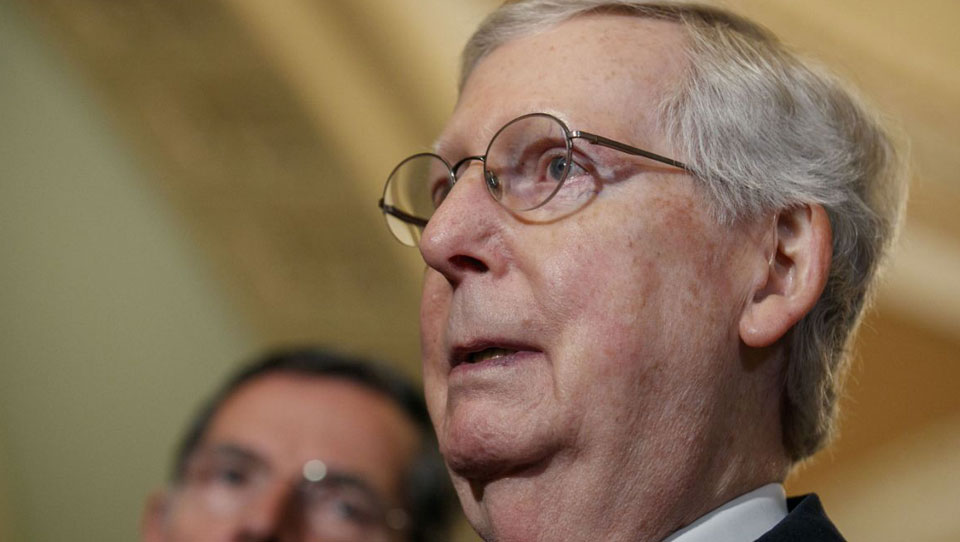 WASHINGTON – Worker rights. Clean elections. Campaign finance reform. Stronger job safety and health laws. Restoring the right to vote and banning voter suppression. Collective bargaining rights for public workers. Raising the minimum wage. Putting financially troubled multi-employer pension plans on fiscally sound footings without severely slashing benefits. The Green New Deal.
What do all those measures, and more, have in common? Answer: The Democratic-run U.S. House, or its committees, passed them all. And they're all victims of Mitch McConnell's blockade.
As Senate majority leader, McConnell, the Republican from Kentucky, has decreed that virtually every piece of legislation the House has sent or will send is (a) "Socialist" and (b) dead on arrival. If right-wing GOP President Donald Trump won't sign a bill, McConnell says, he won't even think of holding hearings on the measures – much less votes.
McConnell blockaded Democratic President Barack Obama, too, for six years. Speaking to his union's legislative conference one year, then-USW President Leo Gerard bluntly said it's because Obama is Black. Gerard got a standing ovation.
The latest measure to fall victim to McConnell's veto this year? HR8, a package of gun control legislation. McConnell's reaction to calls for a special session to pass those measures after the massacre of 22 innocent people, most of them with Hispanic names, by a Trumpite wielding a semi-automatic weapon after posting an anti-Hispanic screed with Trumpite language? Silence.
For unions and workers, McConnell is a big problem. The majority leader has even more control over the Senate agenda than House Speaker Nancy Pelosi, D-Calif., renowned for her ability to determine what lawmakers consider and what they don't, has there. Take Medicare For All as an example. Pelosi gave the green light for hearings on Medicare For All. But she also tried to bury it.
National Nurses United, 15-21 other unions and the Labor Campaign for Single Payer strongly back Medicare For All. They're mounting a nationwide lobbying drive for it. They argue it would not only cover everybody in the country but would actually cost people less than the current profit-driven medical non-system, dominated and run by greedy health insurers whose mission is to deny care.
Pelosi first sent Medicare For All to the House Rules Committee. The Committee doesn't write legislation itself but writes "rules" for what bills the House can handle and what amendments it can vote on. Rules held the Medicare For All hearing in the smallest committee room in the Capitol. It drew a standing-room-only crowd and dozens of other people waited outside in vain for seats.
Medicare For All proved so popular that Democrats on the Ways and Means Committee, the panel that actually does write House versions of health care laws, noticed. Most got on board the Medicare For All train and that panel held its own, longer, hearing in the largest room on Capitol Hill.
There's no guarantee it will pass Medicare For All, but the jammed hearing room sent a message.
All this action, however, may not go anywhere even if Ways and Means and the full House pass Medicare For All. McConnell calls it "socialism," too. He'll pigeonhole it. Result: Medicare For All won't make it to the Senate for votes. That's what we mean by the Mitch McConnell "blockade."