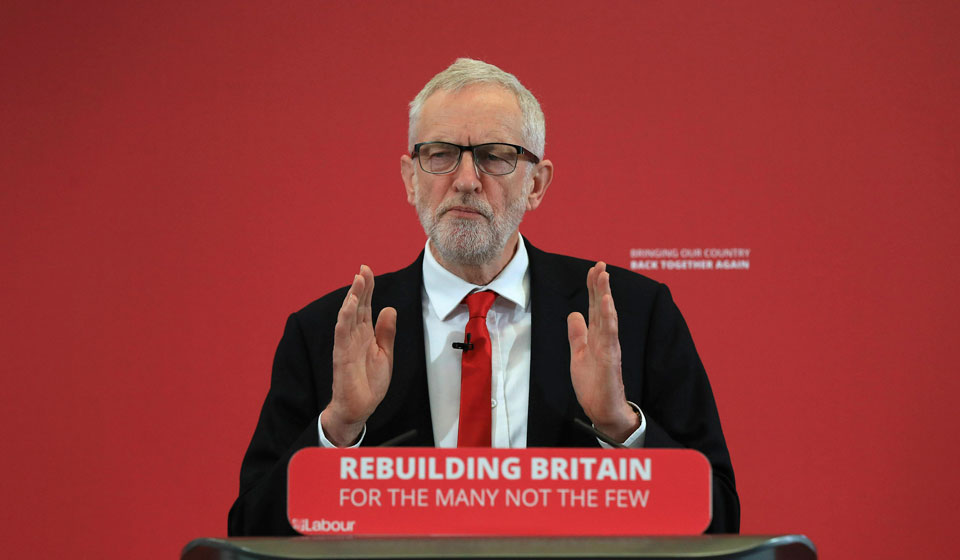 UPDATE: Since press time, Jeremy Corbyn emerged from the talks and announced opposition leaders will be taking the first steps to pass a new law blocking a no-deal Brexit next week. Prime Minister Boris Johnson denounced the move, saying it was an effort to "sabotage" his government's position in negotiations with the EU.
Jeremy Corbyn, the leader of Britain's opposition Labour Party, is rallying all available forces in Parliament to bring down Conservative Prime Minister Boris Johnson. On Monday afternoon, he went in for crunch talks with other opposition party leaders and demanded a general election.
Corbyn emphasized the need for an election as "the simplest and most democratic way" to stop a no-deal Brexit.
Speaking just before the talks, he said: "I'll discuss all these options with the leaders of other opposition parties. I hope we can come to a good working arrangement and bring onboard others across Parliament who see the danger of a no-deal crash out."
Corbyn has been warning that the economic uncertainty created by a no-deal Brexit will be a "potential goldmine" for international speculators betting against the pound and could cause a recession.
He said that the Tories will "use the crisis to push through policies that benefit them and hurt everyone else, as they have since 2010.
"They will aim to reduce the power of workers, protections for consumers, the tax bills of bankers, the richest, and big corporations, as well as the regulations that are supposed to stop them abusing their power.
"Johnson is cozying up to [U.S. President Donald] Trump because a no-deal Brexit is really a 'Trump-deal Brexit'.
"It won't return sovereignty, it will put us at the mercy of Trump and the big U.S. corporations dying to get their teeth into our NHS, sound the death knell for our steel industry, and strip back our food standards and animal welfare protections."
Liberal Democrat leader Jo Swinson said that Corbyn risks jeopardizing a vote of no confidence in Johnson by insisting that he become interim prime minister. She has written in a letter to Labour that the "danger" is that not enough MPs would support him.
And in a comment to ITV News, she added that the meeting of opposition leaders should focus on how to stop a no-deal Brexit and claimed that they "would not have the time" to discuss Corbyn becoming PM.
Labour did not respond to her letter and referred to comments made by shadow international trade secretary Barry Gardiner on Sunday that Swinson had made an "extremely petulant" decision in rejecting Corbyn's initial proposal.
Swinson failed to respond to press requests made over the weekend to confirm whether or not she has been in secret phone talks with Johnson about the Liberal Democrats propping up the Tory government.
Pressure is mounting on Scottish National Party MPs to support Corbyn's proposal. The party's parliamentary leader Ian Blackford said he was "open to all options" but played down the idea of an interim government and general election.
"It's increasingly clear passing legislation to block no-deal appears to be the option most likely to unite MPs and stop Boris Johnson driving the UK off a Brexit cliff edge," Blackford said.
"That should be a primary focus of the cross-party meetings taking place, and the SNP will be pressing that case while making clear that all options must be on the table."
But Lina Nass, a member of Labour's Scottish executive committee, urged the nationalist party to change tack.
"The SNP claims to oppose not only a no-deal Brexit but also the pro-rich austerity politics that a Tory government is certain to turbocharge regardless of what Brexit deal we reach," she told the Star.
"It would be an unforgivable betrayal for their MPs to prioritize any option other than toppling the hard-right government which has got us into this mess."
Morning Star