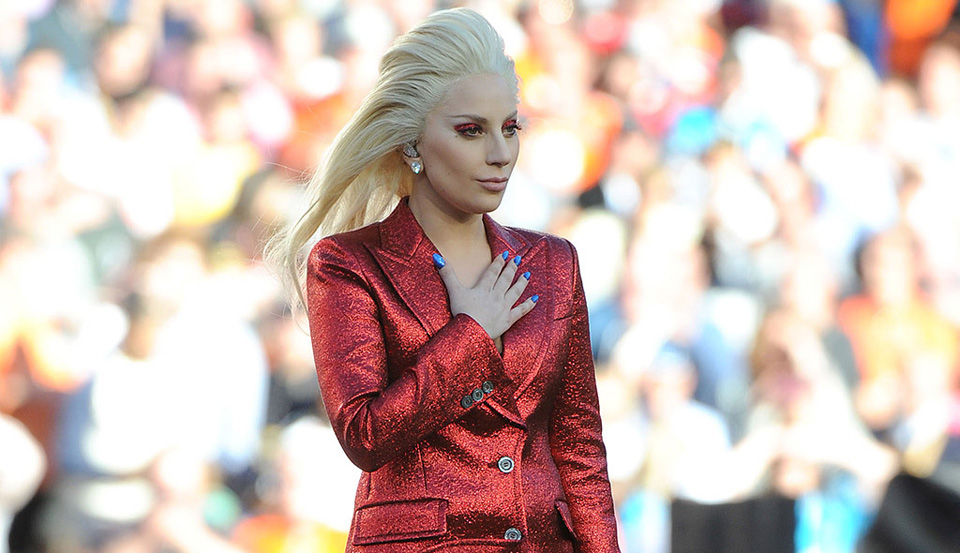 New England Patriots quarterback Tom Brady was not the unrivaled star of Super Bowl 51. Lady Gaga dominated the field with a non-stop 13-minute spectacle, brilliantly choreographed as an epic feel good dance party. She sang, danced, played, jumped and mic-dropped her way into Super Bowl half-time show history, and did it in heels with unmatched political panache.
Given the nation's undeniable somber mood after Donald Trump's first two weeks as president, which seems to have us teetering on the edge of a Constitutional crisis with his self-proclaimed "Muslim ban," many football fans seemed to want to crawl into bed with a good book rather than watch the Big Game.
Gaga would have none of that. She was like the irrepressible friend who drags you out of your binge eating stupor, kicking and screaming, and then pushes you onto the dance floor, telling you it's for your own good. And after the first song, you know she was right.
If it were only a dance party, Gaga would have disappointed, and she doesn't seem to be someone who would let the audience down. She advocates tirelessly for equality, as demonstrated by her numerous statements for LGBT rights and her anthem on pride and identity, "Born This Way." In the line, "No matter black, white or beige/Chola or orient made/I'm on the right track baby/I was born to be brave," she describes a multi-racial "home of the brave." Lady Gaga's vision of America contrasts mightily from the racist and hate-based appeals and policies of the Trump administration.
But if you expected her to wear a "Love Trumps Hate" t-shirt, then her subtle and savvy politics throughout the show would not suffice.
No. The brilliance of Gaga in this moment was her confident stand on a diverse America and appropriating from "America First" nationalism U.S. symbols on behalf of a democratic American patriotism. In a country that is politically divided, she sought to reach higher common ground on her own terms and language.
By starting with Irving Berlin's "God Bless America," she immediately suggested to the tens of millions viewing, this is her land too and she's not going anywhere. Perhaps in the vein of a Langston Hughes, she too is a proud American who sees America's identity as indivisible from its diversity.
But after singing the first few lines, she pivots seamlessly to Woody Guthrie's "This Land Is Your Land." A student and practitioner (with Tony Bennett) of the American songbook, Lady Gaga knew exactly what she was doing. She was defining patriotism by blending an immigrant-written anthem – often hollowed out with empty patriotic hooha – with a song that had been defined as unpatriotic because of its dissenting roots. Protesters belted out "This Land Is Your Land" at demonstrations outside airports across the country opposing Trump's immigration ban.
Music historians say Guthrie wrote the song as a response to hearing Kate Smith sing Berlin's patriotic ballad as a triumphant nationalist march and not how Berlin intended – as a quiet, humble love song to a country that gave Berlin, a poor Jewish immigrant, so much. The song was on the radio during the Great Depression, while thousands went without food or shelter, and that included Guthrie. He fought back the best way he knew how. He wrote a song about the "land that I love" and called it "This Land Is Your Land." Guthrie, who wrote a regular column called Woody Sez for this publication's predecessors, had launched a new anthem for generations of American peace and justice lovers everywhere.
Then after reciting with gusto, "one nation, under God, indivisible" under an American flag made up of drones, she bungee jumps into the stadium. Her first song? "Poker Face." Get it? She's keeping her politics close. "Can't read my/Can't read my/No he can't read my poker face."
Hey audience, I'm wearing a poker face but here's my next song for you: "Born This Way." Surrounded by a rainbow of black, white and brown dancers, Gaga telegraphs to America, this is who we are: "I was born this way/Don't hide yourself in regret/Just love yourself and you're set/I'm on the right track, baby/I was born this way." No need to make us "great again" if the great big heterogeneous country that has made strides on equal rights, is on the "right track, baby."
But as the notorious anti-LGBT vice president, Mike Pence, sat in the stands, Lady Gaga sang, "No matter gay, straight, or bi/Lesbian, transgender life/I'm on the right track baby/I was born to survive."
Even her "Million Reasons" seemed to take on political meaning. As if she was saying the world (starting with Mexico and Australia), immigrants, refugees have a million reasons to abandon the promise of America, a million reasons to feel that American ideals and values are being betrayed. But "I bow down to pray/I try to make the worse seem better/Lord, show me the way/To cut through all his worn out leather/I've got a hundred million reasons to walk away/But baby, I just need one good one to stay." Then as she climbs down the stairs, she embraces one of the extras on the field and changes the words, singing to her, a possible representative of the marginalized, "Why don't you stay."
Each Super Bowl is surrounded by its own unique political landscape. Last year, the show, headlined by Cold Play, featured Beyoncé and Bruno Mars. The Trump minion, Rudy Giuliani, attacked Queen Bey for her forthright performance of "Formation," which said to the nation, boldly and beautifully, "Black lives matter."
This Super Bowl, Lady Gaga projected a spectacle, an alternative vision of an indivisible, diverse and equal America. She was subversive and savvy, reflecting the protests and people-powered politics, which are growing in numbers, sophistication and creativity. When she dropped the mic, a performance statement started by black hip hop artists and comedians – she conjured up the most famous mic drop yet, that of President Obama. Then she caught a pass and jumped off the stage. What a show.
She said, "We're here to make you feel good. You want to feel good with us?" And the crowd roared, yes.