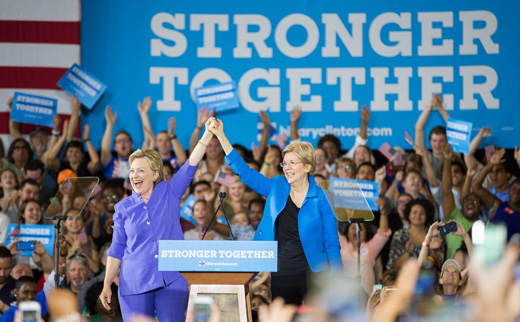 This article is part of a series on the Democratic National Convention.
Donald Trump steals wages. He'd pick your pocket in a New York minute. He lies and spreads hate. He's a racist and a bully.
And yet, his numbers keep going up.
Do not underestimate Trump and the Republicans. While the establishment GOP was surprised by the successful insurgency of so-called outsider Trump, they are united in purpose: delivering more inequality, more misery, more instability and violence against working-class people of all races, genders, religions and sexual orientations. They are united with giant corporations and the billionaire class in their drive to lower wages and living conditions and increase their profits and power.
With Senator Bernie Sanders endorsing Secretary of State Hillary Clinton the message was loud and clear, "We're stronger together." That is what it will take to win in November.
Many think Clinton has it sewn up or they think just campaigning against Trump is enough. Already with problems of being perceived as untrustworthy, Clinton's numbers took a hit from the FBI on her emails, according to Nate Silver's FiveThirtyEight. She went from a 78 percent chance of winning to a 66 percent chance of winning in one week. At that same time, Trump's poll numbers improved.
Clinton has to provide a vision for a new America, tying together the Democratic platform planks — called the most progressive ever — among them, $15 an hour minimum wage, debt-free and tuition-free college and universal health care, with a compelling narrative that inspires people to think big and do big-hearted things.
People need to vote FOR a candidate, otherwise voters are more likely to stay at home. Voting for the first woman president can also be a strong motivator.
The union movement, communities of color, students, women, progressives and the newborn "political revolution" can help generate voter enthusiasm by talking and tweeting about Clinton and the issues. Challenging sexism is a must as well as racism, which has been a coded (and overt) staple of presidential elections for decades.
However, there are many weeks until Election Day. "Clinton could easily lose to Trump, and she could also easily end up winning in a landslide," Silver writes.
"Winning in a landslide" is needed now more than ever, and that landslide for Clinton could swing control of the Senate to Democrats, and other potential positive effects could be felt on the "down ballot" congressional and state races.
Many things could happen between now and November. Don't count out the American people in seeing with new eyes, what is at stake in November, which is just about everything.
Photo: Hillary Clinton Twitter