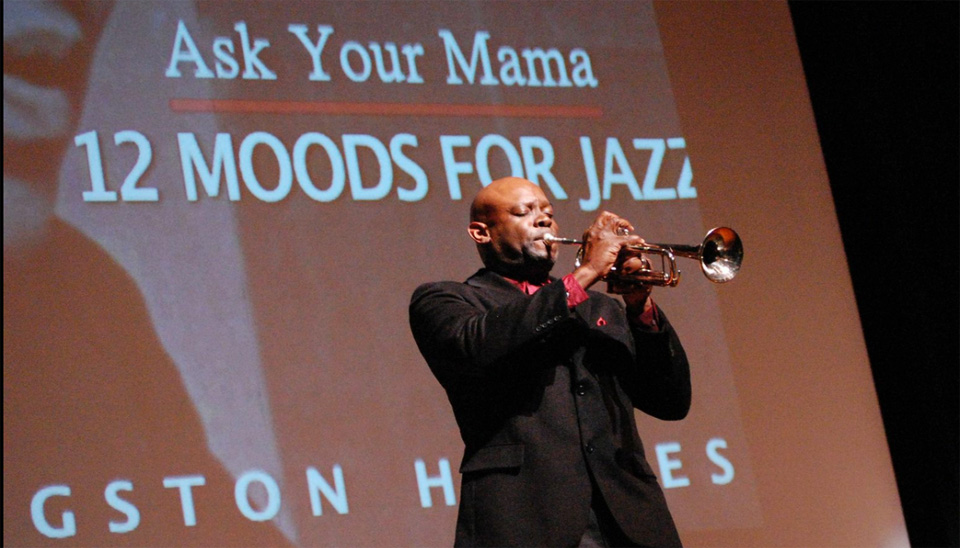 BEVERLY HILLS — This year marks a half-century since the death of preeminent Black poet Langston Hughes. He died on May 22, 1967, and as jazz performer and historian Ron McCurdy says, we need Langston in our lives today more than ever. Amen to that! Long before Trump wanted to make America great again, Hughes said, "Let America be America again."
Professor of African-American music and culture at the University of Southern California, McCurdy teaches a course "From Be-bop to Doo-wop to Hip-hop," and has composed a multimedia concert piece around Hughes' lengthy poem suite, Ask Your Mama: 12 Moods for Jazz. McCurdy recites the poetry, plays trumpet, and directs his four-man ensemble (with piano, bass and percussion), all accompanied by a videographic component pointing up the personalities and the scenes evoked in Hughes' writing.
I caught a performance (Jan. 4) in The Sorting Room at the Wallis Annenberg Center for the Performing Arts, a nightclub-like space for intimate culture, named such because "The Wallis" has been lovingly converted from an Art Deco-era post office which still preserves its original working-class murals. What I did not know beforehand is that McCurdy is taking his ensemble on the road this year to perform this work in commemoration of Langston Hughes' life and career.
Written as a response to the 1960 Newport Jazz Festival and all the great African-American creative talents who amassed there, Ask Your Mama is a gorgeous carpet of sound, words and images recreating a magical moment in our cultural history and referencing almost every phase of African-American life, particularly its urban expression. The poem forms a central piece in the emerging Black Arts performance explosion of the Sixties.
Jazz was a universal metaphor for Hughes, a convergence of the arts beyond the reach of words or the limits of any one language. In text he replicates the collage and film editing techniques of cubist modernism so that a vast treasure chest of information is conveyed to the reader or listener in chaotic remembrance of our collective past.
Unifying elements take us back to the present, as in his running gag where insensitive, though perhaps well-meaning people ask inherently offensive questions of Hughes (standing in for all Black people), and the poet returns the compliment. As an example, totally out of the blue a white person might ask Hughes if he can recommend a maid, and he'll reply, "Ask your mama!"
The musical score serves not just as background to the words but as commentary and part of the conversation. You'll hear blues, spirituals, free jazz, classical Lieder, barrelhouse, all in thrilling juxtaposition. McCurdy freely interjects remarks with his audience, as though he were sharing this performance piece with you in his living room. Audience sing-along to certain catchy phrases is invited, and you are not discouraged from clapping or contributing a timely "Amen!" to something you like.
Langston Hughes was identified with the Left for much of his life, so the poem explodes with references to worldwide figures in the anti-colonial insurgency of the time, including some admiring mention of Fidel Castro. Many African liberation leaders are included, and Hughes also reflects on his travels in the Caribbean and to Bahia, Brazil, important centers of the worldwide Négritude movement.
At the same time, as Hughes became more widely recognized he entered the African-American middle class. Some of the later "moods" in Ask Your Mama deal with the relatively new phenomenon of having a little money in his pocket for the first time in his life.
Further information, and most important, a show schedule for the year 2017, can be found at the Langston Hughes Project website here. Audiences around the country, including those at colleges and universities where this material needs to be heard, are advised to check it out. Bring your mama!