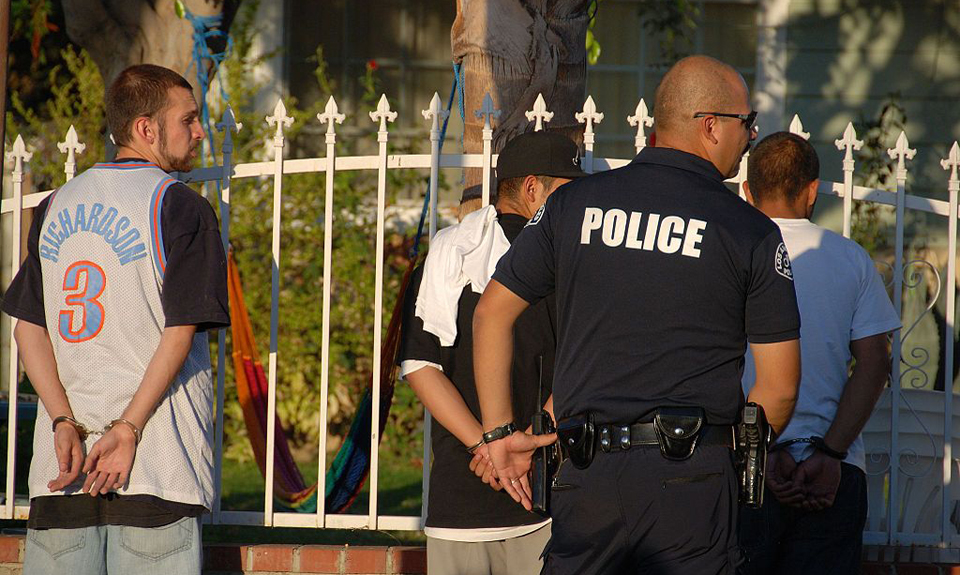 LOS ANGELES—Los Angeles Police Chief Michel Moore stated that his department will conduct an internal investigation into the epidemic of gang data falsification by LAPD officers. It is alleged that officers falsified reports (interviewing cards) that arbitrarily labeled people as gang members. Many are people of color. A review found that police officers identified people placing their names in the interviewing cards that would go into the CalGang database. Many of those targeted are not gang members at all. CalGang is a secret database that contains the names of suspected gang members. Police agencies throughout the state use this database as do the Department of Homeland Security and Immigration and Customs Enforcement.
Apparently, this type of misidentification is nothing new. The controversy involves at this point about two dozen officers. This investigation of wrongdoing is ongoing and could involve many more officers. The police chief has so far indicated he will hold off on any judgment related to the officers' conduct, although formal action against one officer has already been taken.  A spokesperson for LAPD has indicated that the other officers are under "scrutiny," and that a recommendation of criminal charges against the fired officer will be forwarded on for internal disciplinary action.
The department over the years has had many internal investigations. This has been a contentious controversy within the minority communities. Can or should the LAPD investigative itself? Can the LAPD hold its officers accountable?
This week the California Department of Justice (CDJ)  has become directly involved and has announced that it will conduct its own investigation. The LAPD is cooperating with the CDJ. In addition to cooperating with CDJ, the LAPD has been discussing instituting reforms on using the database. What is troubling is that this type of illegal misidentification has been going on for years.
It all came to light when a mother sought information about her son being labeled as a gang member by an LAPD officer as part of the anti-gang identification program. An officer at a substation took the complaint to a supervisor. A review of a video displayed inaccuracies by the officer. There it was on the video for all to see: An officer using false information to target an individual.
On February 4, outside the Los Angeles Police Commission, which meets every Tuesday, a community activist expressed to me that this would be just another of many so-called "internal investigations" conducted by the LAPD. They fear that this is just an ongoing pattern of how the LAPD unfairly targets African Americans and Latinos.
In Los Angeles, the Stop LAPD Spying Coalition has claimed that such gang categorization has gone on well before the passage of the Street Terrorization Enforcement Prevention (STEP) Act in 1988. The legislation sought to reduce gang-related violence through targeted anti-gang policing. This type of policy continued into the 1990s, causing the federal government to seek civil rights violations against the LAPD.
Robert, a Latino college graduate, related a case in which he and three male friends were standing outside his house. They were just chatting and having a good time. A police car stopped right where they were standing. An officer asked Robert why he was associating with a gang member. Robert knew he was referring to a young man who lived down the block. He was a boyhood friend from the neighborhood. But he wasn't standing with the group. The office told the young men that they were in a gang area.
The neighborhood where this took place was Highland Park, an up-and-coming focal point for gentrification. The officer told them to get off the street or he would place them in the CalGang database. This made no sense to the young men. None of them had a criminal record but they obeyed and went inside the house. A justified concern by community people should not be understated. This type of action and policy encourages racial profiling and criminalizing normal social interaction.
With the latest revelations, it is clear that this pattern of anti-gang policies continues today by the LAPD. Targeting African American and Latino youth in gang database logs and instituting gang injunctions are modern forms of long-established policies used by the police to target people of color.
James Smith, author of the book Gentrifying Paradise, who has studied and written extensively on gentrification, views injunctions as an instrument for the gentrification agenda. These anti-gang policies are justification for structural racism coached in buzzwords like "public safety" or "tough on crime," because the true beneficiaries of such policies are developers, politicians, and special interest groups. The overall agenda for such policies is to push working-class people out of their communities, thus allowing for developers to come in, increase rents, flip houses, gentrify the community, and continue to use such policies as a method of control. In some communities, it has been a 20-year process to fulfill the gentrification agenda.
Distrust of the police and such community policing policies is common to those who live in these neighborhoods. The self-investigation of any misconduct by the LAPD that creates fear in communities of color is a major concern. Another concern for the community regarding the police is an officer-involved shooting.
These concerns and fears are not unfounded. The LAPD Force Investigation Division, which tracks officer-involved shootings and critical incidents, reported about 88 such incidents in 2019. The LAPD has stated that over the past two years there has been a decrease in LAPD critical incidents and police-involved shootings. This decrease may be the case but still does not account for why LAPD police officers are seldom convicted, fired or disciplined. People can review reports on various actions and misconduct by going to the LAPD Force Investigation Division website.
After two years of investigation of the CalGang database, California State Attorney General Xavier Becerra has continued to seek reforms without making much headway. Needless to say, there are powerful forces and hidden agendas seeking to maintain what is now the status quo.