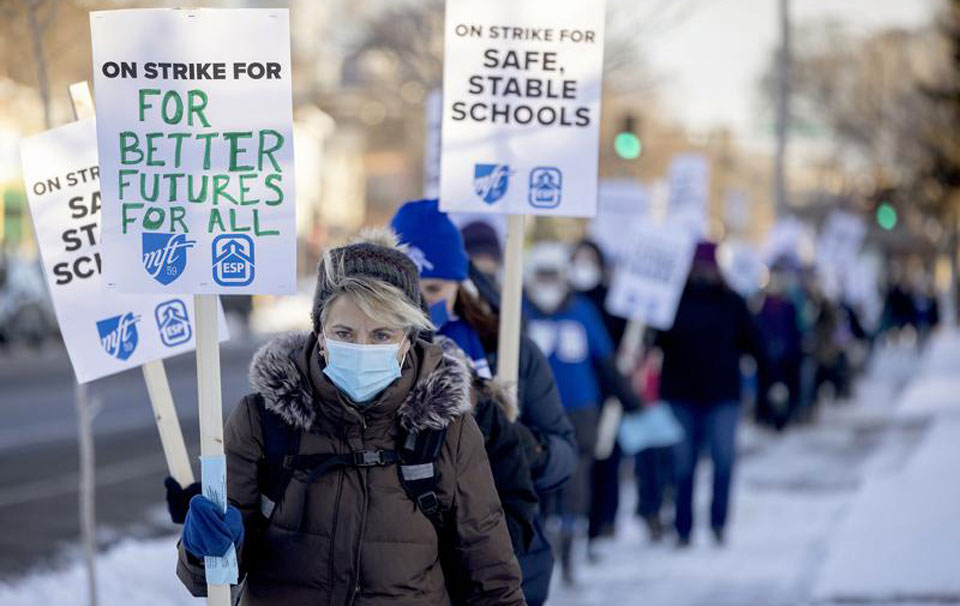 MINNEAPOLIS—Low pay for support staff, up to 50 students in a class, and more mental health aid for kids buffeted by racial tensions in the Twin Cities and distance learning due to the coronavirus pandemic forced 4,000 teachers and support staff to strike the Minneapolis Public Schools, starting at 7 am on March 8. The system has 29,000 students.
The strike began after eight straight days of fruitless bargaining with bosses, who kept claiming they didn't have enough money for raises for teachers or support staffers. Staffers, most of them workers of color, start at $24,000 yearly for a 40-hour week. Many work longer.
"Today was quite a day," teacher James Porter tweeted. "On the line at 7 am fighting for public schools. We marched to the district office in the afternoon. Some much love and solidarity from this community. We are going to win this for our kids."
"Today we are on strike for the safe and stable schools our students deserve," the union, Teachers (AFT)  Local 59, tweeted.
The union, also part of Education Minnesota, the joint AFT-NEA statewide teachers' affiliate, replies the district can get the money from the state, which has run budget surpluses for nine years, virus or no virus, and currently has a $9.3 billion surplus.
North Community High School 10th grader Taylor Butler put the pay issue in perspective with a tweet: "There's no way my classmates should be making more than my teachers…y'all are being failed by the system and it's sad. @MFT59 #SafeAndStableMPS"
Local 59 particularly wants raises for the staffers, most of them workers of color. But class sizes are as important as pay. The union says they're way too large and kids are hurting. One teacher on the picket line carried a handmade sign reading "I have 50 kids in my class."
The forced strike drew wide support. National Education Association President Becky Pringle and AFT President Randi Weingarten flew in to march—in the middle of a blizzard.
"The cold, wind, and snow cannot stop educators from rallying for their students: For more resources, more support, and more respect," Pringle tweeted. "If we can't recruit more staff, and retain those we recruit, our students suffer. Minneapolis educators, I am proud to walk alongside you today!"
The forced strike is Minneapolis's teachers' first in 52 years. A 97% prior strike authorization vote in a 93% turnout preceded it. Left Voice reported. Teachers in next door St. Paul, the state capital, were also set to walk but reached a last-minute tentative contract.
The wide community support came through in tweets, statements, and that everybody hit the streets surrounded by normal—for Minnesota in March—high piles of snow.
"I'm seeing SO much blue today at work as our colleagues in Minneapolis go on strike," St. Paul educator Quentin Ocama tweeted. "Our contract may be settled here in STP but we know that your fight is our fight. Solidarity!" Teachers in Minnesota wear blue, not "Red for ed."
"Asked my 8-year-old last night how she was feeling about the strike and her response was, 'I trust the teachers.' Me too buddy. #MFT4Kids," family doctor Jami Burbidge tweeted.