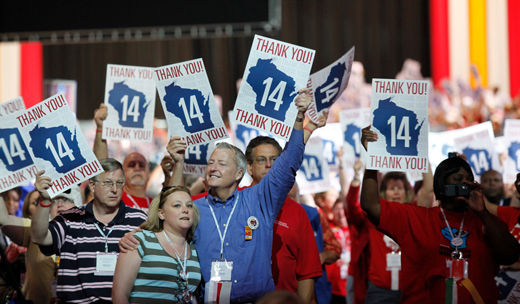 CHICAGO – The 3.2-million-member National Education Association has endorsed President Obama's 2012 re-election campaign. More than three-fourths of the 8,000 delegates voting July 4 at the union's 2011 convention here endorsed the president's re-election bid.
NEA President Dennis Van Roekel said his union was the first to endorse the president because Obama and the union "share a vision and members wanted early and strong support of his election." Delegates at the gathering said that the president's use of federal stimulus finds to save tens of thousands of teacher jobs was a major factor in their decision to make the early endorsement.
"The last two years of state legislatures and the mid-term elections were eye-opening, demonstrating what can happen when education legislation and decisions are left in the hands of politicians who do not support public schools," said NEA President Dennis Van Roekel.
Van Roekel said teachers were pleased that the administration, through the American Recovery and Reinvestment Act, saved and created jobs that fueled local economies and would, through the Affordable Care Act, bring health care to 32 million people, including millions of children.
The union made its endorsement a day after Vice President Joe Biden addressed a crowd of 9,000 educators at the convention. He told them that the current national debate is about a "fundamental difference in vision for America."
"The debate is about whether or not for America to succeed we need to provide the best education for all our children – or for just some of our children," the vice president declared. "It should be no surprise that the same people pushing for vouchers for education push vouchers for health care."
Prolonged applause, a standing ovation and loud cheers broke out when Biden said: "There is an organized effort to place the blame for budget shortfalls on educators and other public workers. It is one of the biggest scams in modern American history."
Biden also drew applause when he acknowledged unhappiness among teachers over major parts of the Obama administration's education policies. Teachers oppose over-reliance on standardized tests and worry about use of those test results to fire teachers. Many teachers are also unhappy about the president's support of charter schools over the traditional public schools.
One teacher seemed to sum up the frustration when she said, "Too often, the solution to all of the problems with education these days is to take a teacher who is actually working her tail off for 14 hours a day and blame it all on her."
Most of those among the 25 percent who opposed the early endorsement of Obama said they favored an eventual endorsement of the president but would have preferred it come after they had more time to discuss their differences with the administration.
On July 2 delegates welcomed the Wisconsin 14, the state senators who left their state rather than vote to eliminate collective bargaining rights for public workers.
Before giving them the NEA's Friend of Education Award, Van Roekel said, "These senators took a page out of Abraham Lincoln's playbook, who, as an Illinois legislator, jumped out a window to prevent a vote that would close the state bank."
After accepting the award for the group, state Senator Mark Miller noted that educators in Wisconsin were among the first to "sound the alarm when Gov. Walker began his mission to strip public workers of their collective bargaining rights."
Photo: Signs salute the Wisconsin 14 at the 2011 NEA Representative Assembly in Chicago, July 2. NEA Flickr