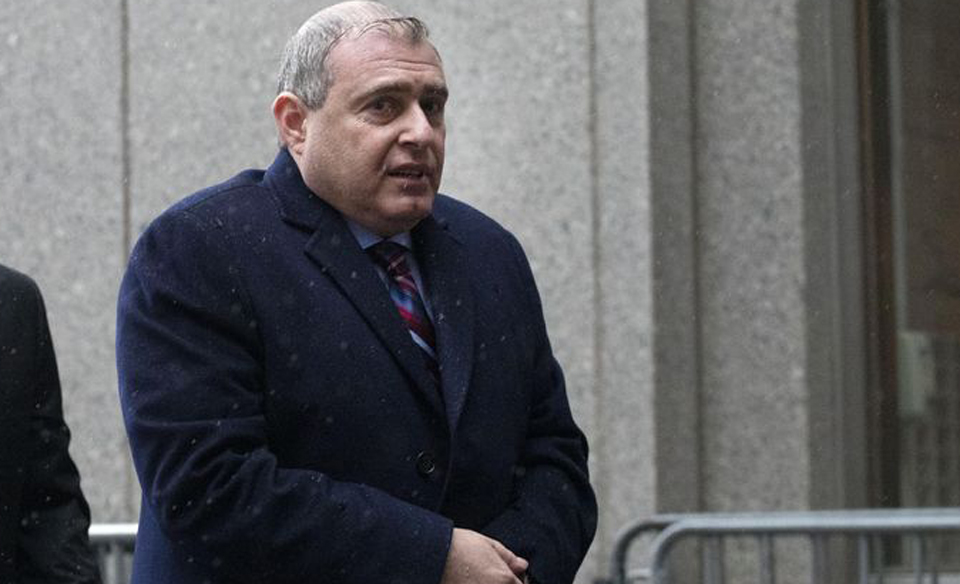 "Goddamn it, get in and get those files. Blow the safe and get it….to blackmail him." Richard Nixon, 1971. 
There is probably some long-standing truth to the old, well-worn proverb: Those who do not learn from history are doomed to repeat it. And for the Grand Old Party (GOP), and their president, history is apt to be forgotten or ignored.
On the eve of Donald Trump's impeachment trial, the House Intelligence Committee released a bombshell trove of evidentiary documents obtained from Lev Parnas, an associate of Rudy Giuliani, including a scribbled note that mentions asking Ukraine's president to investigate "the Biden case."
The handwritten notes, on the standard Ritz-Carlton stationery, goes on to list out several steps following "Zelensky's" Biden announcement: "1) put together package 2) go to D.C. with package 3) do my 'magic' and cut a deal."
The 38-page release, reflecting the House of Representatives' unfinished investigation into Trump, comes shortly before the House votes to formally send over the articles of impeachment to the Senate for trial.
"Despite unprecedented obstruction by the president, the committee continues to receive and review potentially relevant evidence and will make supplemental transmittals," Intelligence Committee Chairman Adam Schiff (D-Calif.) wrote Tuesday to Judiciary Committee Chairman Jerry Nadler (D-N.Y.), whose panel is responsible for compiling the complete record of the investigation ahead of the Senate's trial.
Along with notes, e-mails, and text messages, the documents show Parnas communicating with Giuliani before the removal of Marie Yovanovitch, who was ambassador to Ukraine—including a named individual, Robert F. Hyde, who would give Parnas updates on Yovanovitch's locations and cellphone use, raising several questions about possible and illegal surveillance.
"She's talked to three people. Her phone is off. Her computer is off," texted Hyde. "They are willing to help if we/you would like a price," and "guess you can do anything in Ukraine with money … is what I was told."
Parnas' reply: "LOL."
Several messages discussed the removal of Yovanovitch, who testified she was the victim of the president's "smear campaign."
On a July 25 call, Trump promised Zelensky that Yovanovitch was "going to go through some things" two months before she was recalled from her post.
On April 23, as Yovanovitch was ordered to return to the U.S., Giuliani texted Parnas, "He fired her again."
Parnas also received messages from Hyde, referring to Yovanovitch as a "bitch."
The problem with Yovanovitch, of course, was that she was known as a corruption fighter in Ukraine, and corruption, of course, was the last thing the Trump administration was interested in eradicating.
To make matters worse, the revelation comes as Hyde is running for a House seat as a Trump supporter in Connecticut. Rather than denying his role in the dirty affair, Hyde sent a message to the House Judiciary Committee today saying he was "drunk" when he sent the texts to Parnas.
"Needless to say, the notion that American citizens and others were monitoring Ambassador Yovanovitch's movements for unknown purposes is disturbing. We trust that the appropriate authorities will investigate to determine what happened," said Lawrence Robbins, an attorney for Yovanovitch.
The evidence further complicates Trump's frequent defense of his actions towards Ukraine.
A previously undisclosed May 2019 letter from Giuliani to Ukrainian President Zelensky, before he took office, asked Zelensky for a half-hour meeting to discuss pursuing investigations targeting former Vice President Joe Biden—making it clear he (Giuliani) was acting with Trump's full "knowledge and consent" in his capacity as "personal attorney for the president."
Screenshots of text messages between Giuliani and Parnas show too that Parnas was in frequent communication with Giuliani, and that he, Parnas, was heavily pushing unsubstantiated claims that Biden and his son, Hunter, were embroiled in a Ukraine corruption scheme.
Hyde too has been a long-time associate of Giuliani.
House Democrats said Parnas's attorney confirmed that Parnas had written all the notes released yesterday.
The House Democrats' "package" was sent to the House Judiciary Committee by three other House panels "to be included as part of the official record that will be transmitted to the Senate along with the Articles of Impeachment," according to a statement. Some of the materials were made public while others were marked as sensitive.
Parnas was arrested Oct. 9 at Dulles International Airport and was charged with campaign finance violations involving the push of foreign dollars into American elections—a charge he has pleaded not guilty to.
Chairman of the House Intelligence Committee Rep. Adam Schiff says the new evidence shows Parnas "communicated extensively by phone and messaging applications with Giuliani and senior Ukrainian officials.
"These communications, often in Russian, demonstrate that Mr. Parnas served as a direct channel between President Trump's agent, Mr. Giuliani, and individuals close to President Zelensky."
Before Tuesday's disclosure Speaker Nancy Pelosi mentioned new evidence had emerged in the weeks since the House voted to impeach Trump, including new emails indicating that senior Trump administration officials were worried that the president's order to freeze critical military aid to Ukraine was potentially illegal.
Like Nixon, Trump's presidency seems to be coming to a quick and disastrous end.
Will Trump dare to resign? Doubtful. For now, it will be the Senate impeachment trial and evidence which will seal his ultimate defeat.