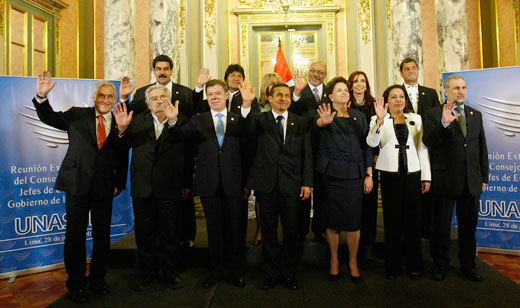 The Union of South American Nations (UNASUR) has emerged from a bevy of regional alliances to assume a major role in work toward Latin American integration. With the Paraguayan Senate's approval August 13 of Paraguay's entry into UNSUR, the alliance now includes all 12 South American nations.
UNASUR has, since 2008, carried out independent, cooperative planning in a variety of areas, but none of them economic. Now, debt crises, worldwide economic slowdown, and a possible devaluation of the U.S. dollar have impelled them to action. What is needed, according to the Argentinean Communist Party newspaper Nuestra Propuesta, is "a common strategy to shield South America from contamination by the so-called 'central countries'…profoundly sick and fully decadent."
On July 28 an extraordinary UNASUR summit took place in Lima, Peru, so timed because heads of state were attending the inauguration that day of Ollanta Humala as Peru's new president. A proposed agenda was shelved in favor of economic matters. Leaders and advisors established broad goals and determined a schedule of future meetings.
UNASUR finance ministers met in Lima on August 5 and again in Buenos Aires, Argentina, on August 12, this time joined by central bank officials. That gathering served as the eleventh meeting of the UNASUR working group on financial integration and the inaugural meeting of UNASUR's South American Economic and Financial Council.
Argentina's Economics minister, Amado Boudou, afterwards told reporters that UNASUR would be "developing a regional fund for dealing with the international financial crisis." Absorbing a smaller fund created in 1978, this new one, aimed at countering speculative attacks on local currencies, would be supported by "monetary authorities and central banks" and by commercial transactions. Local currencies and the sucre, a new continent – wide currency, would replace the dollar in regional transactions. Plans were laid to develop the Bank of the South and form strictly South American development banks. Three working groups were established, one each on currencies, reserve funds, and regional development banks.
Economic specialists will meet again in Buenos Aires on August 24, this time with UNASUR foreign ministers, for a review of recommendations prior to a regular UNASUR summit meeting set for Asunción, Paraguay, on October 29. There, heads of state are expected to approve what is shaping up as an overarching plan for economic sustainability.
"We have shown more resistance to the crises and [have been] much more dynamic in being able to survive them than the central economies," explained Minister Boudou, adding that, "South America is being converted into one of the principal motor economies of the world." Later on in Caracas, Venezuelan President Hugo Chavez agreed: "South America is destined to be a bloc," he said, predicting that for the sake of economic overhaul, internal conflicts will be resolved and ideological differences overcome.
Acceptance by left leaning UNASUR founders of right wing Colombian president Juan Manuel Santos' nomination of María Emma Mejía to the post of UNASUR Secretary General bears out Chavez' last point. Mejia, speaking earlier in Buenos Aires, highlighted South American economic strengths, noting that the region's economy is growing at a 4.5 percent annual rate, dollar reserves total $600 billion, and South American internal commerce, worth $100 billion annually, is projected at $120 billion. South America survived the 2008 economic crisis remarkably intact, reports Aporrea.org writer Raúl Crespo.
Soon after the August 12 meeting, President Chavez announced repatriation of gold worth $12 billion, transfer of Venezuelan cash reserves from U.S. and European to Russian, Brazilian, and Chinese banks, and nationalization of Venezuela's gold mining industry.
Obstacles to UNASUR plans include: divided loyalties of Brazilian and Argentinean capitalists tied to the U.S. and European economies; cash flight to foreign banks from Argentina and other countries; likely reluctance of multi-national corporations to deal in regional currencies; and international oil and food price volatility, fed by speculation. And, according to Crespo, new dependence on raw materials sales to China adds risk from reduced demand there stemming from a possible economic downturn.
Argentinean Nobel Peace Prize winner Adolfo Pérez Esquivel joined others in critiquing a meeting held behind closed doors lacking representation from social movements. Food sovereignty and environmental sustainability are still not on the agenda, say critics.
In any event, the August 12 meeting was, according to Venezuelan Foreign Minister Nicolás Maduro "the first time in 200 years that South America got together to talk about the economy. In another era, the IMF would have already arrived with its structural adjustment programs. We are breaking off ties with neo-liberalism. [This is] work carried out in unity to confront the systemic crisis of northern capitalism."
Photo: South America's leaders at historic meeting of UNASUR in Lima, Peru, July 28. Bottom row, from left to right, Chile's President Sebastian Pinera, Uruguay's President Jose Mujica, Colombia's President Juan Manuel Santos, Peru's President Ollanta Humala, Brazil's President Dilma Rousseff, Guyana's Foreign Minister Carolyn Rodrigues-Birkett, Paraguay's Foreign Minister Jorge Lara. Top row, from left to right, Venezuela's Foreign Minister Nicolas Maduro, Bolivia's President Evo Morales, Unasur Secretary General Maria Emma Mejia, Surinam's President Desire Delano Bouterse, Argentina's President Cristina Fernandez and Ecuador's President Rafael Correa. (Karel Navarro/AP)