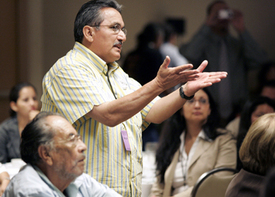 LOS ANGELES — Dubbed as the first comprehensive gathering of Latino leaders since the civil rights movement of the 1960s and '70s, over 3,000 participants assembled here Sept. 6-10 at the National Latino Congreso.
Antonio González, president of the Southwest Voter Registration Educational Project, cited a need "to unite across regions and reinvent the basic principles of unity in the Latino community."
"The Congreso is going to be acting this week against the ugliness of the right wing," added John Trasviña, interim president of the Mexican American Legal Defense and Education Fund.
The event, held at the downtown Sheraton Hotel, brought together people from the Latino, African American, Asian Pacific Islander, and Native American movements as well as other allies to develop a new direction for Latinos.
Union representatives and workers, business leaders, community development workers, members of nonprofit and religious groups, students and elected officials met to create a national policy platform and action-oriented agenda. There was a high presence of youth and students from the Los Angeles area.
Sponsors included the Labor Council for Latin American Advancement, the National Hispanic Environmental Council, the National Alliance of Latin American and Caribbean Communities, and Earth Day Network.
Delegates at daily plenary sessions passed over 70 resolutions, including support for a moratorium on deportations of immigrants, voting rights, election reform, immigrant rights, LGBT rights, the Employee Free Choice Act, increasing the minimum wage, social justice and economic equality and mass voter mobilization drives to make an impact on Nov. 7.
Irma Palacios, national field director of People for the American Way, charged, "States are taking systematic steps to deny the vote to our communities and it does not matter how many of us there are unless we show our strength on Election Day."
Delegates also called for Latino and African American unity, environmental health, action on global warming, labor rights, peace and ending the war in Iraq.
A resolution calling for ending the U.S. blockade of Cuba was also endorsed.
A speaker in the workshop on LGBT rights highlighted a sentiment running throughout the Congress, declaring, "Todos somos familia" (We are all family).
"Building interracial dialogue is very positive" Kent Wong, a featured speaker at a forum called "Ethnic politics in America: allies or competitors," told the World. "Questions that confront the Latino community affect all of us." Wong, director of the UCLA Labor Center, added, "There has to be a coalition" between communities. "Winning electoral campaigns depends on it."
Many workshops included both Latino activists and a multiracial array of experts in many subjects, including Judith Le Blanc, a Native American Indian who is co-chair of United for Peace and Justice, the largest national peace and justice coalition.
Bernardo Álvarez Herrera, Venezuela's ambassador to the U.S., spoke at a workshop on social movements and progressive politics in Latin America.
The immigration issue is the most important struggle right now, said Jessica Martínez, 16, state youth director of the League of United Latin American Citizens. Martínez, a high school student from Las Cruces, N.M., hopes to "promote youth getting involved early, to be educated and to let high school students know they have opportunities."
Linda Chávez-Thompson, executive vice president of the AFL-CIO, agreed. "We don't do enough to educate young people to become active," she told the World.
Speaking to the Congress, Chávez-Thompson called for increasing income for Latinos and closing the economic gaps. She said the country needs higher, livable wages for workers and "affordable health care for everybody, not just the wealthy." She also emphasized "protection and safety rights for women workers."
Seven-year-old Saúl Arellano traveled to the Congress from Chicago in support of his mother, an undocumented worker, who has taken sanctuary in a church there. Saúl said he hopes that his mother, Elvira Arellano, will not be deported to Mexico. Recognizing his courage, the assembly gave him a standing ovation.
Cecilia Muñoz of the National Council of La Raza warned that the Republican leadership in Congress is poised to try to push through repressive legislation in piecemeal fashion in the next several weeks.
"We need to put the idea of sanctuary on our agenda," said United Farm Workers Union co-founder Dolores Huerta. "Free trade agreements are putting people out of work." She added, "We have got to organize our strength and march between now and Election Day." Immigrants, she said, could help with a commitment of their time. "They could knock doors," she suggested. "We're talking about life and death here for many families."
Other speakers included Los Angeles Mayor Antonio Villaraigosa; Speaker of the California State Assembly Fabián Nuñez; State Treasurer Phil Angelides, candidate for governor of California; and María Elena Durazo, executive secretary-treasurer of the Los Angeles County Federation of Labor.
plozano@pww.org