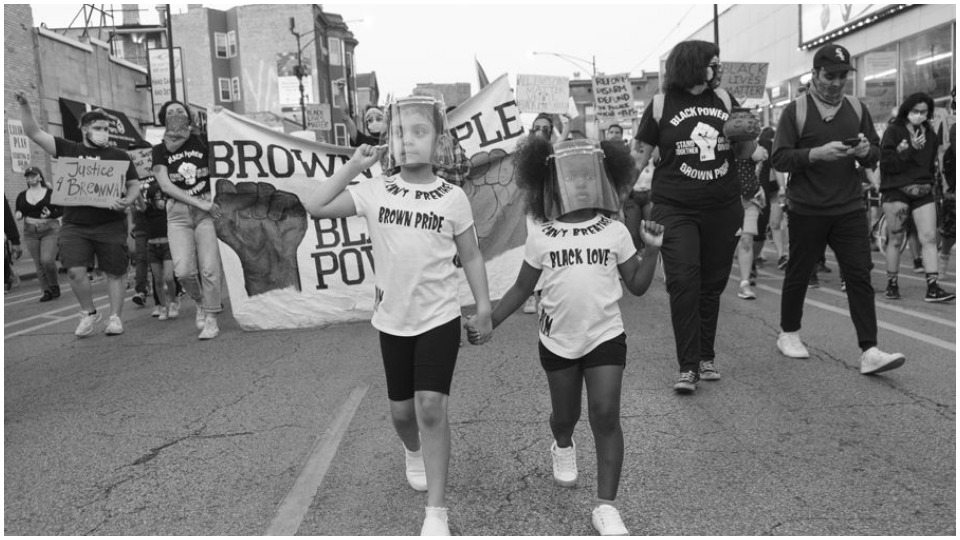 Two-time Emmy nominee writer-director Bernardo Ruiz has cobbled together an impressive, entertaining hour-long montage of the current state of the Latino electorate: diverse, passionate, large, and growing.
The Latinx vote is crucial: For the first time ever, this demographic will be the largest racial or ethnic group eligible to cast ballots in a presidential election. More than 14.6 million Latinos are expected to vote on November 3, a 15% increase from 2016. In state after battleground state, they will determine who wins.
As the Latino vote is huge and varied, Ruiz has assembled a large and broad cross-section to tell us of their concerns.
Sonja Diaz, founding director of UCLA's Latino Policy and Politics Initiative, puts the coming election in recent historical perspective. She traces the upsurge in involvement to Republican Governor Pete Wilson's attempt to deny California state services to immigrants and close the borders to those seeking refuge. Diaz bristles as she recounts how Republicans criminalized Latinos.
Audrey Peral is not an academic. She had never been politically active. Her mother had taken her to Mexico when she could not get medical services in the U.S. When she returned, she became illegal. "When Trump got elected it was very hard to watch. I couldn't believe this was really happening." So Peral took her young son along for the ride as she set up a grassroots anti-Trump get out the vote driving service, "Make the Road Action."
Organized labor recognized the threat to workers' rights early on. Geoconda Arguello-Klein, secretary-treasurer of the women-led Culinary Workers Union, Nevada's largest labor organization, representing 60,000 members, warned that Trump "had turned immigrants into the enemy of the country." As one of her workers described it: "Trump is a terrorist. I've never seen such racism."
At the argument's other end, Pascal Urrabazo, associate pastor of the International Church of Las Vegas, endorsed Trump for "putting God first." Geraldo Cadavo, author of "The Hispanic Republican," agreed: Hispanics care more about other things than just immigrants, he explained. They tend to be against abortion and more patriotic. About Trump's personal conduct, Cadava suggested that as Christians, Mexican Americans would forgive his offensiveness.
One of the film's most interesting arguments was made by another pastor, the Rev. Adan Mairena of Philadelphia's West Kensington Ministry. In the past, Latinos had distanced themselves from African Americans. But in the face of the increasing economic dislocation, the COVID-19 pandemic, and climate crisis, he pointed to a new sense of solidarity and consciousness among people of color.
Like many other East Coast cities, Philadelphia's largest Latin community is from Puerto Rico.  Nurse and community organizer Charito Morales told how she rushed back to her native Puerto Rico within 24 hours of Hurricane Maria. "The way we were treated was heartbreaking. It was totally unjust. President Trump laughed at our pain and despair. He threw paper towels at us like we were worthless."
Young people who fuel the growth in the Latinx electorate grew up in movements for greater civil, political, and economic rights. Faced with discrimination and voter suppression, much of the younger generation resonated to the program and approaches of Bernie Sanders. Los Angeles Times reporter Daniel Hernandez describes how the younger generation "came of age in the Sanders campaign." As the Sanders Latino Press Secretary Belen Sisa proclaimed, "I've been an activist my whole life out of necessity. We need to keep fighting. It's worse now for the working class. But we are not backing down."
Cautionary voices have been raised about the Biden campaign and whether or not it is reaching out sufficiently to the Latino community, but perhaps these came too late to receive much attention in this otherwise timely and critical documentary.
Director Ruiz has given full throat to these calls, as well as the more conservative voices for maintaining the status quo. Hopefully, he will be able to follow up on the success of the movement with a new film: Dispatches from the Boardroom!
Latino Vote: Dispatches from the Battleground premieres Tues., Oct. 6 at 9:00 p.m. ET (check local listings) on PBS.