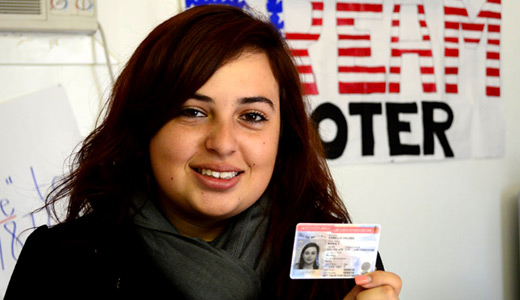 Latinos influenced the election outcome in a big way this year, helping to ensure President Barack Obama's second term. Bound up with the huge and unprecedentedly strong surge of support among Latinos was both Obama's embrace of immigration reform and perceived anti-Latino racism on challenger Mitt Romney's part.
On Nov. 9, United We Dream, an umbrella group of pro-immigration reform advocates, emphasized the Romney-Latino disconnect, saying in a statement, "The anti-immigrant agenda has lost. Mitt Romney's low Latino voter turnout is directly related to his anti-immigrant stance."
Daniel Rodriguez, a UWD coordinator, added, "Latino voters were driven to the polls this year because they supported a student's goal to be the first one in their family to go to college, a worker's right to be treated with respect, a family's dream to stay united in the only country they call home."
"Latino voters have a check to cash in 2013," he continued. "Congress and our president have the opportunity to revive the American dream for another generation by strengthening an immigration system that currently leaves our country broken."
The display of strength by Latinos and their allies points to a much stronger possibility of comprehensive immigration reform.
Some Republicans quick to understand that their party cannot win if it is perceived to be an anti-immigrant organization, have received the message.
"We're going to have to give them amnesty," Newt Gingrich, the extreme conservative who challenged Romney in the GOP primaries, said on Fox News Nov. 9.
Exit polls showed that many Latinos were driven to vote by their concern for immigration issues.
"I canvassed with one very important person in my mind, my daughter, Izabel," said Sonia Martinez, of Together Colorado, at a press conference. "I wanted to make sure voters [knew] what was at stake."
Immigration reform advocates were not only turned off by Romney's message, but were inspired by Obama's actions as president, which included Deferred Action for Childhood Arrivals. DACA, announced this past summer by Obama, allows DREAM Act-eligible youth the opportunity to secure their place in the U.S. for two years, and is renewable. However, because most immigration issues are a prerogative of Congress, Obama was not able to offer a path to citizenship.
Even still, many Republican initiatives on immigration seem to be more window dressing than substance. Sen. Marco Rubio, R-Fla., yesterday said that he was devising legislation that would help those eligible for the DREAM Act, the still unpassed legislation that would allow a path to citizenship for undocumented immigrants brought here as children who either are in college or the military.
However, Rubio's plan reportedly mirrors another Republican initiative, the Achieve Act, introduced by Sens. John Kyl and Kay Bailey Hutchison, of Arizona and Texas respectively. If this act were passed instead of the DREAM Act, a smaller number of undocumented immigrants could gain legal status, and for those who do, there is no clear path to citizenship.
The Achieve Act has been roundly denounced by immigrant-rights advocates.
On this issue, the Republicans are out of touch. Most Americans favor a path to citizenship, and immigration activists are continuing to fight for comprehensive reform, starting with the DREAM Act.
United We Dream is hosting a conference of more than 500 activists Nov. 30 to Dec. 2 in Saint Louis, Mo., and from there they plan to build their post-election strategy.
Photo: A young undocumented immigrant holds up her DACA identification card, via United We Dream.