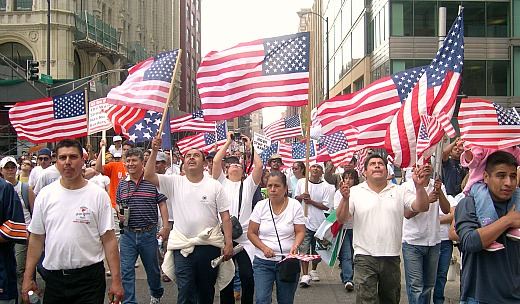 Latinos, totaling close to 50 million in the U.S., have become a political and economic force to be reckoned with, especially when they join forces in a strategic alliance with immigrants rights groups and labor, says a new report.
The report, "Latino Workers in the United States 2011," recently released by the Labor Council for Latin American Advancement (LCLAA), outlines a comprehensive analysis about the state of Latino and undocumented workers.
Although Latinos face many challenges, the future of the nation depends on their ability to thrive. By 2050, Latinos will comprise nearly 30 percent of the total U.S. population and one-third of all working-age Americans. Yet too many are losing their jobs and their homes, and are faced with declining living conditions, educational opportunities and economic security.
Hector E. Sanchez is the executive director of LCLAA and the report's main author. His aim is to shed light on the main issues affecting Latinos in order to propose policies that improve the lot of the most vulnerable workers in the nation, namely Latinos and immigrants, said Sanchez.
The current economic recession has hit Latinos especially hard. In 2009, more than one in four (25.4 percent) Latino families lived below the poverty line. The unemployment rate among Latinos last month was 11.3 percent, compared with 7.9 percent for white non-Latino workers. Employed Latinos disproportionately work in low-paying jobs. Their median weekly income in 2010 was $532, while white non-Latinos earned $774.
Latinos also have the highest percentage of people without health insurance, the highest high school drop out rate and the highest occurrence of wage theft and are most in danger of being killed on the job.
"We know that Latinos have the highest level of death and injuries at work," notes Sanchez. Latinos are highly represented in the agricultural and construction sectors, both of which are dangerous industries for workers, he adds.
To make matters worse, both Latino workers and unions are under attack by right-wing forces. Hate crimes toward Latinos have increased 40 percent in the last five years and anti-immigrant rhetoric has intensified, says Sanchez.
Collective bargaining is the heart of the labor movement and is facing serious challenges. But when the labor movement and the immigrant rights struggle unite, both complement each other, Sanchez argues. The number of people joining unions is near record lows. However, Latinos are the fastest growing segment of the U.S. workforce and population and they need the structure and labor protections of unions.
"We are the future of the U.S. workforce and we need to strengthen the strategic alliance between Latinos, including undocumented workers, and the labor movement," said Sanchez.
"There is no other group in the U.S. that is more exploitable and vulnerable as undocumented workers," says Sanchez. "Enforcement-only policies have only enhanced that vulnerability to the point that immigrants have become disposable workers. It's a perfect system for exploitation, but we need to ask who is really benefiting from this, because so far everyone wants to blame undocumented workers. Eleven million immigrants living in the U.S. is not a mistake. This is public policy and the corporations and entire sectors of the economy are profiting from this broken system."
Sanchez continues, "Almost no one is looking at the root causes of the problem – regional economic policy disasters that displaced workers under trade agreements like NAFTA and CAFTA." Sanchez notes 80 percent of immigrants in the U.S. come from Mexico or Central America and after such trade treaties were implemented immigration in the U.S. increased drastically due to economic policies that displaced millions.
Sanchez says that the U.S. has become addicted to cheap labor and entire sections of the economy now depend on immigrant workers.
"But now it's time to grow up as a nation, and we need to stop bullying immigrants. We need a smart policy that is good for all workers, one that will help us recover from one of the worst economic downturns in U.S. history. And immigration reform can be the first step in that direction."
Studies from both political perspectives show that immigration reform is good for the economy and would represent a trillion dollars in revenue for the next ten years, he says.
The report, which is being used as an organizing tool for LCLAA's 50 chapters in 22 states, calls for the White House and Congress to pass a massive jobs program that would uplift all workers.
It also demands that lawmakers:
Pass the Protect Workers Act to strengthen the government's ability to protect workers from injury and death on the job;
Enact the Employee Free Choice Act to remove barriers that prevent Latino and all workers from joining unions;
Address climate change and invest in the development of clean energy sources to create well-paid green jobs for America;
Pass comprehensive immigration reform and the DREAM Act;
Protect Social Security and retirement plans;
Ensure the Affordable Health Care Act is implemented and fully funded to reduce disparities in health care coverage;
Improve our educational system to better serve low-income households and students of color.
The report concludes: "Failure to protect and enact comprehensive policies in all of these areas will perpetuate a cycle of abuse and discrimination of workers; deprive children, adults and retirees of vital health benefits; create an underclass of people living in the shadows and threaten the nation's health and economic security.
To download the full report go to LCLAA's website.
Photo: Pepe Lozano/PW.