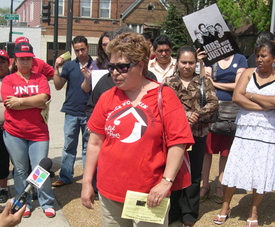 CHICAGO — Some 20 laundry workers who have been on strike since last July at Lechner and Sons, a uniform-rental and industrial laundering company in nearby Mount Prospect, Ill., joined with community and labor leaders to hold a press conference in this city's Little Village neighborhood on May 10, Mexican Mother's Day.
"We are on strike to fight the exploitation, injustice and discrimination at work and to struggle for our rights until we are treated with respect and dignity," said Esperanza Munoz, one of the laundry workers.
The workers are members of Local 969 of Unite-Here.
Lechner and Sons left Chicago for the suburbs in 2004. The company did not offer job transfers to longtime employees, but instead required them to reapply for their jobs and take a $4 an hour pay cut.
While the company has continued to succeed and take government subsidies, it has failed to negotiate in good faith with its employees. It has also asked the workers to give up some of their benefits.
The workers are mostly immigrant women who sew, iron and hang uniforms and prepare them for packaging. They have kept up their picket line, including through the cold winter months.
Now they are asking their employer's clients, like El Milagro Tortilleria, a tortilla and Mexican food restaurant chain, to reflect the values of the communities they serve by not doing business with the company until it returns to good faith negotiations. The press conference was held outside El Milagro's restaurant and central offices.
James Thindwa, executive director of Chicago Jobs with Justice, said, "As we recognize Mother's Day, it's important that we stand by these women workers."
"We want to remind El Milagro to use discretion about who their vendors are, because it matters," he said. "This is not an attack on this restaurant; this is an effort to inform this business to stand with these workers."
Marilu Vargas, a leader of the March 10 Movement, a local immigrant rights coalition, said, "We're asking El Milagro to help the workers and to ask for their solidarity with our brothers and sisters in this community."
Other statements of support came from Cuahutemoc Morfin, a recent aldermanic candidate in the 25th Ward; Moises Zavala, a leader of Local 881 of the United Food and Commercial Workers union; and Jorge Ramirez, secretary-treasurer of the Chicago Federation of Labor.
Some of the workers, along with union and community leaders, tried to meet with the owners of El Milagro after the press conference. No one answered the door.
"We are disappointed that we couldn't speak with folks here today but we will continue to reach out to El Milagro," said Joe Costigan, treasurer of Unite-Here's Midwest region. "We will continue to try and educate the community about the injustice these workers face. To the workers, we say: we will fight till we win."
The workers are urging their supporters to call Lechner and Sons at (800) 479-3525 to tell its management to deal with their employees fairly, to provide them with decent wages and benefits, including health insurance, and to stop trying to take away their rights.
plozano @pww.org