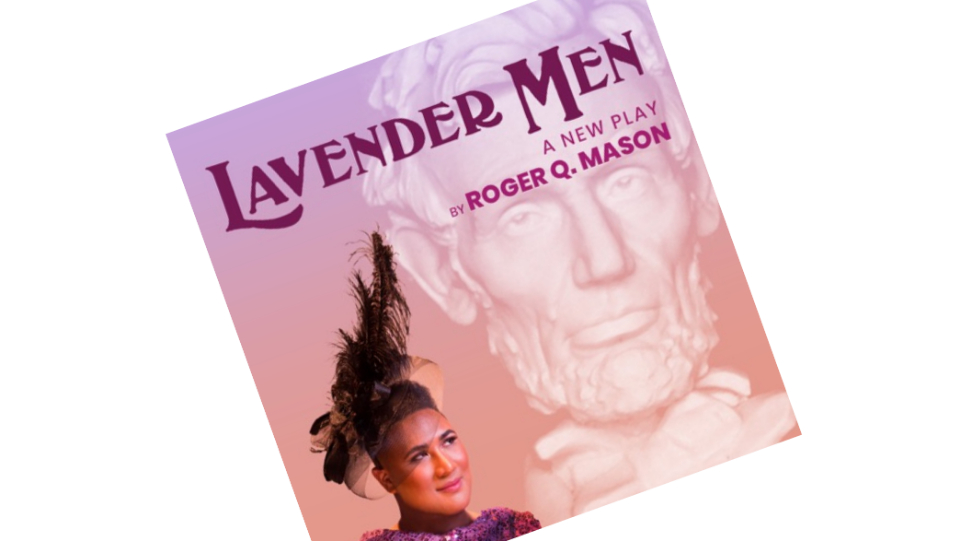 LOS ANGELES — Was there even an off-chance that Pete Buttigieg could have become the country's first gay president? He didn't think it was so preposterous. And now he has a Cabinet post (Transportation), the first for an openly LGBTQ person in our history.
But what if we've already had our first gay president? Maybe two! And a gay vice president! The lone lifelong bachelor among U.S. presidents, James Buchanan (1791-1868) was head of state from 1857 to 1861, preceded by Franklin Pierce and succeeded by Abraham Lincoln. Historians regard him as among our very worst presidents for various reasons, but that's not the point here. Buchanan had an intimate relationship with fellow politician William Rufus DeVane King (1786-1853), an Alabama senator and, very briefly, Franklin Pierce's Vice President. Capital city wags at the time nicknamed them "Miss Nancy" and "Aunt Fancy."
And then we come to Lincoln himself (1809-1865), the protagonist of Lavender Men, a new play in its world premiere production from Playwrights' Arena and Skylight Theatre Company at the Skylight Theatre. The beardless Lincoln (Pete Ploszek) may be the lead name character, but the central role in this drama is played by the playwright, award-winning writer and performer Roger Q. Mason. This muse plays a variety of roles as Taffeta, a self-proclaimed "fabulous queer creation of color," who in all their gorgeous rotundity and imaginative split-second costume changes, portrays a military cadet, a cleaning woman with aspirations, Mary Todd Lincoln, a lamplighter, even a tree with eyes, and most of all their own self in 2022 inserting themselves into the fantasia of Abe Lincoln's private world interrogating issues of visibility, race, gender, love and LGBTQ+ inclusion that society still deals with.
This is present-minded history writ large on stage, with no quarter given to the discretion and shame imposed on queer folk of  past centuries. The play is "my embrace to every queer, fat person of color who has been ignored, neglected or erased for being themselves unapologetically in this world," Mason states. "The play began for me when I was living and making work in the queer performance art scene of Chicago. That's where I found my first gender-neutral bathroom, where I learned to love and express myself as a gender non-conforming writer and where I saw that storytelling was the most important tool we had in the liberation of queer, trans and gender non-conforming people in this country. We literally have the power to write new futures and other realities for ourselves—and for the generations to come." And surely writing "new futures" means rewriting a new past.
Lavender Men is not the first stage work to explore what the White House looked like from the perspective of a person of color. Leonard Bernstein and Alan Jay Lerner's 1600 Pennsylvania Avenue, the composer's last original score for Broadway, flopped in 1976, when it was meant to celebrate the nation's bicentennial with what we might call today "Critical Race Theory" eyes and ears—and voices. It reviewed the building's history and occupants from 1800 to 1900 from the point of view of the enslaved and later employed servants of color. In one subsequently oft-recorded number, "Take Care of This House," a Black servant urges John and Abigail Adams to revere the White House as a repository for all the nation's aspirations and dreams, "for this house is the home of us all." This song, gloriously performed here by Cynthia Erivo in October 2017, achieved new heights during the ketchup-throwing Trump occupancy.
The color "lavender" itself, already in the 19th century, had become associated with homosexuality and effeminacy. It was the preferred color—along with related colors lilac, violet, mauve, purple—of the "Aesthetes" of the late 19th century led by such writers as Oscar Wilde. No one until his time, and certainly no one of his stature, had studied the life of Abraham Lincoln so deeply as his biographer, the poet Carl Sandburg, who described one of Lincoln's early male friendships, that with the Springfield, Ill., general store owner Joshua Speed (1814-1882), as containing "a streak of lavender, and spots soft as May violets." Writing in 1926, Sandburg could not have made himself clearer.
The color lavender also took on a politicized dimension during the Joseph McCarthy era after President Eisenhower signed Executive Order 10450, which authorized the "Lavender Scare," the national witch-hunt to purge homosexual men and women from employment in the federal government. It's estimated that some 5,000 federal agency employees lost their jobs because of their sexuality. There is some actual lavender in the play—watch for it.
The third actor in Mason's play is Alex Esola as Elmer Ephraim Ellsworth (1837-1861), a military officer skilled in drilling and training new recruits. We meet him in 1860 when he relocates to Springfield. His ambitions for a higher career on the military are thwarted by his short stature: He is simply not perceived as the right stuff for a general. Lincoln takes him on as a private law tutee, which is how, before there were law schools, lawyers got their education. The first lesson is about contracts, agreements between one man and another man.
It is historically known that back in 1837 Lincoln, then 28, arrived in Springfield and shortly met Speed. They rented an apartment together, slept together and were known to be inseparable. For a time Lincoln broke off his engagement with Mary Todd and followed Speed to Kentucky. Both married at around the same time, but from surviving letters it is obvious that these were both marriages of social and political convenience, not of love.
Mason includes touching scenes in the play where Elmer and Abe begin to explore, and then fully consummate their attraction to one another. They both quote Henry David Thoreau (1817-1862) by heart. The author of Walden is considered to have been homosexually inclined, though perhaps celibate.
In the play, if Taffeta and everything they represent feels erased from the historical record, so does Elmer, who gladly conspires to help them tell the tale. This act of revisionism converts the "white truth" into the "right truth."
As a Union officer, Ellsworth moves to Washington, D.C., after Lincoln's 1860 election He was shot and killed as the first notable casualty of the Civil War, having gone across the river to Alexandria, Va., to tear down a Confederate flag.
One David Derickson (1818-1891), a captain of the 150th Pennsylvania Infantry, was Lincoln's bodyguard and companion between September 1862 and April 1863. It was widely rumored that during those months Derickson shared Lincoln's bed while Mrs. Lincoln was away from Washington, often on shopping trips in New York. Much more information, based on archival research, appears in C.A. Tripp's book The Intimate World of Abraham Lincoln. An illuminating essay by the eminent writer Gore Vidal on this subject can be read here, though no reference is made to Ellsworth.
Mason refers to the play as a "fantasia," and I am reminded that Tony Kushner, who wrote the screenplay for the 2012 Steven Spielberg film Lincoln, is the much celebrated author of Angels in America: A Gay Fantasia on National Themes, which similarly leaps from the historically substantiated to the rhetorically imagined, with such real characters as Ethel Rosenberg and the closeted McCarthy consigliere Roy Cohen.
And speaking of closets, one of the main stage design elements in Lavender Men is a free-standing armoire of the type that used to serve as clothes closets before built-in closets became standard architecture. In this case, the door opens and leads offstage out to the world, so characters are literally walking in and out of the closet throughout the play. Needless to say, Abe was not exclusively gay; after all, he did father four children with Mary. But theirs was a troubled, cold relationship to say the least. In the play he addresses her as "Mother," just as our most recent vice president did his wife. The term would seem to be rather sexually off-putting.
"I believe this production marks a special occasion where Roger's inimitable voice is colliding with a singular time in our country's history," says director Lovell Holder. "Roger has long been the bard of the unseen, giving voice to the silenced, whether those characters are historical or contemporary, real or imagined. We are fortunate to be collaborating with such visionary artists from the Skylight Theatre Company and Playwrights' Arena teams. I'm humbled to stand alongside each of them."
In one scene, where Abe and Elmer finally make love with one another, the Taffeta spirit is dressed as a lamplighter, a common profession in cities in the pre-gas and -electric eras. Taffeta is more than figuratively shedding light on history. Even Honest Abe questions how posterity will treat him. "Do they see me? They stuck my face on a coin but they don't know the real me."
"We both know," Taffeta responds, "things don't end well in theater."
Developed as part of Skylight's SkyLab, a playwrights-in-residence program, the play received a reading on Broadway at Circle in the Square Theatre in 2019 and garnered a feature on The Kilroys list in 2020. The play's lead character inspired a short film, Taffeta, directed by Lovell Holder, which has already won awards at a number of regional film festivals.
"If our craft is going to survive, we need the characters in our plays to reflect the diversity of the people in our audiences," says playwright Mason. "Lavender Men imagines a space for the Black, Queer, plus-sized body as the center of America's theatrical narrative."
It is not only for the historical enlightenment that the play holds its own, for it is as much about our own day—Taffeta in America as it were—how we choose to regard the past and what difference it makes the way we see it. The quick-witted, finger-snapping, sassy, imperious queen we see in Taffeta is not only a product of today's queer culture. As the nightmarish soundtrack of voices inside Taffeta's head suggests, they are also still deeply haunted by ugly smears and slurs which their character fights to suppress.
Lavender Men (seen opening night, Aug. 6) runs through Sept. 4 with performances on Sat. at 8:30 pm, Sun. at 3 pm, and Mon. at 7:30 pm—only nine more chances to see it. One ASL performance is scheduled for Aug. 28. Skylight Theatre is located at 1816 ½ N. Vermont Ave., Los Angeles 90027. Street parking or local pay lots, or take Metro. Everyone must present proof of full vaccination against COVID-19 along with a government-issued photo ID in order to attend. Face masks are required to be worn indoors at all times. For more information go the the Lavender Men website. The run time is approximately 90 minutes (no intermission). A brief clip from the first rehearsal can be viewed here.
Editor's note: An earlier posted version of this review made a number of historical mistakes, including the assumption that Elmer Ephraim Ellsworth was a mash-up of Joshua Speed and David Derickson. Ellsworth met Lincoln in 1860 in Springfield and then accompanied him to Washington. On the Wikipedia site, the photograph of Ellsworth is the same photo given elsewhere on the Internet for Derickson. Revisions to the review reflect this. Both the earlier Joshua Speed and the later David Derickson are absent from Mason's telling. Ellsworth died in 1861, at the outset of the Civil War, and Derickson served as Lincoln's bodyguard in 1862-63.