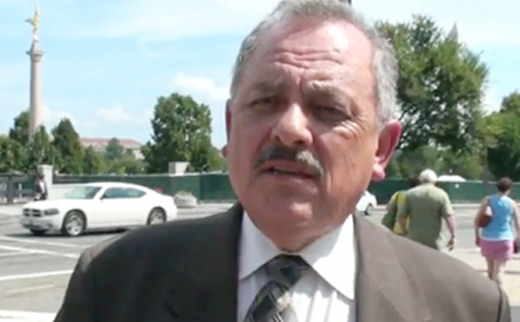 Local law enforcement leaders are urging Congress and President Obama to pass comprehensive immigration reform because the consequences of the current system are jeopardizing community safety and public trust.
It's not the job of local police departments to apprehend people based on their immigration status, they said on a conference call February 25. Rather, we should seek their trust, which is the bedrock of effective law enforcement, they say.
"There is a perception that undocumented immigrants are a bunch of criminals," said Sheriff Richard Wiles from El Paso County, Texas. "It's a fallacy because the vast majority are here for economic reasons and seek a better life for their families."
To believe they're all criminals just doesn't play out, he said.
Speakers on the call said too many people fear deportation and are afraid to come out of the shadows when it comes to reporting crimes. The police should concentrate on building relationships with them not enforce immigration laws, they said.
Police Chief Sam Granato with the Yakima Police Department in Washington said the current system is inhuman and immigrants should not be treated like cattle.
"They're human beings," he said, "and dividing families is just wrong."
The solution should not be turning every local police department into an arm of the Immigration and Customs Enforcement, they said. Instead of guaranteeing the safety of local communities whose trust law enforcement agents must secure in order to protect them, too many departments are diverting time and officers toward immigration laws.
We cannot police a community that will not talk to us and we need to work together as a nation to address reform, they add.
Lisa Womack is the Police Chief in Elgin, Ill., and said the issue polarizes the community. It's wrong for some to think we should enforce immigration, she said. Our focus should be aimed at preventing crime. Immigration is a federal concern, she said.
Arturo Venegas, director of the Law Enforcement Engagement Initiative and former Sacramento, Calif. Chief of Police, said the majority of law enforcement agencies across the country support the need for reform.
National attention on the issue has recently focused on Sheriff Joe Arpaio in Arizona who has implemented the 287(g) program, which allows local police to function as immigration agents. The program was enacted in 1996 and has resulted in racial profiling and other abuses, most notably by Arpaio. He is currently under investigation by the Department of Justice for civil rights violations.
People like Arpaio are the silent majority, said Venegas, and out of the 18,200 local law enforcement agencies nationwide, only 71 have signed on to the 287(g) agreement.
The fact of the matter is that the immigrant population does not want robbers, rapists or murderers in their community either, said Venegas.
"What we need is sensible reform and law enforcement needs to have a voice," said Venegas.
Granato notes police workers have different views and opinions about immigration reform but the majority are in the middle and want something done.
"Something meaningful, equitable and fair," he said.
The growing support of law enforcement agents in favor of reform could be a persuasive ally, supporters noted.
Those on the call said when immigrants fail to report crimes they become targets by perpetrators because alleged criminals know many immigrants are too afraid to respond.
Immigrants need to have legal status because it's good for public safety and national security, said Granato.
"This problem has gone on for too long and it's time for this Congress and this president to pass reform," he said.
Photo: Arturo Venegas, Director of Law Enforcement Engagement Initiative