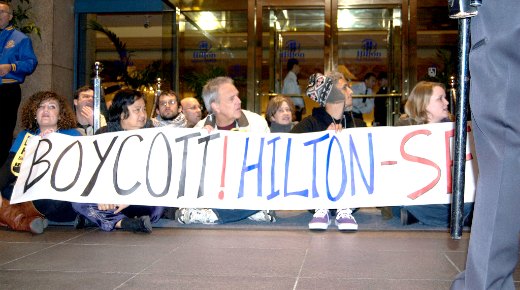 SAN FRANCISCO – Dozens of law professors and law school students and staff attending a national conference joined union workers and their local supporters at a picket in front of the Hilton Union Square on Jan. 7.
UNITE HERE Local 2 called a boycott of the hotel a year ago in response to management demands to increase their workload, increase their family health care costs by $200 a month and freeze their pensions – while the Blackstone Group, which owns the hotel, set aside an average of $3.46 million for each of their executives in 2010.
The Association of American Law Schools is holding its national conference at the boycotted hotel, despite the protests of hundreds of its members. Professors organized a committee to demand that the AALS change the conference location. The leadership stonewalled, but the organizers of over two-thirds of the conference events successfully demanded that their sessions be moved to another venue, while Association members joined the union picket line and held a midday rally.
Karl Klare, a professor at Northeastern University Law School, praised the union for "putting the struggle for economic democracy on the map."
Julius Getman, who holds the Earl E. Sheffield Regents Chair at the University of Texas Law School in Austin and recently published the book Restoring the Power of Unions, expressed outrage at the management demand that maids increase their daily workload from 14 to 20 rooms. He said, "This is like a Western movie with the good guys and the bad guys." Among the other speakers was Rachel Arnow-Richman of the University of Denver, chair of the Labor Relations and Employment Law of the AALS.
Hilton workers made their voices heard as well, including Robyn Shaheen, a 19-year veteran at the hotel, who pointed out that Blackstone, which lavishes millions on its corporate brass, would have to pay only $2.5 million to meet its workers' needs.
Another worker told of constant management harassment for his union activity, culminating in his firing a month ago. David Harlan, a Local 2 activist for 15 years, summed up the spirit of the event by saying, "This is what a movement looks like to take back our communities from the greedy corporations. We win because we struggle."
Image: Steve Rhodes // CC BY-NC-ND 2.0