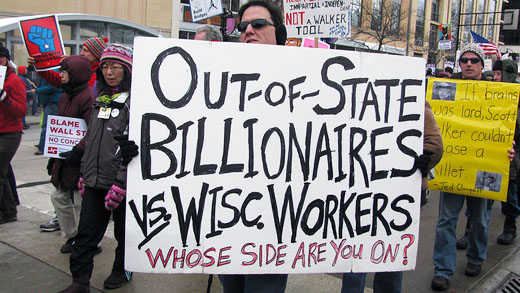 MADISON, Wis. – Rep. Tammy Baldwin, a Democrat whose district includes this city, has called upon U.S. Attorney General Eric Holder to launch a federal probe into the handling of disputed vote records in last week's hotly contested state Supreme Court elections.
A stunning "discovery" of 14,000 votes by a Waukesha County Republican official could hand the Supreme Court seat to conservative incumbent David Prosser in an election everyone thought liberal state Assistant Attorney General JoAnne Kloppenburg had won by 204 votes.
Waukesha County Clerk Kathy Nickolaus, who claimed she had incorrectly entered the vote totals in the race, has faced criticism over the years for her handling of elections, and previously worked for a state GOP caucus when it was controlled by Prosser, the candidate who stands to benefit from her "discovery."
The "corrected" totals give Prosser a 7,500 vote lead over Kloppenburg, according to unofficial tallies.
"For our democracy to endure, we, the people, must have faith in its laws and system of justice, including faith that our elections for public office are fair and free from any manipulation or tampering," Baldwin said in her letter to Holder last week. "Numerous constituents have contacted me expressing serious doubt that this election was a free and fair one. They fear, as I do, that political interests are manipulating the results."
The lawmaker's call is only the latest in a series of demands for a federal investigation coming from sources that include Citizen Action of Wisconsin, the Capital Times in Madison, a variety of unions, community organizations and voters' rights groups and the Kloppenburg campaign itself.
The state Supreme Court contest, seen as a proxy referendum on the anti-labor policies of Gov. Scott Walker, generated a record-breaking turnout of 1.5 million voters. Kloppenburg, who was not well known by the voters six months ago, was seen as having little chance to win the election until six weeks ago when Walker's attack on union rights began to change the race.
Walker's predecessor, Republican Gov. Tommy Thompson, appointed Prosser to the Supreme Court where he became part of the 4-3 conservative majority. He was expected to be re-elected in a cake walk. Judges in his position almost never lose elections – they serve until they retire. For that reason a sitting judge rarely faces opposition in seeking re-election. Prosser won his last election to the bench with 99.54 percent of the vote.
Everyone expected a recount following the April 5 race.
The Associated Press, with 100 percent of the precincts reporting, declared Kloppenburg the winner by 204 votes on April 6.
Late on April 7, however, Waukesha County Clerk Nickolaus announced at a press conference that she had "failed to save" on her computer and then report 14,315 votes in the city of Brookfield, omitting them entirely in an unofficial total she released after the election. She blamed it on "human error."
The 7,500 vote margin that her "correction" gave Prosser was almost exactly the number needed to deny an automatic, government-funded recount.
Nickolaus said she had discovered the error on April 6. (The time of her "discovery," then, was 29 hours before she announced it to the press. Right-wing bloggers, however, received the information hours before the press conference.)
The Milwaukee Journal Sentinel reported that last year, Waukesha County officials raised objections to Nickolaus' practice of taking election data off the county computers and storing it on computers accessible only in her office. That practice prevented the county's information technology specialists from verifying the system was fail-safe, according to the county's director of administration at the time. Auditors later recommended that the system be changed. Those recommendations were not followed.
Rep. Baldwin also noted that Nickolaus, who worked for seven years as a data analyst and computer specialist for the Wisconsin Assembly Republican Caucus, headed up an effort to develop a computer program that averaged the performance of Republicans in statewide races by ward. During that period Prosser was Assembly speaker, meaning he was Nickolaus' boss.
In 2001, Nickolaus was granted immunity in exchange for testimony about her role working for the Assembly Republican Caucus, which, after government investigations, was found to have illegally used state resources to secretly run campaigns.