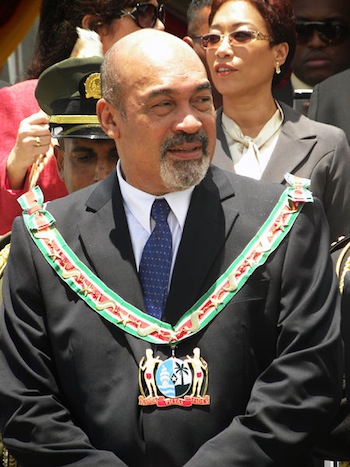 Lawmakers granted Suriname President Desi Bouterse immunity on April 4 for murders alleged to have taken place during the 1980s. Suriname's unicameral National Assembly, which is dominated by the president's NDP coalition, passed the law in a 28 to 12 vote.
Bouterse seized power in a 1980 military coup and faces charges, along with 24 others, for abducting and murdering political opponents in December 1982. Among the victims were 15 journalists, union leaders, attorneys and activists executed during a period when no independent media were permitted to operate in Suriname. The 24 co-charged were also granted immunity.
Bouterse, who is on trial now, has refused to attend hearings and denied he was present for the killings, a claim challenged by witnesses in a trial that has been repeatedly stalled since its beginning in November 2007. It's unclear, in the wake of the law's passage, whether the trial would proceed. The trial's prosecution had been scheduled to make a closing speech on April 13.
Suriname is a former colony of the Netherlands, with which it has had a complex and often strained relationship since gaining independence in 1975. Situated on the Northeast corner of South America, the country of less than half a million people is home to emerging oil and gold industries, reducing its traditional reliance on aluminium ore and Dutch aid.
Bouterse's ruling coalition does not hold an outright majority in the legislature but was able to secure support from two other party groups including A-Combination (AC), a group heavily favoured by Suriname's Maroon communities. Contemporary Maroons are the descendents of former slaves who escaped captivity and formed independent communities throughout the Americas. Suriname's Maroon population was particularly affected by the 1986-1992 Suriname Guerrilla War, a conflict centred around control of the country's cocaine trade, and has struggled to maintain access to public services and recognition of land rights.
AC leader Ronnie Brunswijk joined governing NDP legislators in supporting the measure, albeit "with a lot of pain in my heart," he said. Brunswijk apologized to victims but said "the country could not afford to have its president convicted at a trial," and also surprised observers by being frank about lawmakers' desire to keep the president out of jail.
"Let's not beat around the bush: The amnesty is intended to prevent Bouterse's conviction, and if [NDP] members are afraid to say so, that's their business, but I'm not and will come out and say it straight: he must not be convicted", he said in an interview on Tuesday. Brunswijk is a former enemy of the president, leading the opposition to his regime during the war.
Ronny Abasina, a legislator from the governing coalition, chose to abstain from voting, citing the presence of victims' relatives at the debate. "When I look up, I see the pain in his eyes," he said. "How can we so carelessly talk about the suffering of the relatives?"
Along with granting the president immunity from the murder charges, the legislation also strips immunity from soldiers involved in the 1986 Moiwana massacre, which killed 39 Maroon villagers.
Lawmakers agreed to establish a truth and reconciliation commission to examine the 1982 killings. The changes failed to satisfy opponents who condemned the legislation.
Chandrikapersad Santokhi, an opposition lawmaker and former justice minister, said the legislation's passage meant that "the separation of powers has been trampled," while Amnesty International called it a "flagrant attempt… to evade investigation for human rights abuses."
Ronnie Venetiaan, also an opposition lawmaker and former president, said that the legislation "underlines lawlessness and gives lawlessness a false legal basis."
Following the 1982 killings, the Netherlands suspended foreign aid to Suriname. Though Bouterse's power was reduced after the adoption of a new constitution in 1987, he famously dismissed the government by telephone in 1990 and remained a powerful figure thereafter.
Bouterse was elected in 2010 following a poll that CARICOM (Caribbean Community) and Organization of American States reported to be mostly free and fair, though the election authority was later criticized by some opposition politicians for not enforcing a law regarding the timing of candidate list submissions.
Bouterse already faces an international arrest warrant issued by Europol after being convicted in absentia for cocaine trafficking in the Netherlands, but Surinamese law prevents extradition of their citizens. A Wikileaks cable published in 2011 also reportedly reveals other involvement in the cocaine trade and its acknowledgement by U.S. diplomats.
Responding to the legislation's passage, Dutch foreign minister Uri Rosenthal said that there "would be consequences for Suriname" and called the law's passage "extremely disappointing." The Netherlands recalled its ambassador and barred all suspects of the crimes from entering the country. Relations between the Netherlands and Suriname had already been strained, with Rosenthal's predecessor remarking that Bouterse was not welcome in the Netherlands "apart from in jail" upon his election, while the Dutch government also revealed that it had detailed plans to invade Suriname and depose him in 1986.
Unions and rights groups are planning a silent protest march against the immunity legislation. Victim's families and opposition politicians are consulting on ways to overturn the law.
Photo: Suriname President Desi Bouterse (Wikipedia)