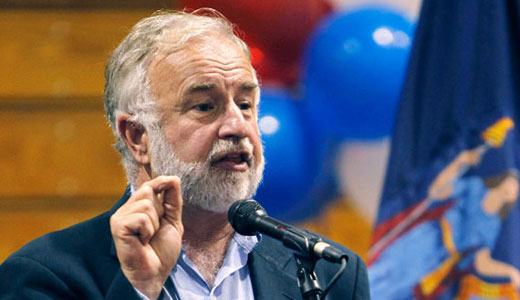 PATCHOGUE, N.Y. – Verizon's offshoring several years ago of middle-class jobs from its Patchogue, Long Island, call center to centers in low-paying nations overseas prompted a Long Island congressman – and more than 100 of his colleagues – to again try to ban tax dollars going to firms that carry out such offshoring.
And it's not just going to hit call centers, either, says Brian Beedenbender, district director for Rep. Tim Bishop, D-N.Y., the crafter of the bipartisan legislation. Any company that offshores U.S. jobs will be hit, he adds. But they'll get their tax breaks, loans and federal credits back if they bring the jobs back, Beedenbender adds.
The Communications Workers, whose members are frequent victims of call center offshoring, enthusiastically support the "Press 1 for America" bill, formally called the U.S. Call Center and Worker Protection Act. CWA has seen telecom firms it bargains with transfer call center jobs away from union workers to lower-wage nations.
Last year, T-Mobile alone fired 3,300 U.S. call center workers at seven sites in six states, offshoring jobs to low-paid workers in Central America and the Philippines, CWA says. T-Mobile also frequently breaks U.S. labor law in resisting CWA's organizing drive among its U.S. workers.
"This makes it clear that consumers should have choice to create U.S. jobs in call centers, and there should be no more handouts from taxpayers for those who choose not to keep good jobs here at home," explains Ron Collins, chief of staff for CWA President Larry Cohen.
The key consumer feature of the bill, HR2909, orders such firms to tell their call center service reps to let callers, on request, know where the reps are physically located. After the rep discloses whether or not he or she is in the U.S., the caller using the center would have the right to demand a transfer to an U.S.-based worker.
But its real teeth is penalties on the offshoring firms. HR2909 establishes a public list of offshoring moves. And Bishop's bill would bar federal loans, grants, and subsidies for such firms for three years, unless they bring the jobs back.
"Companies that choose to outsource American call center jobs overseas should forfeit their eligibility for federal financial assistance – it's that simple," Bishop said. "Companies deserve support if they invest in good, American jobs, but companies who turn their back on American workers deserve nothing from American taxpayers."
HR2909 has more than 110 co-sponsors, including Reps. Michael Grimm and Chris Gibson, both R-N.Y., and Rep. Mike Michaud, D-Maine, a Steelworker. It had 135 in the last Congress, so even in a GOP-run House, "when you've got more than 25 percent of the membership on board, it should get the leaders' attention," said Beedenbender.
Photo: Rep. Tim Bishop. AP